News
Brookfield and Vornado Executives: COVID Impact on Offices, RE Tech and the Economy
October 8, 2020 | Realcomm Staff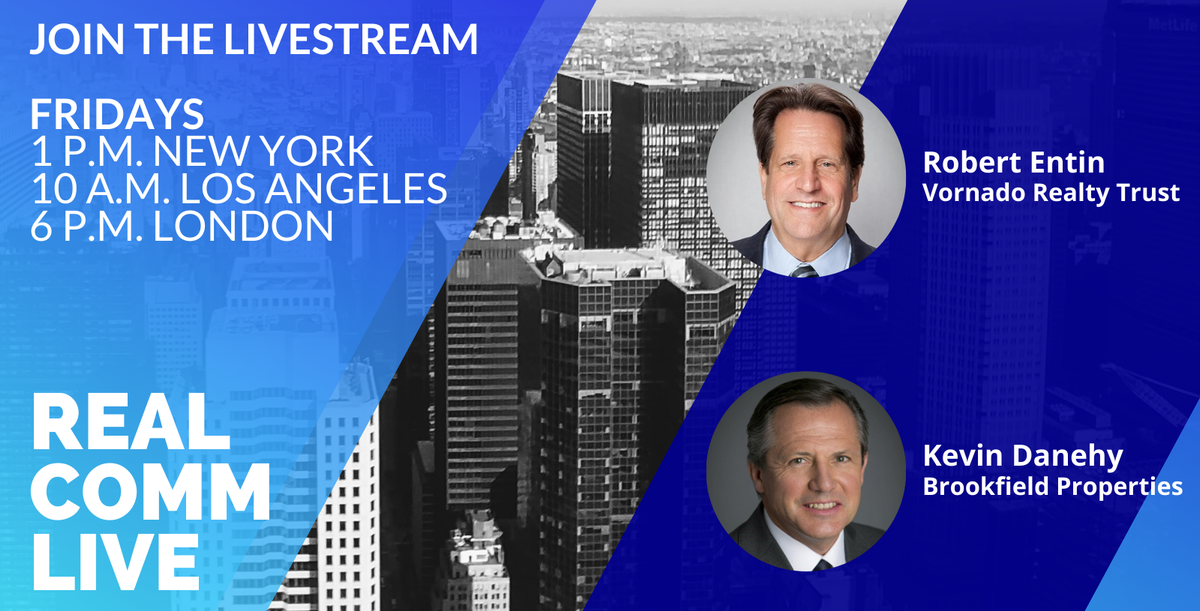 New York City is historically one of the most vibrant cities on the planet and a barometer of the world economy. However, the COVID-induced economic and societal slowdown has left New York like many other cities - eerily quiet and slowly, cautiously reopening its doors to bustling city life.
Episode 4 of Realcomm Live, a weekly news show that launched in early September, featured two prominent real estate companies sharing firsthand accounts of the COVID-19 impact on offices, real estate tech and the economy.
Vornado Realty Trust is a leading NYC landlord with office buildings concentrated in Midtown Manhattan representing nearly 20 million square feet of office space. Vornado EVP and CIO Robert Entin commented that while Midtown office is slow to reoccupy, residential has adapted to a new normal. "The city has adapted and is open with lots of outdoor dining and a vibrant residential area. People are out on the streets."
Vornado offices have remained open during the pandemic with lower densities. Pre-pandemic health-safety protocols enabled the company to quickly pivot and increase/enhance social distancing, disinfecting, elevator protocols, medical services in lobbies and touchless amenities. "As a landlord we are providing the safest possible environment with the most modern technology," Entin said, adding that all landlords' efforts "will not be tested significantly until we see larger numbers coming back."
Expanding from a local to global perspective, Brookfield Properties, one of the world's largest real estate owners and developers, also has substantial assets in New York City. Brookfield EVP Kevin Danehy said his company works hard to understand lessons learned in local markets. He observed the U.S. is lower than other sectors for office reoccupancy. "We have large concentrations of mixed-use assets, office buildings in particular, in 26 major global gateway cities from Sydney to Seoul to New York and Sao Paulo. In Shanghai, office and retail are back to pre-COVID days of 100% occupancy and foot traffic is back up." Seoul is nearly 70%, Perth 35-40% and San Francisco is the lowest with around 1-2% occupancy, Danehy estimated.
The effect on PropTech investment
Many companies are facing financial pressure, and senior leadership must make difficult budgetary decisions. There is no doubt technology is needed - but what is essential amidst a pandemic? Danehy and Entin agreed now is the time to focus on health and safety, remote access and contactless entry, citing that large disruptions historically accelerate adoption of new, transformative business practices.
Entin explained operational efficiency as a driver. "Activities that leverage staff so they can work more efficiently help drive costs down. It would be counter-productive to cut IT where IT is helping the business - it ends up costing more. The smart players will continue to invest there." Entin also expressed a belief in investment for technologies such as the immersive conference, which will become more commonplace as people return to office buildings.
Danehy described how Brookfield pivoted from adopting technologies that support building management systems, accounting and infrastructure, and started adopting individual platforms that improve efficiency within needed functions. "We invested in Honest Buildings for capital projects, management and web; we used VTS for leasing and found that there were terrific platforms to improve efficiency of these different functions," he said. "It also gave us the opportunity to aggregate data at scale to create data lakes that were previously unavailable to us, so we could utilize the data in new ways."
Danehy explained how Brookfield is also investing in the future of retail and established a $5 billion fund to invest in retail operators (stores and brands) that may have lost their way and were headed toward bankruptcy. Some of these are iconic household names like Neiman Marcus, Saks and Hudson Bay. The fund helps introduce these companies to better practices by using technology to gain a stronger competitive position.
Future focused
While the office market is still adapting, Entin and Danehy are believers in New York City and the industry. Entin mentioned that large companies such as Facebook and Google are signing massive New York real estate deals despite the pandemic. These companies have a longstanding WFH contingent and are still investing in office space. "By the middle of 2021, we will have better treatments and a good amount of inoculations," Entin anticipates. "People will start to feel normal. Team building, collaboration and culture- you can't replace that without everyone being in one place at one time. I'm very bullish on New York City."
Brookfield's continual investments keep Danehy focused on the future. "One of our most exciting projects is creating a Digital Twin (DT) of a recently completed two million square foot office building in New York City: One Manhattan West," he said. Over the last year, Brookfield worked with Willow (out of Sydney) creating an exact digital replica of all building systems and equipment. The DT aggregates all the different technology platforms used to run the building. "Microsoft has been a huge participant as our partner and a sponsor of Willow," said. "We're beginning to work with the occupants of the building to integrate our DT of the base building with the DT of the occupied leased spaces to improve how we optimize the functionality of the space. It's really profound."
Vornado Realty Trust and Brookfield Properties leverage their real estate and business knowledge with technology investments and industry partnerships to stay ahead of the curve. Both companies believe that collaboration and company culture rely on gathering in-office as well as using other venues for communication. This is made possible by companies working together to establish the best safety and security practices that make people safe in our buildings.
Missed Entin and Danehy on Realcomm Live? Watch it on-demand.
Subscribe to our YouTube Channel and tune in each Friday for exclusive interviews with industry leaders on Realcomm Live.
For more in-depth learning on how the pandemic has impacted our industry and other top of mind topics, join Danehy and Entin with other thought leaders at the upcoming Realcomm | IBcon 2020. The first global RE Tech hybrid event kicks-off with a highly interactive virtual event on October 26-27, with a crossover to the onsite experience on October 28. The in-person conference will be held October 28-29 at the Gaylord Rockies in Colorado. Register today!
This Week's Sponsor
Corning Optical Communications delivers connectivity to every edge of the network, with optical fiber, cable, hardware & equipment to fully optimize solutions for high-speed communications networks. For the enterprise, a future-ready fiber network can enable the ability to converge multiple technologies over a single, simplified infrastructure, helping to deliver high-demand building applications like Wi-Fi, security and Corning's in-building cellular solutions.
Read Next