Partner Content
Technology and the Pandemic: Fee Managers Discuss
May 21, 2020 | Brian Sutherland, Industry Principal, Commercial, Yardi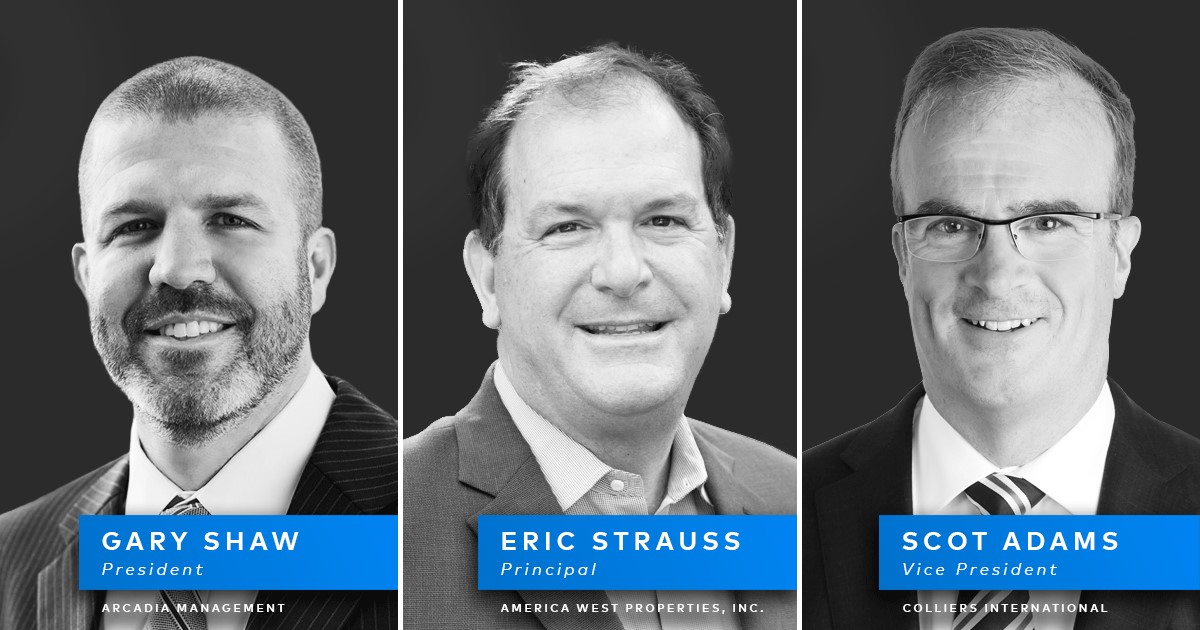 The COVID-19 pandemic is affecting every aspect of business and leaves us no choice but to face these challenges head on with as many technological resources as possible to mitigate the impact on our companies.
I recently moderated a discussion about how commercial real estate fee managers are adapting to the changing market. Joined by Gary Shaw, President of Arcadia Management Group, Eric Strauss, Principal at America West Properties, and Scot Adams, Vice President at Colliers International, we talked about a few of the ways this pandemic has altered the way we handle business and what we can expect in the future.
Organizational response
How does technology come into play with business continuity and the management of staff, tenants and owners? Early adaptation to change is key. Many offices shut their doors in mid-March, implemented remote work plans for their staff and maintained open lines of communication with owners, tenants and vendors. With a situation as unprecedented as the one we're in now, it's not unreasonable to assume few companies had specific pandemic plans in place.
Shaw, however, explained that his company had a "physical catastrophe" mindset in which they were able to "flip a switch" and execute a quick transition. Answering the question "What happens if our building burns down?" allowed Arcadia to implement strategies that helped them respond quickly to the challenges of the COVID-19 pandemic. Using online solutions for e-payments, document sharing and vendor management significantly streamlines your ability to go from an in-person setting to remote work.
Strauss said that as a smaller company, time is of the essence. America West has limited staff members to deal with countless questions and uncertainties. "We needed to manage our time through communication," he explained. Technology now allows them to communicate with employees, tenants and vendors through a variety of portals. Share documents they can access anywhere, send news and updates consistently to a broad audience, and manage requests and maintenance easily.
"We have 900 tenants in our portfolio, and 15 people to perform this transition," Strauss said. "In short order, we were able to establish rapid communication to our clients. In two days, we had consolidated custom financial reports that we send out to our clients twice a week with their receivables."
Future rent collection
While our industry saw a slight dip in April rent collection (Arcadia Management collected 81% of total collections, for example) the status of May and beyond has been of the utmost concern. Deferrals and abatements have become necessary for many tenants to stay afloat. We can leverage financial management software to assess tenant or industry risk and predictive analytics to judge which tenants will be in most trouble, but sometimes remembering the basics is critical. "Phone time is vital," Adams said. "Generally speaking, we had to come up with a custom program by owner, by building for about 15,000 tenants. Close contact with owners and tenants is what it comes down to."
Because not all owners are the same, it becomes more difficult to have a broad plan of attack. As Shaw explained, some clients have CMBS loans, some have traditional loans, some may own the property free and clear. The strategy differs in each case, and owners defer to lenders often. "If an owner says we can forgive six months of rent and tack it on to the end, there's potential they could be violating loan terms and be put in default," Shaw added.
Upcoming challenges
Accelerating IT processes has become vital. Meeting and communication platforms such as Zoom and Microsoft Teams are now primary means of contact. These programs are being adopted quickly and there is a tremendous reliance on them for business continuity.
More companies are accepting payments electronically to ensure non-contact transactions. Without staff present and with limited availability to take calls, e-payments are the secure and convenient method that should be leveraged to help in times of social distancing. Adams mentioned another resource his team implemented recently, "I always knew this existed but there really are a ton of great data storage options. I think more of us are now accepting the fact that this is so valuable that it's worth putting people on it to ensure accuracy."
"There's a lot of functionality that goes unused," Shaw added. "To do predictive analytics is great, but we miss on having SIC codes assigned to tenants. Going forward, we're putting the plan in place to get all of that in our system. You're able to do some really useful communication across your portfolio."
Beyond the online and virtual aspects of adaptation, there are challenging physical aspects of returning to offices. "We've had a lot of discussions with air conditioning contractors and owners about purifying the air and what can be done with deionization," Strauss added. He also explained that there may be new demands in leases that require levels of sanitation, touchless restroom facilities and other new measures to ensure healthy environments.
The challenges we currently face will shape the future of commercial real estate for years to come. Using technology to our advantage will help our businesses emerge out of the pandemic as quickly as possible.
This Week's Sponsor
Yardi® develops and supports industry-leading investment and property management software for all types and sizes of real estate companies. Established in 1984, Yardi is based in Santa Barbara, Calif., and serves clients worldwide. For more information on how Yardi is Energized for Tomorrow, visit www.yardi.com.
Read Next