Feature
RealcommEDGE | Maureen Ehrenberg, JLL, Srini Khandavilli, Intel & Jared Summers, ExxonMobil Talk CRE Tech Innovation
October 25, 2018 | Nancy Stone, Managing Partner, Realcomm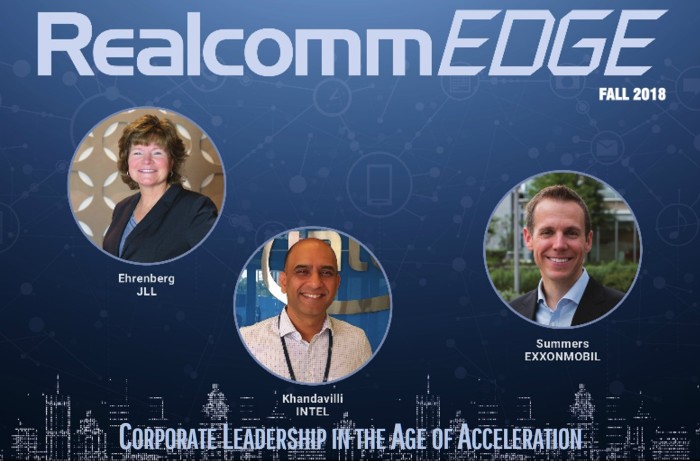 In the Fall 2018 issue, RealcommEDGE asked our CoRE Tech Advisory Council Co-Chairs Maureen Ehrenberg of JLL, Srini Khandavilli of Intel and Jared Summers of ExxonMobil, to share their views on what is required to navigate the impacts of technology on Corporate Real Estate and Facilities.
The RealcommEDGE magazine is the only publication focused exclusively on technology, automation and innovation for the Commercial and Corporate Real Estate and Facilities industry. It provides readers with astute analysis and world-class case studies demonstrating the best use of technology for the industry.
COVER STORY:

Corporate Leadership in the Age of Acceleration
Featuring Maureen Ehrenberg, JLL; Srini Khandavilli, Intel and Jared Summers, ExxonMobil

Corporate and commercial real estate comprises a large portion of the world's economy and includes every industry, from financial services to healthcare. While some forward-thinking companies are in the news showcasing new technologies, for many others, their sheer size, age, and organizational complexity may make them immune to the dynamism of the marketplace. As new technology opportunities continue to develop, strong corporate leadership is required for successful digital transformation. Ehrenberg, Khandavilli and Summers share insights on trends they see impacting CRE over the next few years:
Ehrenberg: "Organizations must achieve that balance between using less space, being efficient and effective, flexible, agile – while keeping the human element intact and thriving."
Khandavilli: "The key trend is continuing the integration of building and enterprise data… the marriage of these two will lead to deeper functional insights and enhance how we manage buildings."
Summers: "AI and machine learning's potential is transformational… the new model will require a shift in how companies manage real estate groups as skills required to maintain these models may not yet have on hand."
INSIDE THIS ISSUE:
On the Cover - Corporate Leadership in the Age of Acceleration

Featuring Maureen Ehrenberg, JLL; Srini Khandavilli, Intel; Jared Summers, ExxonMobil

From the Publisher – The Age of Acceleration: Navigating the Impacts of Technology on Corporate Real Estate and Facilities

Editorial - Platforms and Models and Bots – Oh My!

Business Solutions - Maximizing Operational Efficiency: Tenant Apps Provide More Than Just Better Engagement

Intelligent Buildings - Web Centric Building Management

Spotlight: Smart Cities - Gramercy District: A Fully Integrated Smart City Platform

Spotlight: Workplace Management - WeWork is Revolutionizing the Way Businesses Think About Their Corporate Workplace

Spotlight: Immersive Technologies - The New Realities: How Virtual & Augmented Reality Are Changing the Way We Work

BONUS! 2018 Solutions Marketplace Directory
…And Many More!
This Week's Sponsor
iOFFICE equips facilities, CRE, and workplace leaders with the real-time data and mobile tools to plan for the future of their workforce and workplace. iOFFICE HUMMINGBIRD is the first Employee Experience solution and app that allows employees to find, request, use and reserve the spaces, information, people and events they need while automatically collecting critical business intelligence. The iOFFICE MARKETPLACE is a growing network of vetted application partners offering from energy optimization, digital signage and wayfinding apps that use the iOFFICE platform. More than 2.4M users at 1400 fast-moving companies like Adobe, Homeaway, HESS, FBL, Sephora, Sodexo, McKesson, Publicis, Under Armour are creating the most productive workplaces on earth.
Read Next