REALCOMM EDGE HOME
CURRENT ISSUE – FALL 2021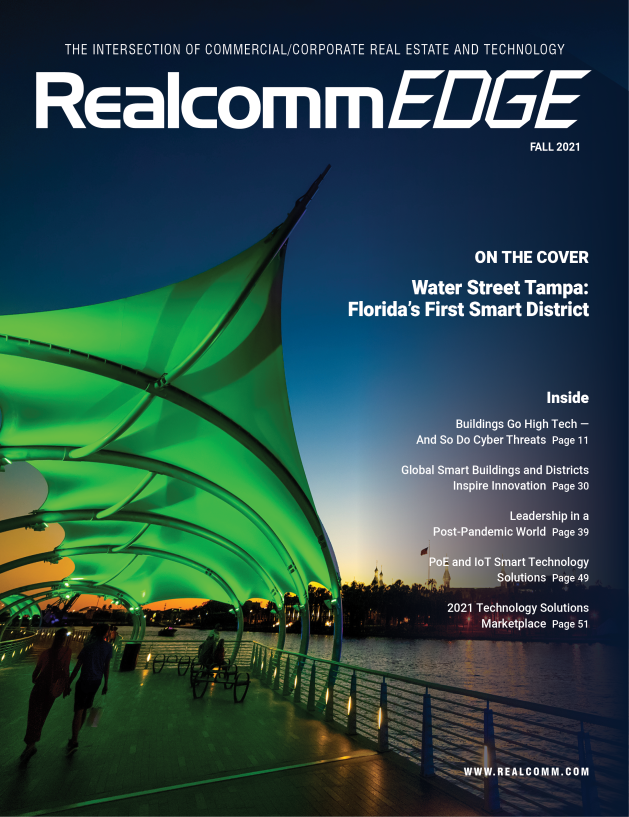 Click to read the digital version of the current issue.
The RealcommEDGE magazine is the only publication focused exclusively on technology, automation and innovation for the Commercial and Corporate Real Estate and Facilities industry. It provides readers with astute analysis and world-class case studies demonstrating the best use of technology for the industry.
Water Street Tampa: Florida's First Smart District
WATER STREET TAMPA IS BURGEONING as Florida's first smart district and is changing the future of downtown Tampa. This connected, urban, multi-use project on the waterfront spans 56 acres and includes nine million square feet of new commercial, residential, educational, entertainment, cultural and retail space with a total investment exceeding $3.5 billion. Its state-of-the-art communications infrastructure creates seamless city life, with publicly accessible 5G Wi-Fi and a mobile platform for reserving everything from parking to personal services and amenities. This project is poised to be a best practice showpiece for smart city innovation and sustainable urban waterfront design for years to come.