REALCOMM EDGE HOME
CURRENT ISSUE – SUMMER 2021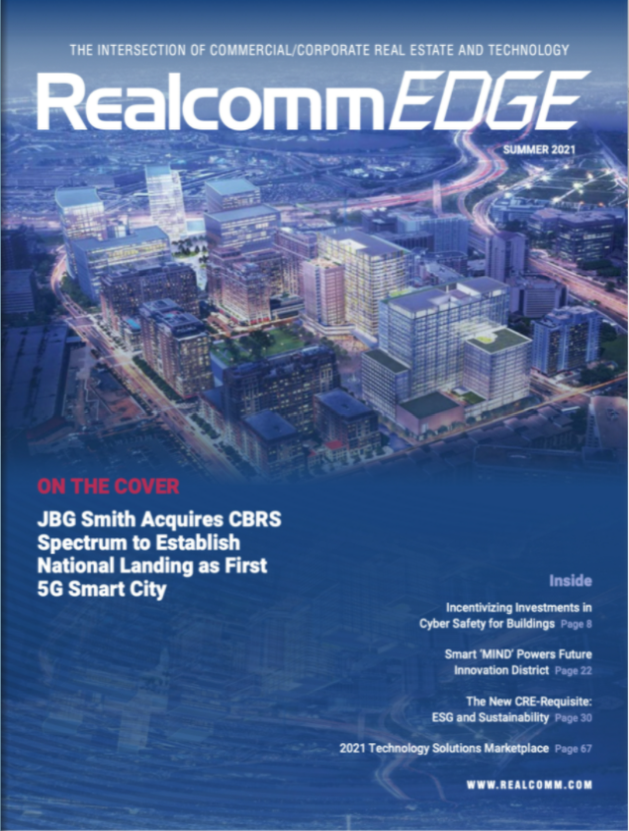 Click to read the digital version of the current issue.
The RealcommEDGE magazine is the only publication focused exclusively on technology, automation and innovation for the Commercial and Corporate Real Estate and Facilities industry. It provides readers with astute analysis and world-class case studies demonstrating the best use of technology for the industry.
JBG Smith Acquires CBRS Spectrum to Establish National Landing as First 5G Smart City
National Landing, a 21st century urban neighborhood in the capital region of Washington D.C., is poised to be one of the most innovative digital districts in the world and one of the first 5G hubs in the U.S. With the acquisition of seven blocks of Citizens Broadband Radio Service (CBRS) spectrum, JBG Smith will accelerate partnerships with leading service providers to bring 5G and other technology infrastructure to the district. This investment in next-generation connectivity will further cement National Landing as a premier global destination for entrepreneurs, universities and tech companies.