REALCOMM EDGE HOME
CURRENT ISSUE – MAY 2017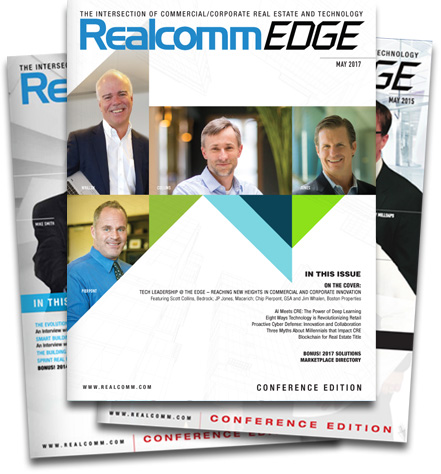 The RealcommEDGE magazine is the only publication focused exclusively on technology, automation and innovation for the commercial and corporate real estate industry. It provides readers with astute analysis and world class case studies demonstrating the best use of technology for the industry.
In the current issue, the RealocmmEDGE met with this year's Conference Advisory Council Co-Chairmen to learn what their companies are focusing on and to discuss how new technologies are affecting their strategy and vision. As they shared their considerable expertise, each touched on a common thread: that the way forward is through standardization of methods and documentation, true scalability and the inclusion of people who all have a stake in the vision. The word of the future is collaboration, based on actionable data. Only the confluence of all these different areas will bring success in this brave new world we are entering.

Click to read the digital version of the current issue.