REALCOMM EDGE HOME
CURRENT ISSUE – MAY 2018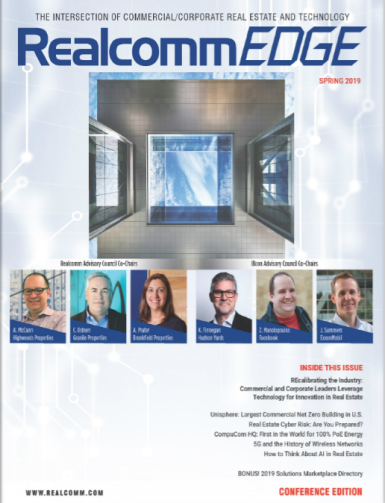 Click to read the digital version of the current issue.
The RealcommEDGE magazine is the only publication focused exclusively on technology, automation and innovation for the Commercial and Corporate Real Estate and Facilities industry. It provides readers with astute analysis and world-class case studies demonstrating the best use of technology for the industry.
Technology Leaders in the Age of Acceleration
Technology advances in commercial real estate, such as energy efficiency and sustainability features, have become part of our everyday landscape. As newer iterations of these technologies developed into connectivity and smart buildings, they began to encompass ever larger areas of the business and grew to include many areas not traditionally under the purview of IT.
Today, the newest technologies such as Blockchain, Autonomous Vehicles, and smart construction's 'Self- Healing Buildings' are paving the way towards wholesale changes in the way we use buildings. Developing true agility and flexibility will be key — no small task for the large enterprise.
In the current issue, RealcommEDGE asked our Realcomm | IBcon 2018 Conference Advisory Council Co-Chairs to share their views on what is working today, and what the future holds as their technology roles continue to evolve.