Feature
A Holistic View of the Building Automation Industry Supply Chain Crunch
April 21, 2022 | Jason Mills, Director of Marketing and Communications, KMC Controls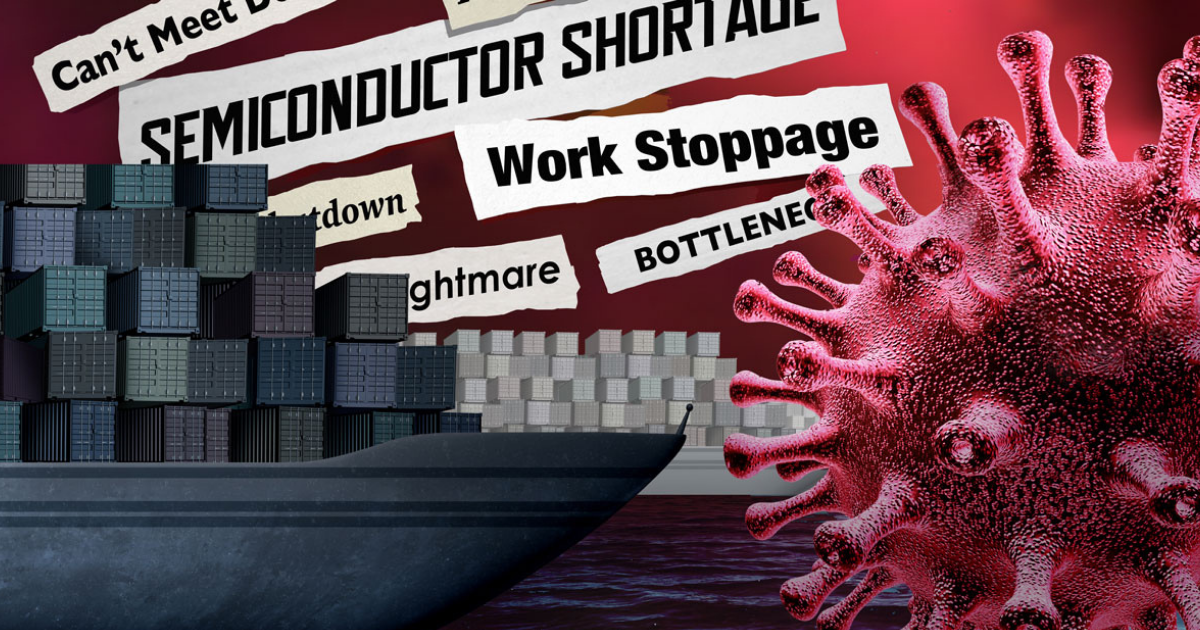 The coronavirus have illustrated that the global supply chain is not equipped to handle sudden disruptions. Delays and price increases have become the norm, and the ripple effects of these supply chain issues radiate outwards and can be felt by manufacturers across all industries. And previously reliable timelines have gone out the window. Suppliers are having difficulty obtaining raw materials as they wait on delayed shipments from affected areas and factories are unable to obtain the components and subassemblies they need. And, unfortunately, the building automation industry has been no exception.
"COVID created wide-scale global disruption across supply chains," explained Gina Raimondo, United States Secretary of Commerce. "The fact that we literally flipped the switch and turned off the economy - sent manufacturing workers home, stopped shipping and trucking, [and] stopped production all at once all over the world - created massive disruption in the supply chain. It turns out you can flip the switch off, but you can't flip the switch on. And as a result, there have been logistical challenges, shipping challenges, [and] product shortages. By the way, on top of that, there have been numerous manufacturing shutdowns because of COVID outbreaks. So, all of that has led to product shortages, which has led to increased prices."
Herein lies the problem: a blockage at one point in the supply chain can have a domino effect, in which each factory along the chain is only able to produce a necessary output (their product) once it receives the prior input (components and subassemblies) from another factory. Thus, if a number of factories begin to fail to deliver their outputs, then those that depend on those outputs are unable to function properly. This is where the current shortfall in building automation equipment and components becomes problematic. The industry has reached a point where nearly all of its manufacturers are at least partially affected by supply chain interruptions and cannot operate at maximum capacity or even normal capacity because they lack necessary inputs. While some building automation suppliers are better off than others, no manufacturer has escaped unscathed from this problem.
"I think we call it a chain, but network is a better way to actually see it … most executives say they cannot map their entire chain. Think about that," said Dr. Nada Sanders, Distinguished Professor of Supply Chain Management in the D'Amore-McKim School of Business at Northeastern University, at her recent lecture, "Global Supply Chains: Current State, the Future, and Using Collective Intelligence for Redesign."
Most modern supply chains are optimized for just-in-time manufacturing, a principle designed to reduce the amount of inventory stored in warehouses, in favor of manufacturing and shipping products as they are ordered. This kind of lean manufacturing works best if manufacturers have a predictable cadence of components arriving. Although just-in-time manufacturing does reduce costs, it comes at the expense of not having a large stock of inventory on hand to absorb supply chain disruptions.
A common lean manufacturing process looks something like this:
A manufacturer receives an order,
Their core system will look at all of the raw materials required to manufacture each product,
The system will then look at how much raw material is in stock,
The system will then allocate the appropriate number of raw materials,
The system will then generate a report detailing how much new raw material will need to be ordered as well as when that order will need to be placed to replace what was used.
"Then it's going to throw out suggestions for us to order more because of the current lead time and because of our forecast, so then we'll order our purchased parts based off of that," explained Kerry Leffel, Supply Chain Manager at KMC Controls.
KMC Controls is unique in the building controls and automation industry in that it is the only building automation company in the United States that still owns the entire manufacturing process, making nearly every part of all their products in-house at their headquarters in New Paris, Indiana. Due to their unique position in the market as the country's only fully vertically integrated building controls manufacturer, KMC Controls can see more of their supply network than nearly anyone else in the industry.
"The key factor there is the lead times, so we have to make sure that our lead times from our suppliers for the purchase parts are all set up correctly in our system," said Leffel. "We could have a six-week lead time today and tomorrow we could get notified that it is now 52-weeks, so now we have to try to figure how we're going to bridge that gap."
Bridging a gap of 48-weeks or more is no small task. Leffel explained that this shifting target has forced KMC to seek out new suppliers who might have stock available to spot buy or to go to brokers, where they have to pay a vastly higher premium, which increases the end price to the consumer, "But we've got to bridge that gap. Otherwise, we shut down."
Challenges like these have fueled the discussion of a more localized supply chain to the forefront of public discourse, sparking debate about how self-sufficient countries should be and how much flexibility is needed in a sector's supply chain to maintain an adequate level of production.
"Fundamentally, we need to make more chips in America. The semiconductor industry was invented in America," said Raimondo. "Once upon a time, not that long ago, we made almost 40 percent of all the world's chips in America. Now we make only 12 percent, which means we're extremely dependent on other countries for our chips."
Today, however, the vast majority of semiconductor manufacturing occurs in East Asia. While recent investments from companies like Intel to build new manufacturing facilities in the U.S., more than half of the inputs needed for chip manufacturing are sourced from places overseas, such as China and Eastern Europe. That said, further exacerbating the crisis is the Russian invasion of Ukraine, which threatens supply chains for critical semiconductor inputs such as nickel, palladium, and neon. Despite efforts by fabless semiconductor companies to increase capacity and reduce reliance on overseas manufacturers, almost all critical supplies come from overseas sources.
According to a Boston Consulting Group report, the United States would need $1 trillion in upfront investment, resulting in a 35 percent to 65 percent overall increase in prices on electronic devices. Further, it's difficult for new businesses to enter into the industry due to the high level of investment and hyper-specialization. Meaning, the top one or two players in any given niche dominate due to scale, learning efficiencies, and the high price customers have to pay if they want to change hardware.
Simply put, the COVID-19 pandemic has created a global supply chain crisis in the building automation industry, due to myriad problems all culminating at the same time – shipping delays, raw material shortages, chip shortages, production delays, increased costs, inventory challenges, and labor and components shortages. Building automation systems are vital to the way modern society operates. They control everything from heating, ventilation, air conditioning, lighting, and security to access control, elevators and escalators, fire alarms and much more. When the supply chain for these systems is disrupted, quality of life is threatened.
Thus far, the building automation industry has responded to these challenges by partnering with component suppliers and conducting regular supplier assessments. Many manufactures in the industry are also considering alternate suppliers.
What can be done to address these challenges in addition to these steps? First and foremost, the Building Automation industry needs to be proactive in addressing these supply chain issues. Second, it's critical that the industry unify so that manufacturers can effectively communicate with one another about their needs, challenges, and successes. This will help avoid duplication of efforts as well as wasted time and money, which benefits everyone. In addition to unification, the industry needs to take steps to become less reliant on overseas manufacturing processes and limitations. Additionally, manufacturers should be partnering with other industries that may have similar supply chain issues so they can share solutions and best practices.
Note: Richard Newberry, CEO of KMC Controls, was featured recently on Realcomm Live where he discussed the supply chain issues impacting the smart building industry and how we must come together as an industry to solve this serious problem. Watch the video.
Be a part of the largest smart building conference in the world,IBcon 2022, featuring the most current and comprehensive discussions, debates and demonstrations presented by thought leaders in the built environment. Co-located with Realcomm, the premier industry event focused on automated business solutions and state-of-the-art enterprise technologies for CRE, will be held on June 15-16 (Golf Outing: June 13 | Precon Events: June 14) at the Orange County Convention Center in Orlando, FL. Register today!
This Week's Sponsor
Intelligent Buildings® offers portfolio-wide cybersecurity site assessments and ongoing managed services including secure remote access, system backup and policy audits. We are the only company solely focused on real estate technology advisory, assessment, and managed services. Since 2004, we are the most trusted and experienced name in Smart Buildings. Find out more at www.intelligentbuildings.com.
Read Next