Partner Content
Companies Embrace Fluidity in Office Portfolios, And Customization is Key
September 30, 2021 | Sabine Ehm, Thought Leadership & Research Manager, Locatee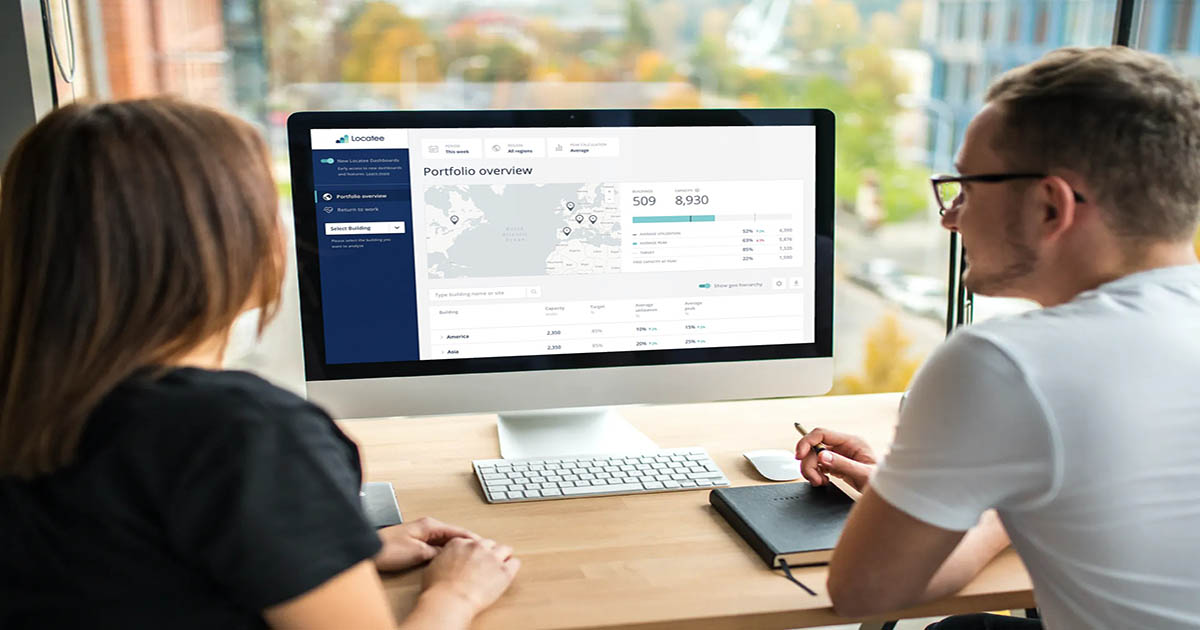 Employers are competing with the home setting - employee's choice environment for working in the pandemic and beyond. The onus is now on national and global companies to revamp their workplace design across portfolios to create a flexible work environment that will lure workers back to the office that favors the work-from-home setup they've grown to cherish. No longer will a one-size-fits-all approach to office design meet the workforce needs of large office portfolios, spanning multiple cities and countries.
Tailoring workplace design to account for office location, work habits, and culture is at the center of returning employees to the office who favor working from home. Central to introducing new thought in architecture, design, and ultimately operations about the changing functions of the workplace is data, particularly analytics that captures space utilization and the deployment of resources to meet the employees where they are at home so they can transition back to the office.
"When it comes to the design of the office, in terms of what it will look like, it is going to be dependent on how much you want to compete with the home setting," said Gloria Mamwa, Regional Head of Property at Standard Chartered Bank (SCB), on The Workplace Leader podcast, a series produced by leading data and workplace analytics provider Locatee.
As a Zurich-based company serving clients on a global scale, Locatee uses real-time data and human-centric office solutions to optimize space utilization across office portfolios. Founded in 2015, Locatee has deployed innovative methods combining historic and real-time data to help clients create office space centered on its people, crucial for both employers and employees in a post-pandemic world.
Implementing technology has been a focus for workplace leaders pre-pandemic who were looking to reduce operational costs organizationally. But now employers see it as an opportunity to increase employee satisfaction and thus productivity, particularly as work-from-home continues to function as a competitor to traditional office spaces.
The groundwork for a new design strategy is to understand what employee needs are and what that looks like in the workplace - which corporate real estate leaders believe will focus on collaboration regardless of industry type, and how best to support employees. Balancing workplace design across portfolios is more than gathering data points but using that data to understand an office property portfolio over the past, current, and future.
For instance, SCB, a financial services company and emerging markets bank headquartered in London, has a real estate office portfolio spanning 60 countries and totaling an estimated 13 million square feet. Balancing strategic workplace design with cultural differences across many countries is at the epicenter of their work, according to Mamwa.
While the pandemic created a worldwide stress test of digital work tools and processes in the blink of an eye, SCB decided to implement their own trial focused on their employees, giving their workforce the choice to work from home, in the office, or a combination of the two. Data gathered from the experiment will inform workplace design and operations in the future.
The competition between work-from-home models and returning to the office has undoubtedly resulted in an arms race for data technology and advisory of deploying that technology to garner existing data insights and marrying that to new market research for best practices in the new normal. Strategizing a new design for workplaces post-pandemic is not only to optimize office safety for the return of the workforce but to make the office desirable to a reluctant workforce.
To emphasize collaboration as the underlying value of the workplace post-pandemic, an open floor plan work-environment is expected to rise as a star layout for fluid design and employee preference. Amidst change in the industry, the top-of-mind question has been how much real estate is needed and what feel it embraces, either a work-from-home or hybrid model, and does it cater to employee needs for maximum productivity. These are the questions Locatee sets out to answer for clients.
Corporate real estate executives' biggest challenge in returning their workforce to the office is they are not technologically enabled with digital capabilities to meet shifting business-critical objectives. Not having a full picture of the workforce is a costly disadvantage and results in short-term reactivity.
While operators have to juggle and address changing safety regulations, social distancing guidelines amid a transient workforce, and a redefinition of the workplace on a property basis, overwhelm is inevitable. Equipping workplace leaders with the knowledge to create individual strategies for offices supports an informed leadership team for seamless decision making.
The effects of the pandemic on commercial real estate are unfolding and expected to continue well into the future. Accounting for nuances from a data perspective and deploying that data to solve operational bottlenecks and ensure employee productivity underlines corporate strategy in the new normal and serves as an imperative as employers look to grow their business and sustain in the pandemic and into the future.
This Week's Sponsor
Angus Systems is a leading provider of customer driven mobile and cloud-based work order and operations management solutions for commercial real estate. Our software supports over 2.6 billion square feet across North America in buildings from 20,000 to portfolios of more than 100 million square feet. Visit www.angus-systems.com to learn how we help our clients shine.
Read Next