Feature
River South Austin: Introducing the Smart Building
August 26, 2021 | Reprinted with permission from Stream Realty and Austin Business Journal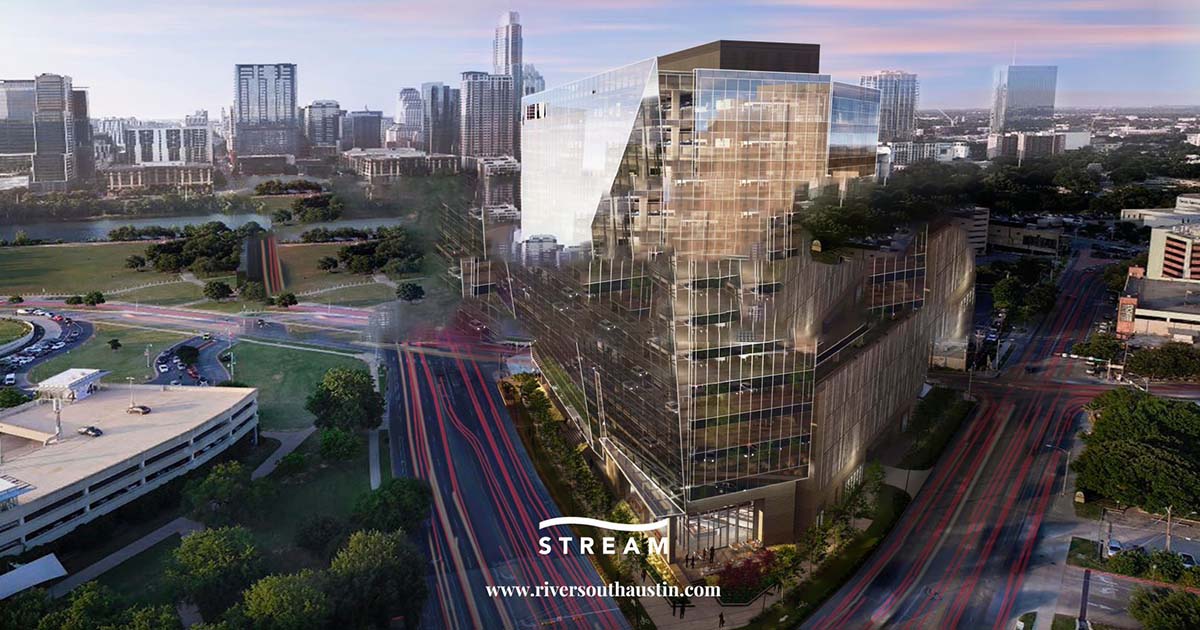 When the 15-story RiverSouth building opens by the end of 2021, developers said it will be the most technologically advanced and safest high-rise in Austin — if not Texas.
The tower rising at the site of a former Hooter's restaurant on South First Street, next door to Auditorium Shores and The Long Center for Performing Arts, is billed as Austin's first smart building. The distinctive building will also serve as a new gateway to downtown Austin as demand drives more high-rises, and greater density, south of Lady Bird Lake.
"It is an iconic site, and we wanted to deliver an iconic building and not cut any corners," said David Blackbird, regional managing partner for the building's developer, Dallas-based Stream Realty Partners LP.
RiverSouth is Stream's first ground-up tower in downtown Austin, and will become the model for other buildings developed by the company across the country, the firm said. The technology will be so fresh, some of it is still being developed but will be ready when the building opens.
"That is how on the edge of the technology curve we are," Blackbird said.
Amid the Covid-19 pandemic, many real estate professionals are studying what office space and buildings will look like as workers return and trends change based on health and safety concerns. One thing is for sure: High-rises, a skyrocketing segment of Austin's real estate market, will have to adapt to become safer — from adding extra filtration systems to going touchless.
How smart can buildings be?
A smart building is one that uses automated processes and technology to control the building's operations including heating, ventilation, air conditioning, lighting, security and other systems. It can go a step further, though, and use the collected data from these systems to improve the efficiency and sustainability of the building and the health and wellness of tenants.
"It is using technology to tailor the user experience for each occupant," said Brian Miller, chief design officer at The Beck Group, the architect and contractor for RiverSouth. "The focus was to thoughtfully impact human health, wellness and comfort into every aspect of the design to increase occupant satisfaction and reduce the impact to the environment."
RiverSouth is taking that to the next level with advanced technology. Because so few smart buildings have been built in the United States, Stream is consulting with engineers at United Kingdom-based Hoare Lea, which specializes in designing intelligent building systems.
Sensors are commonly used in modern buildings, for example, to monitor occupancy and detect when a room is empty and turn off an overhead light. The sensors that will be installed in RiverSouth — above the ceiling and out of view — will be much more advanced and able to track "micro-movements," said Eric Herron, managing director of construction and development at Stream.
These micro-movement sensors have broad applications, including some that sound almost like science fiction.
Micro-movement sensors can track occupants of the building as well as the temperature, breathing rates and heart rates of people inside the building, Herron said. These sensors are starting to be used in hospitals to detect when a patient falls.
Herron noted that some of the sensors' intricate features — such as tracking heart rates — may not be used in the building because of privacy concerns. Each tenant will decide how they want this technology implemented in their spaces.
Other sensors will be able to monitor indoor air quality and detect chemicals and particulates in the air as well as humidity and temperature.
The data collected from these advanced sensors, camera analytics and Bluetooth beacons will have broad applications from detecting the location of an active shooter in the building to pinpointing highly trafficked areas that need to be cleaned more often.
Tenants, for example, will be able to track the typical working hours for employees, or how often their conference rooms are being used, which could inform their future needs.
Unlike most other high-rises in Austin, tenants will be billed for their individual energy usage instead of pro rata between the other companies in the building, according to the developer. Each tenant will get to see how they are using electricity and ideas to decrease their energy use.
While Stream insists lease rates at RiverSouth are comparable to other downtown office towers, tenants will see energy saving at the tower, Herron said.
Additionally, Stream aims for RiverSouth to be completely touchless, meaning from the time a tenant enters the parking garage, they should not have to touch anything until they get to their desk.
A license-plate reader will detect when each tenant enters the building. Tenants will use an app to call the elevator, order coffee and reserve conference rooms and tables in the sky lounge. The app allows the connection of the systems directly to the occupants.The developers are considering everything from voice-activated doors to foot pulls to make office and bathroom doors touchless.
To make the building more environmentally friendly, RiverSouth will capture rainwater and 100% of its HVAC condensate water, according to Beck. The treated water will be used for irrigation for all of the landscaping in the project, including at the street level, at the amenity garden and green roof on the seventh floor and at the 15th floor sky lounge. The rainwater collection system is designed to sustain the building's landscaping for up to 28 days without rain, according to Beck. Water that is collected and not used for irrigation will be distributed to rain gardens on the street level.
More property details
QuadReal Property Group, a Canadian real estate investment, development and management company, is an equity partner with Stream on RiverSouth. Stream declined to disclose the cost to develop and build the tower. New York Life Insurance Co. provided a $123 million construction loan.
Baker Botts LLP is the only tenant to have signed a lease so far at RiverSouth. The law firm is taking about 50,000 square feet of the 348,000-square-foot building.
"The RiverSouth building will create a significant impact to the 'live work play' lifestyle of the intersection of South First Street and Riverside Drive," remarked Todd Runkle, co-managing director of the Gensler architecture firm in Austin, who isn't involved in the project. "Sustainable strategies and the first building to be built adhering to the South Central Waterfront Initiative are significant to the future development of Austin, Texas."
In terms of its architecture, RiverSouth was designed by The Beck Group to be distinct and to offer unobstructed views of downtown, Lake Bird Lake and the Texas Hill Country.
"Fitting this unique location, the park-facing facade was designed as an art piece," Miller said. "Its precise angular composition conveys a sense of movement. From the interior, tenants will enjoy expansive views out thanks to the use of floor-to-ceiling glass and careful consideration of window mullion placement. The park side rooftop terrace and sky lounge will also provide unmatched views of the city.
RiverSouth's honed sculptural faceted facade makes it distinct from other buildings, according to Jim Susman, founder and principal of Austin-based STG Design, who is also not involved in the project. "It makes it more dynamic as you are driving by, which is kind of nice," he said.
NOTE:This article was originally published in 2020 and is reprinted with permission from the Austin Business Journal and Stream Realty.
To learn more about River South Austin, watch the recent Realcomm Live featuring Eric Herron, Managing Director of Development and Construction at Stream Realty and Thano Lambrinos, SVP, Digital Buildings, Experiences & Innovation at QuadReal.
The world's most innovative real estate projects, such as River South Austin, will be featured at the Smart Building Best Practice Showcase on Nov. 3 at Realcomm | IBcon 2021. Demonstrating leading edge technologies, integration and connectivity, these state-of-the-art buildings, campuses, districts and portfolios represent global thought leaders' vision for intelligent and adaptive design transforming the next generation of smart buildings. The event will be held at the Westin Kierland Resort in Scottsdale. Register today!
This Week's Sponsor
We help customers See Beyond What's Next with cloud-native ERP real estate management solutions for office, retail, industrial, and residential owner operators. REMLogics is built on a modern no-code ERP platform so customers can continually innovate and respond faster to the ever-changing real estate and technology landscape. To learn more visit www.remlogics.net.
Read Next