Partner Content
When It Comes to Your Smart Building Network, Different Equals Smart
October 8, 2020 | John Dulin, VP, Market Development, Corning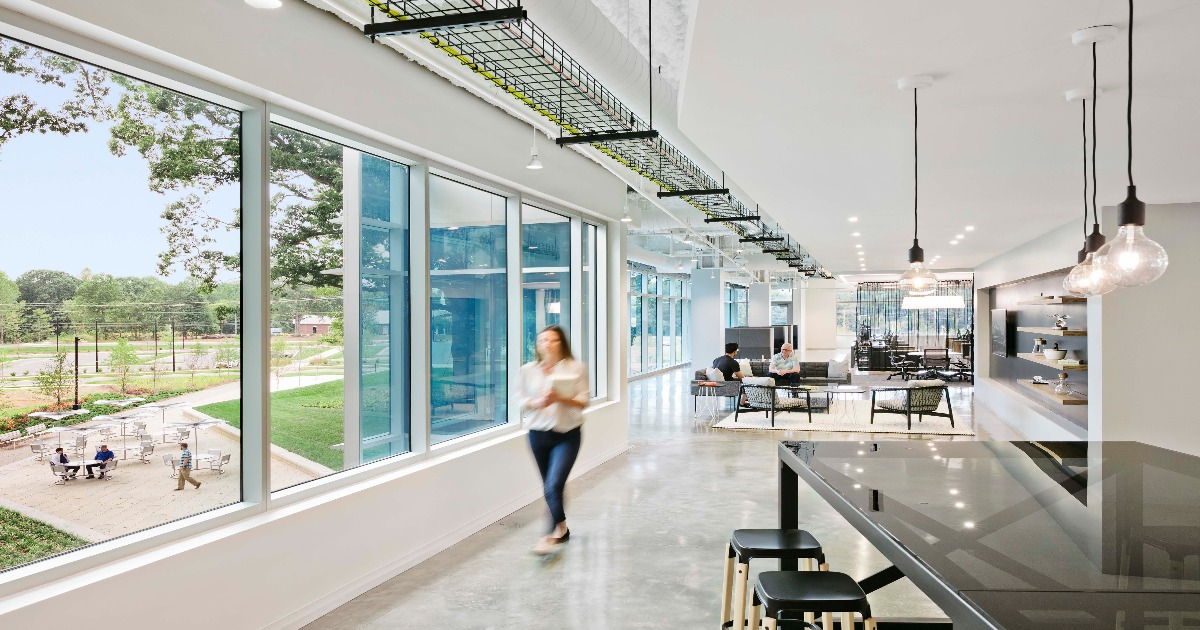 Building networks today serve a different purpose than they used to. Instead of just managing building systems and basic telephony, these networks are getting smarter, driving the occupant experience and pushing the boundaries on how we collect, move and process data. At the heart of the network is connectivity that needs to last the life of the building, delivering bandwidth and power to support the technology inside the building.
For smart buildings, connectivity is one item among many that requires special consideration at the early planning stage. Understand that your needs will increase as new technology becomes part of our daily lives.
Sometimes, tech needs ramp up quickly and unexpectedly. As buildings now welcome occupants back to offices after months away, the acceleration of sensor technology, additional security cameras and AV with wireless controls can tax networks that aren't ready.
To be ready you need power and bandwidth … and lots of it. Fiber-based in-building networks enable simple, centralized network management. This would include easy adds and changes at the edge; unlimited bandwidth to support emerging technology; flexibility to swap end devices in a few seconds; less conduit; smaller cable trays; and single runs from the MDF more than 2,000 feet - eliminating IDF closets on every floor.
With these benefits, the case for building the network differently is stronger than ever, because the goal is to be future-ready, avoid costly upgrades and simplify our workspace.
Smart design
We planned our headquarters in Charlotte, North Carolina with smart technology in mind. All 180,000 square feet of it runs on fiber from one equipment room on the main floor. This idea drove the transformation of traditional construction methods and is serving as an example for future smart buildings. In fact, our HQ was a pilot project for the new SPIRE Smart Building Program from Underwriter Laboratories (UL) and the Telecommunications Industry Association (TIA). This program evaluates and measures building technology and performance, and our building met or exceeded all six criteria requirements.
By designing smart, we were able to save material, labor and space that we could repurpose for other uses. Some of the highlights include:
Reduced linear feet of cabling by 68%, because the fiber infrastructure can reach every location in the building from a single point.
Only one telecom closet and we are able to reach every network port in the building, as well as security cameras and outdoor Wi-Fi in the parking lot.
Eliminated long, bulky category cable runs, which saved on floor space, material, labor and pathways.
Reduced cable trays from 24" to 12", but J hooks would have worked as well.
Reduced IDF closets by 83%, saving $50,0000 saved per IDF buildout.
When all was said and done, we realized 29% CAPEX savings compared to traditional copper LAN design and our smart building has future upgradeability built in without pulling new cable.
Occupant experience
In addition to requiring smart technology, we also needed our building to work for our people. We accomplished both with a network that is future-ready and accommodates the way we work. The result is a flexible workspace with a focus on mobility. We have untethered our workforce by switching from wires to wireless, employing both robust Wi-Fi and carrier-grade in-building cellular. As a result, our team can work from any corner of the building with the same connected experience they would get from a traditional desk set up. This is a huge shift from the 30-year-old methodology of running a cable to every desk.
This new design approach enables people to move freely and socially distance without cords holding them to a particular desk. This will allow us to smoothly and easily re-enter, keeping the health and safety of employees the top priority. Without the wireless-first approach we took, the logistics could have been a much more difficult process.
In addition to wireless, power- and fiber-to-the-edge networks accommodate other popular edge applications and technology that are prevalent in enterprises large and small:
A/V with 4K displays, walk-up scheduling panels for every room, video conferencing
Security cameras at the far reaches of our property
In-building 5G-ready cellular connectivity
Sound masking controllers
Printers
Streamlined approach
This wireless-first strategy is built on the foundation of software-defined LAN. Composite cable transports power and data to access nodes at the edge, and Wireless Access Points and cellular radios connect from there with a short copper patch cord. This simple setup is all it takes.
As more enterprises look to modernize existing structures or start from the ground up with a new, future-ready approach, the time to think differently is now. The result for building owners will be attractive, connected workspaces that enable workers to thrive in an unwired environment. Network operators will thrive too, as they benefit from a single converged network, making management simple and expansion a breeze in the future.
To learn more, take a tour of our headquarters at www.corning.com/CLT-HQ.
This Week's Sponsor
Corning Optical Communications delivers connectivity to every edge of the network, with optical fiber, cable, hardware & equipment to fully optimize solutions for high-speed communications networks. For the enterprise, a future-ready fiber network can enable the ability to converge multiple technologies over a single, simplified infrastructure, helping to deliver high-demand building applications like Wi-Fi, security and Corning's in-building cellular solutions.
Read Next