Feature
Telepresence and Immersive Technologies Transforming Events, Meetings and Buildings
October 1, 2020 | Jim Young, Co-Founder & CEO, Realcomm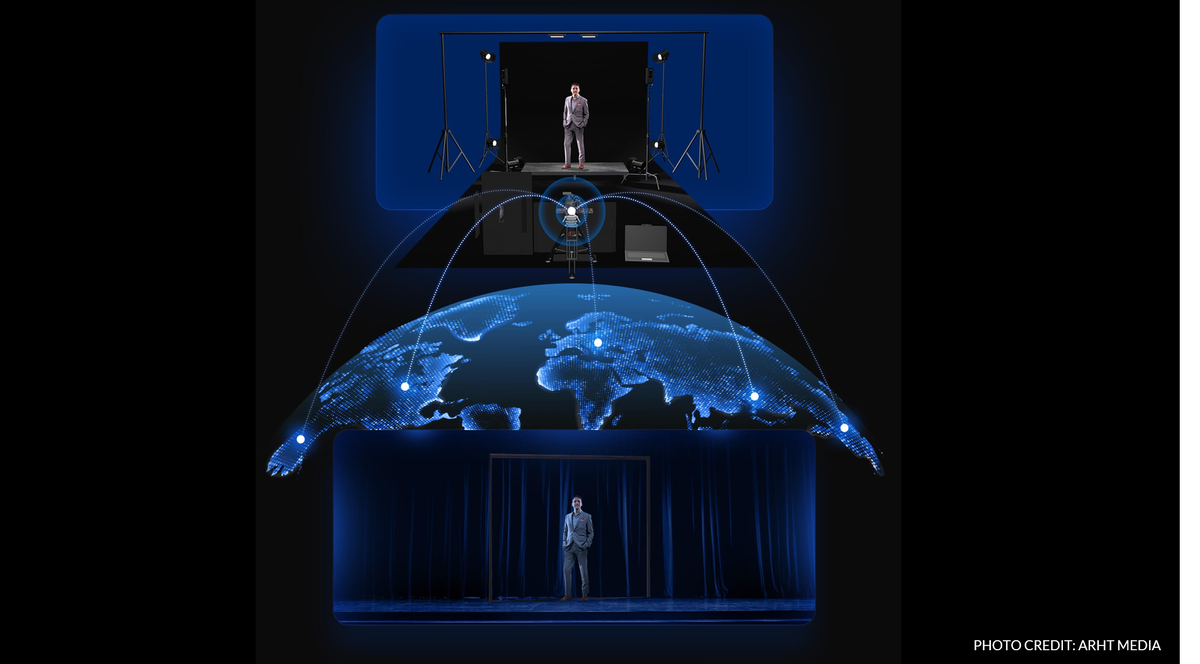 Millions around the globe have made the transition to remote work amid the COVID-19 pandemic. Most have settled into the WFH routine and gotten used to interacting with clients and colleagues via video. Meeting this way has kept us connected and enabled business continuity, but something is missing when you remove the physical presence from our communications. Fortunately, change is coming via a technology known as telepresence, a virtual reality technology that gives a person the lifelike appearance of being present at a place other than their true location.
The concept isn't new. We've grown up with the idea of teleportation in science fiction. As kids, we marveled when Star Trek's Captain Kirk shouted, "Beam us up, Scottie!" and watched as the crew of the Enterprise were miraculously transported to various locations. Telepresence has been featured in many entertainment venues and theme parks, like Disneyland and Universal Studios.
We, too, were early pioneers of this technology, demonstrating telepresence 19 years ago at Realcomm 2001 in Dallas. Using Cisco Systems telepresence technology, we virtually "beamed" a senior real estate leader from London into our General Session. His image was so clear and lifelike; people commented afterwards that it was very hard to tell he wasn't there in person - even from the front row.
In years since, Cisco has done a number of projects with telepresence on LED screens and glass walls. The technology is most effective when used on a single large LED projection wall that allows the image of several people at once, which allows images at scale. If a person is six feet tall, their image will be the full six feet. Capabilities in this area have grown exponentially. Telepresence technology today can bring in images with a full 3D aspect with no screen barrier at all.
While newer versions of this technology have been used by musicians and celebrities, the mainstream world has not adopted it in full yet. How will our daily lives and businesses change as telepresence becomes more widely adopted? Will real estate meetings of the future include half empty conference rooms with many of the participants attending virtually? Will this be an additional digital amenity office owners must provide? What will tenants expect?
The idea is to blend the physical world with the digital world. It may be that people don't want to travel right now because of COVID-19, but the virus will eventually subside. Then, it becomes about efficiency. Why spend 12 to 20 hours on a plane or in a car when a person can feasibly do a 1:00 appointment in Singapore and a 3:00 event in London? Perhaps top executives (or key political figures) are concerned about security in certain geographic areas. They could not only save travel time, but also avoid unsecured sites through telepresence.
This brings us to an additional issue: trust. When the image quality is incredibly lifelike, we run the risk of bad actors using it in nefarious ways. Take Deepfake, a technology used today that allows someone to change a politician's speech, substituting their own words. There are reports that say China and Russia will use Deepfake in the upcoming election. Not being able to validate the truth - analog or digital - is the greatest threat to democracy. While telepresence shows great promise and opportunity, we have to be open to the idea that cyber warfare can make its way into our industry. If someone's very presence, live in your location, cannot be verified as real - what are the consequences?
As we continue to WFH aided by virtual communications, an increase in telepresence adoption by the real estate industry may be in the future. We will explore telepresence and how it may impact the built environment at Realcomm | IBcon 2020 in October. Join us virtually, onsite in Colorado or both.
Here are some of the companies we will feature:
ARHT Media - Future-forward proprietary holopresence technology
EventWorks4D - Holographic technologies and three-dimensional visualization
Vntana - 3D Content Management with automated optimization and conversion
This Week's Sponsor
Intelligent Buildings begin with Intelligent Wireless Connectivity. RF Connect ensures business-critical applications, BYOD initiatives, occupant connectivity and public-safety communications requirements are met. We do this by designing, deploying, managing and operating wireless communication networks indoors and outdoors. Our scope encompasses technology solutions, capital funding, and turnkey managed services to address the wireless imperative for today and the future. www.rfconnect.com
Read Next