Feature
Leading Australian CIO Sheridan Ware Talks Smart Buildings, the Human Experience and Using Tech to Navigate a Pandemic
September 3, 2020 | Tina Danielsen, Sr. Writer, Realcomm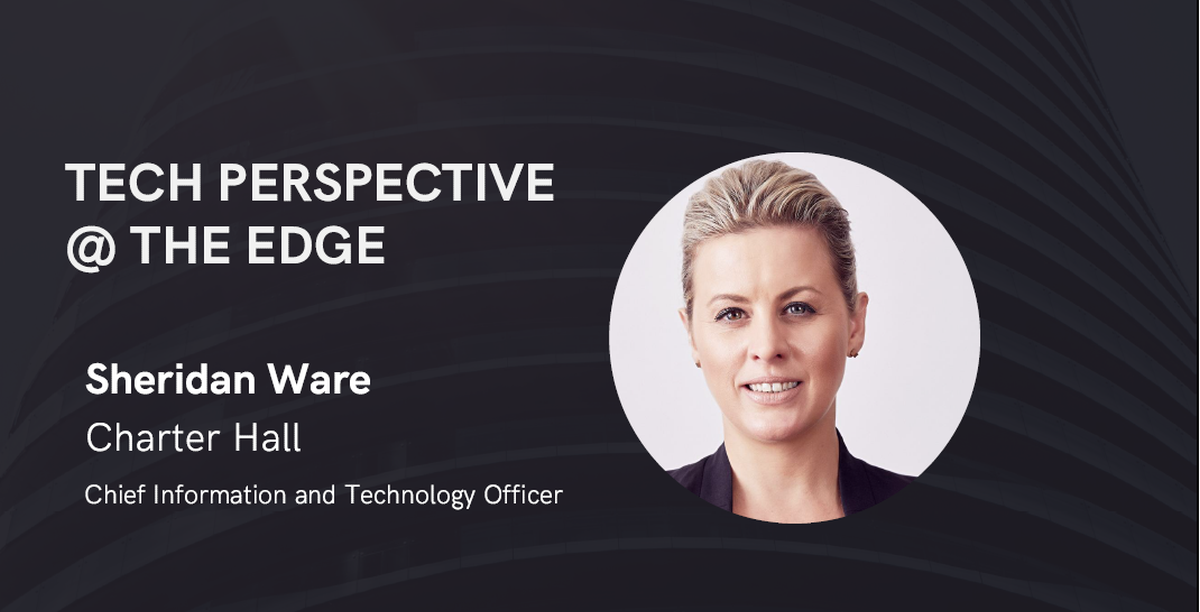 Sheridan Ware is the Chief Information & Technology Officer at Charter Hall, one of Australia's leading property fund managers with a portfolio of over 1,100 assets spanning industrial, logistics, retail, office and social infrastructure. Ware manages all aspects of technology, leveraging platforms and data to enable deep insight, deliver engaging experiences and ensure the business is operating as efficiently and securely as possible.
How are you leading the technology journey at Charter Hall?
Since I started here 18 months ago, we've been focused on aligning our technology operating model to the amazing groups we serve: our employees, investor customers, tenant customers and building communities. We wanted to deeply embed technology expertise at the core of our business and work side-by-side with our property experts to deliver greater efficiency, insight and experience. We're strengthening the capabilities that are required for us to lead and innovate both now and into the future. That includes smart buildings, analytics, automation and building out a partnership eco-system to help us future proof capabilities in an increasingly dynamic landscape.
What was your biggest project in the past year?
We're really focused on evolving our smart building blueprint which covers everything from the occupant experience to cybersecurity and the underlying building operations. On the occupant side we're really proud of our Charli app which provides a one-stop shop for our communities to interact with our buildings and services, including contactless building entry, ordering a coffee, registering for yoga and other community events, booking a car park and contacting our concierge. At GPO Exchange, which is our smartest building to date, we've taken over 40 base building systems and integrated them into a single platform for greater visibility into how we manage the buildings proactively and efficiently.
More recently we've been experimenting with technologies that could help our tenants return to buildings at the right time given the pandemic. This includes thermal scanning, social distance monitoring and car space utilization to help provide options to employees concerned about public transport.
Our COVID-19 response team has also rapidly re-engineered our processes and platform to give financial relief to our tenant customers who have been impacted by the crisis. In a period of unprecedented stress, particularly for our "Mum and Dad" operators, I'm so proud of how we've all banded together to respond quickly and empathetically in their time of need. By leveraging data and analytics we've also been able to provide timely information back to our investor customers.
What is your highest priority technology initiative in 2020?
Rolling out our smart building blueprint across our new developments and existing assets remains a priority, including the Wesley Place Precinct re-development in Melbourne. Wesley is similar to GPO Exchange in that we are protecting the legacy and heritage of both sites while making them more intelligent and adaptive.
We're constantly testing, learning and iterating with our customers. Wesley Place is delivering new experiences through the Charli app such as allowing people to automatically control temperature and lighting according to their preferences. We're focused on anything we can do help our building communities have a better workday. Other priorities include evolving our approach to cybersecurity and equipping people to leverage smart building data by exploring the use of digital twins.
How does technology help you prioritize and focus work?
Thanks to our focus on analytics I spend a lot less time preparing reports or pulling together disparate pieces of information, and much more time analyzing and prioritizing opportunities that add value to Charter Hall or to our customers and communities.
In the current climate we have the opportunity to test technology at scale, because it's playing an unprecedented role in how we connect and collaborate. We're maximizing previous investments made in Cloud, SaaS and collaboration technologies to support remote working at scale. It's a fantastic opportunity to see people adapting how they use technology at all levels of our business. We're constantly checking in on productivity, mental health and physical well-being, but everyone seems to have just picked up the ball and run with it - which is fantastic.
In a way, technology has made us more human as we've responded to COVID-19. Through video conferencing, we see peoples' partners, pets, children, and daily lives as they bring their whole selves to work. I think there are a lot of positives we can take from the experience.
Which technology trends are affecting your business most?
The first is obviously smart buildings. We're thinking about that not just through the lens of having more connected, sophisticated technology in our buildings but how we help people have more confidence in using it. Smart buildings produce a lot of data and analytics. The average facility manager did not grow up in that space, and their role is evolving; they need to feel empowered and equipped. It's incredibly important people's confidence advances as much as the tech itself and that we create positive career outcomes.
Second, data and AI create many unexplored opportunities for us to treat data as an asset, the same as we would any physical asset we own. The Australian government is very focused on sharing data to drive innovation and new business models while giving consumers more control over their data and the ability to share it amongst providers to drive better personal outcomes, so there will be lots of opportunities for our industry to contribute in that space. It's incredibly important that we use data within an ethical framework - not just with transparency and consent, but within an authentic belief that we are driving at great outcomes together. We have a duty of care to customers and community to do the right thing.
Third, I think blockchain is something we need to focus on in the coming years. We'll start to see opportunities to drive much greater efficiency and reduce risk by implementing blockchain technology like smart contracting.
What do you look for in your partner ecosystem?
You must understand the need and the challenge that you're solving for and find a partner capable of helping you solve it. But the number one success factor we've found in building partnership is finding companies that believe as we do. They have a similar purpose and share similar values. This cultural fit allows them to become an extension of your team; bringing in their own ideas, talent and spirit to enrich what you're trying to do.
As CIOs we have to resist the urge to own every aspect of the challenge. There are so many fantastic partners that we can work with, learn from and create win-win outcomes together.
I'm also proud to partner with my peers. Through the Property Council of Australia (PCA), industry CIOs regularly get together to build out standards, frameworks and new approaches to tackling cybersecurity. We're also looking at ways to equip facility managers and property professionals with the right tools and training to take advantage of technology.
What advice would you give other CIOs or technology officers?
So often as technologists, we identify with our technical skills and capabilities. To me, that creates a mental barrier which disconnects us from the actual challenge we're trying to solve. It's important to shift focus from the technology to the people we are trying to serve because technology doesn't ever serve a purpose unless it's serving a human need. If we don't exercise deep curiosity in understanding how technology changes people's lives, we'll never be able to truly harness its power.
This Week's Sponsor
When you succeed, we succeed. That is why we are focused on helping you stay ahead of what's next. REMone™ is architected to help you respond faster to the ever-changing real estate and technology landscapes. You will be able to innovate your way beyond the cloud by using our enterprise-grade real estate management SaaS applications and no-code development PaaS. Learn more at www.remlogics.net.
Read Next