Feature
16 Experts Featured in Realcomm EDGE Magazine: Wells Fargo, Boxer Property, Georgia Tech, Oxford Properties and More
August 27, 2020 | Nancy Stone, Managing Partner, SVP Operations & Events, Realcomm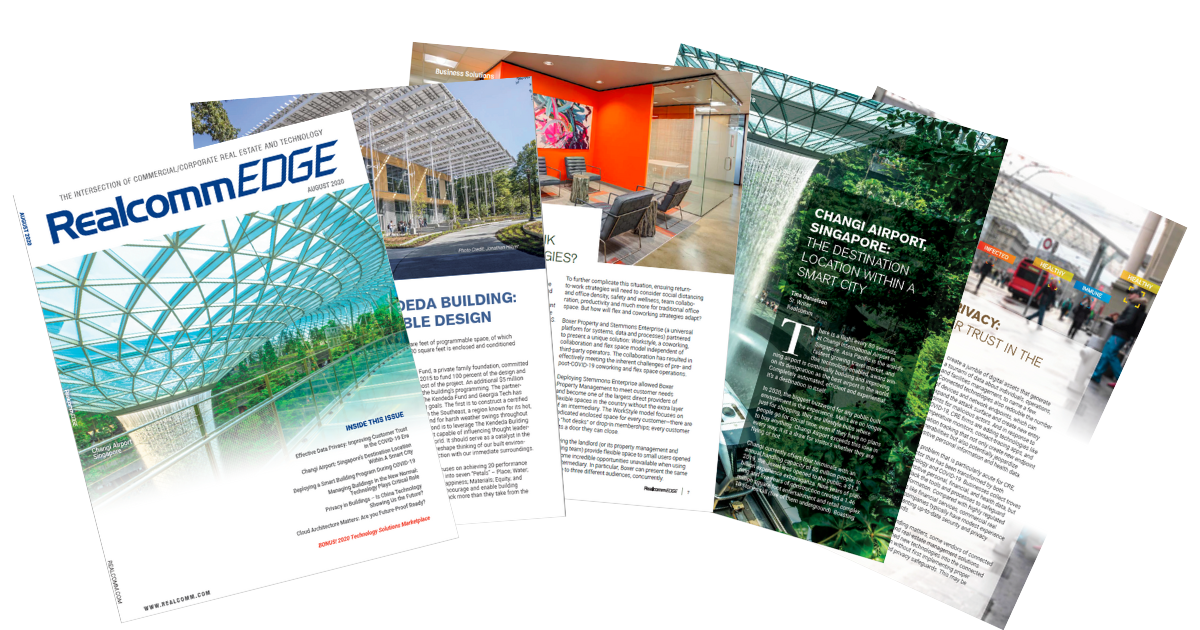 The COVID-19 crisis created an unprecedented disruption in workplace models, procedures and locations. Building owners have responded with remote-work technologies and processes in preparation for a future where working from home is more commonplace. Those reopening office space are implementing new health-safety measures to monitor employee, visitor and customer wellbeing.
The August 2020 issue of Realcomm EDGE magazine features 16 industry authors covering topics from COVID-19 strategy and response to intelligent buildings, cybersecurity, augmented reality and other transformational tech.
Cover Story
Effective Data Privacy: Improving Customer Trust in the COVID-19 Era
CohnReznick Principal, Cybersecurity and Privacy National Leader Shahryar Shaghaghi examines how building owners are responding to the pandemic, implementing remote-work technologies and preparing for a future where WFH will be commonplace.
Inside this issue
Changi Airport: Singapore's Destination Location Within A Smart City
Deploying a Smart Building Program During COVID-19
Managing Buildings in the New Normal: Technology Plays Critical Role
Privacy in Buildings: Is China Technology Showing Us the Future?
Cloud Architecture Matters: Are You Future-Proof Ready?

This Week's Sponsor

Yardi® develops and supports industry-leading investment and property management software for all types and sizes of real estate companies. Established in 1984, Yardi is based in Santa Barbara, Calif., and serves clients worldwide. For more information on how Yardi is Energized for Tomorrow, visit www.yardi.com.
Read Next