Feature
Realcomm | IBcon Announces Industry's First RE Tech Hybrid Event
August 6, 2020 | Jim Young, Co-Founder & CEO, Realcomm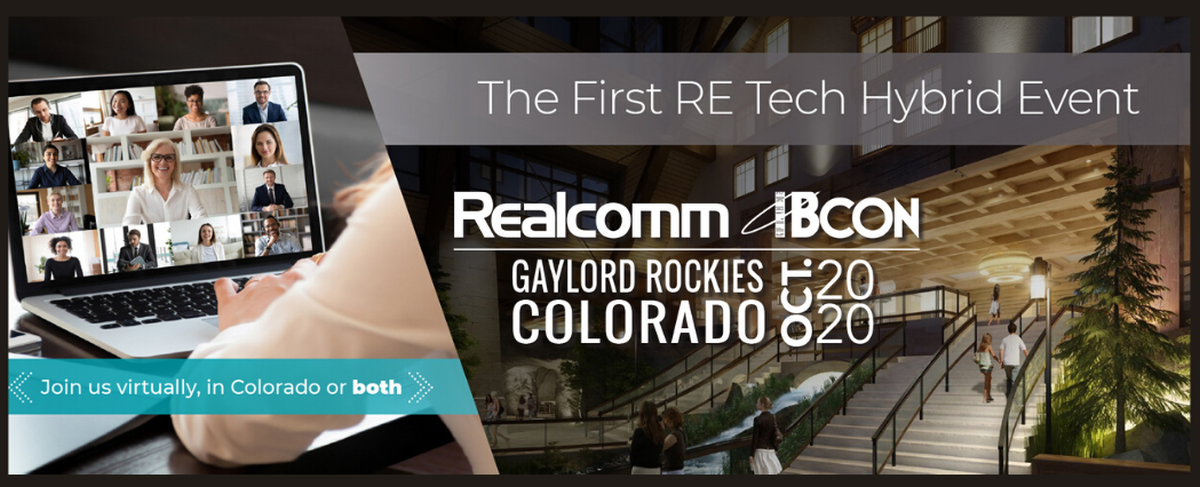 As you're well aware, the world, the global economy and specifically the real estate industry are experiencing some of the most significant struggles we have ever faced. With the current state of this pandemic, the process of bringing together a community of people can be complicated.
After months of hard work, thoughtful conversations and debates amidst a constantly changing landscape, we
are excited to announce our new date and location for Realcomm | IBcon 2020. The on-site part of the event will be held October 28-30 at the Marriott Gaylord Rockies Resort and Convention Center in Aurora, Colorado,
just outside Denver. This newly built, world-class resort will provide a state-of-the-art environment for a safe and productive event.
In addition to the on-site event, Realcomm | IBcon will be introducing an engaging and highly interactive virtual conference component. After months of research and analysis of countless solutions, we selected a virtual conference platform that we believe far exceeds the experience
most others offer. Our partnered solution provider is open to customizations that will take our virtual experience to another level.
The virtual event will be held on Monday and Tuesday, October 26-27. Wednesday, October 28, will "crossover" from the virtual programming to our on-site experiences. Those wishing to join us in Colorado may elect to travel that morning.
The on-site event kicks off with an opening session Wednesday evening. Portions of Wednesday's crossover content may stream live so everyone can see first-hand the dedication and commitment of our community to plan and execute a safe, large group gathering using the most current technology and expertise of our industry. From that point forward, in-person sessions will be held Thursday and Friday exclusively for on-site attendees. There will be no streaming of this content. The virtual and physical event will culminate on Friday, October 30, for a closing session.
While this year's physical event will be smaller than our traditional in-person conference, we believe our rich content, collaborative interactions and cutting-edge best practices will deliver a robust and well-rounded experience with actionable takeaways.
Safety and state-of-the-art experiences in 2020
We have structured both events so that if the severity of COVID-19 increases and attending in person becomes impossible, the on-site event will easily pivot to a virtual format. We believe the hybrid approach sets a new standard for how industry events will be produced in the future.
In partnership with industry experts, we are developing stringent health and wellness protocols to ensure the safety of those who attend in-person. However, we acknowledge that, as with anything in life, there comes risk. No matter how much we plan and prepare, COVID-19 has been a deceptive adversary; all those that attend the physical event need to acknowledge and accept this risk.
One example of the thoughtfulness going into our planning is our Smart Building Facility Inspection Tour. A group of visionary and forward-thinking master systems integrators, MEPs, consultants, architects and solution providers recently visited the Gaylord Rockies Resort to complete a thorough inspection of everything from access controls to HVAC systems. Their conclusions and recommendations will be presented to senior management of the resort as well as the Marriott Corporation. Inspection activities will be filmed and documented to further evaluate and assess event planning, as well as to educate the industry. In addition to pre-event onsite inspections, a number of COVID-19 technologies will be deployed during the event to immerse attendees with the most advanced solutions, some of which are currently still in the development stage.
Inspection activities will be filmed and documented to further evaluate and assess event planning, as well as to educate the industry.
Realcomm's commitment to the industry we serve
We feel it's important to explain why Realcomm is determined to host a hybrid event that includes an in-person component. It would have been easy to simply postpone our physical event until 2021 and hold a virtual event in its place, but we strongly believe in these ideals:  

The dynamics, social interaction and informational exchange efficiencies of an in-person event are significant. Humans gathering together, building community, has been a practice since the beginning of time and as good as virtual conferencing is, it will never replace being together.

We are all members of the built environment, the place people go to live, work and play, and the faster we get people safely and confidently back into buildings, the faster we can begin to rebuild our real estate industry and the economy.

This pandemic could be around for a long time and continuing to quarantine and delay traditional business activity will have  catastrophic social and economic results.

Our industry needs to safely bring large groups back into buildings, and with our community's tradition of innovation and risk tolerance, we feel well suited for this task. Theory, discussion and debate are important, but planning and delivering an in-person event provides tremendous information and insight that the entire community can actionize now.
In summary, there were many factors that significantly impacted our decision:
1. The selection of an inclusive resort property compared to a convention center and multiple hotels gives us more control over the entire venue from a health and safety perspective.
2. A secluded, less densely populated area reduces exposure to transient crowds and promotes a healthier experience.
3. A centrally located venue minimizes time spent on airplanes.
4. Close proximity to the airport allows for more control over local transportation.
5. To date, Colorado has been less impacted by the pandemic.
6. Partnering with a major organization like Marriott allows us to define protocols for safe, large, in-person events rather than waiting for others to create them.
7. Selection of an area where local organizations are "leaning in" and willing to truly partner creates a "playbook" that others can utilize in planning and hosting large events again.
8. Creating a digital hybrid event brings an enhanced virtual experience to those who cannot attend in person.
Although navigating the uncharted waters of an industry hybrid event - with many questions still unanswered - we remain humble, optimistic and excited in moving forward and doing our part to safely bring people back into buildings, restoring confidence and helping to get our social and economic lives back to a more normalized state. If we fail in some areas, we fail forward -ready to learn and share our experiences with all of you.
We are excited to embark on this journey together. Whether virtual, physical or both, your interest, contributions and participation are deeply appreciated.
This Week's Sponsor
Smart Technology. Smart Equipment. Smart Solutions. Embracing open software and hardware platforms, Lynxspring develops and manufactures innovative edge-to-enterprise solutions. We enable better building automation, energy management systems, control systems and IoT applications. Deployed in billions of square feet of commercial buildings across North America, Lynxspring's solutions simplify integration, interoperability, and help connect your building's data. www.lynxspring.com
Read Next