Partner Content
Building Technologies and Workplace Design in the Experience Era
June 25, 2020 | Soroush Amidi, Director Product Management, Cooper Lighting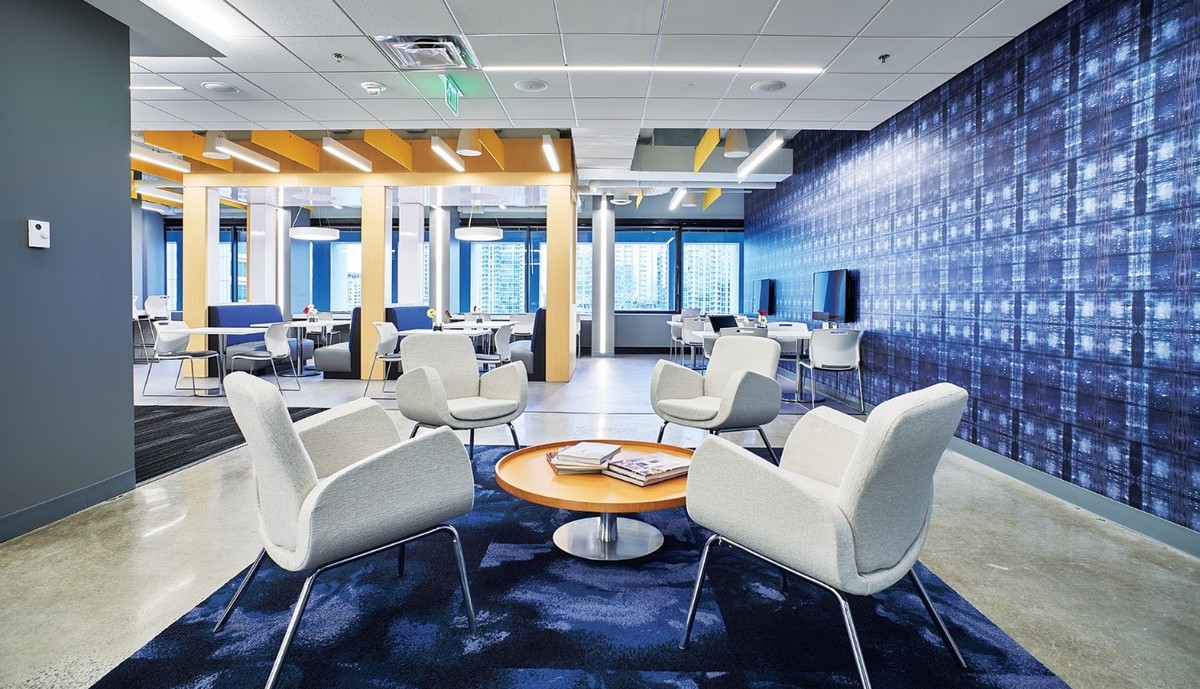 Rethinking the workspace
"I really enjoy working in this office," Olivia says as we enter the newly renovated 25,000+ square foot floor of a major Canadian Bank headquarters. The space is lit with natural daylight entering through the large windows with efficient shades. The abundance of plants and greenery gives it a spa-like feeling. You would never know that you're in one of the most iconic commercial towers in downtown Toronto. Thanks to insulating materials installed on the walls as well as luminaires, the space feels surprisingly quiet although hundreds of employees are already busy working.
"That's the quiet area," Olivia comments, pointing to what looks more like a Victorian era library than an office. That is where employees can find peace and quiet in the name of productivity. There is also a kitchen/eating area with healthy food options. Gone are the days of waiting in line at Starbucks for a jolt of energy. Instead, you can simply make a latte or tea while chatting with colleagues.
Olivia gestures to the space around her. "This space is an experimental floor," she explains. It is no secret that the concept of the workplace has been changing. To stay relevant in an evolving work culture with an increasing number of digital nomads and virtual offices, this bank has decided to rethink its workspace.
The bank refit one floor using WELL guidelines, a wellbeing standard and certification for commercial buildings. They are evaluating the impact of the redesigned space on the staff's wellbeing and performance. Olivia looks around with a smile on her face. "We will use the data gathered throughout this experience to define and refine our design for other floors," she says excitedly.
Blend working
Pre-pandemic, staff working from home and from the office (otherwise known as blend working) was mainly a trend. However, many companies were surprised by how well working from home has fared during the pandemic era. In a recent Bloomberg article, Bank of Montreal communicated that "…they anticipated that as much as 80% of its 45,000 employees may adopt new flexible arrangements that blend working from home with going into the office even after COVID-19 subsides." Now that organizations understand that they can operate with remote workers, blend working is becoming the norm.
More collaboration and focus spaces
In the blend working era, the office is going to be primarily a "collabspace" where staff gathers to collaborate, share and innovate. It will also continue to offer quiet workspaces with access to all required resources.
Being present physically is not only important for innovation; it is needed for sharing organizational culture, said GM CEO Mary Barra in a recent Bloomberg interview.
Ethan Bernstein and Ben Waber recently published a study in the Harvard Business Review where they found that "...remote workers communicated nearly 80% less about their assignments than co-located team members did; in 17% of projects they didn't communicate at all." Their conclusion? "If team members need to interact to achieve project milestones on time, you don't want them working remotely."
Satya Nadella, CEO of Microsoft, warned about the consequences of embracing telecommuting permanently. In a conversation with the New York Times he stated that it would be "…replacing one dogma with another dogma."
"Wellcoming" spaces
"Happy staff, happy company" has never sounded more relevant. After all, an organization's most valuable assets are its employees. Increasingly, organizations are changing their corporate culture to be centered around their employees by putting in place wellbeing and engagement programs. One of these programs tackles the workspace itself. The International Well Building Institute has defined a wellbeing standard which provides guidelines for various elements within the commercial building including air, lighting, sound, water, movement, community, materials, thermal comfort, nourishment and mind wellness.
Many large organizations are implementing the standard to define the right space for their staff. They start with a proof of concept to identify the right formula before applying the formula across their spaces. This approach is no different than how retailers and the hospitality industry manipulate sight, smell and sound to trigger purchase behavior in consumers and brand loyalty in travelers.
Using a connected lighting system as part of a wellbeing design
How can lighting help with office wellbeing? Let's go back to Olivia and the new refit floor.
The architectural firm responsible for the project had selected WaveLinx, Cooper Lighting Solutions' connected lighting system, for its ability to meet the WELL lighting elements as well as others defined by the standard, notably thermal control and sound features.
The selected luminaires satisfied the visual requirements for a high-quality light for a healthy space with no signs of flicker as well as a high-color rendering index. Meanwhile, the integrated lighting control system satisfied the circadian requirements of individuals by providing the ability to create personalized lighting environments to improve an individual's productivity, mood and wellbeing. Using an app on their mobile phones or a web browser, employees can customize their immediate lighting environment by adjusting the luminaires' intensity and color temperature.
The light architect was also enchanted with the Shaper® luminaires with built-in sound-absorbing acoustic panels. Installed in the conference rooms and lunch areas, these beautiful architectural luminaires allow natural light to pass through while also absorbing sound.
WaveLinx also contributes to non-lighting related WELL elements. We have all experienced unfavorable levels of heat, humidity and ventilation, which lead to itchy eyes, headache and throat irritation. The engineering firm working on the project had selected a high-performance ventilation system that would react quickly to changes in outdoor and indoor weather. They wanted to incorporate the people count data generated by the WaveLinx ceiling sensor in their ventilation strategy by adjusting the airflow based on the capacity rate. The firm also needed to continuously gather thermal data across the floor to monitor overall system performance. The selected lighting system came equipped with all-in-one sensors that provided occupancy, daylight, temperature, humidity and people count data to the heating and cooling system.
Finally, the executive sponsors from the bank liked the idea of sharing the data gathered by the lighting system with other applications via APIs to enable non-WELL use cases such as automatically canceling a conference room if the space was empty 10 minutes after the meeting start time or providing an application that would allow their employees to find out when and where the next collaboration room is available; or even offering a wayfinding application to their employees once they have refitted all their spaces.
Exciting places for exciting times
As organizations embrace blend working and continue to focus on employee wellbeing, they will need to review their workspaces and how they meet the needs of the new reality. Changes are going to be based on data gathered during proof of concepts or even throughout the workspace life cycle. These changes are not easy and will undoubtedly require several iterations. That is why connected systems, such as WaveLinx, can help organizations like Olivia's gather the necessary data needed for the exciting journey toward the wellbeing workplace.
References:
Jim Purcell, Forbes, Case Study: SAP shows how employee wellbeing boosts the bottom line, https://www.forbes.com/sites/jimpurcell/2019/10/28/case-study-sap-shows-how-employee-wellbeing-boosts-the-bottom-line/#11fc107a32a4, Oct. 2019
Jim Purcell, Forbes, How to Build A Culture of Employee Well-Being, https://www.forbes.com/sites/jimpurcell/2019/07/25/how-to-build-a-culture-of-employee-wellbeing/#d3d968d13d79, Jul 2019
This Week's Sponsor
At Cooper Lighting Solutions, we build forward-thinking lighting solutions that make people's lives safer, while making buildings, homes and cities smarter and more sustainable. We deliver an industry-leading portfolio of indoor and outdoor lighting, lighting controls and smart lighting systems. We question, we seek and we solve. Together with our customers, we create solutions that build a better world. At Cooper Lighting Solutions, we push past the ordinary to build brighter.
Read Next