Feature
The Holodeck Story: A Digital Journey
February 26, 2020 | Christopher Lafayette, Founder, HoloPractice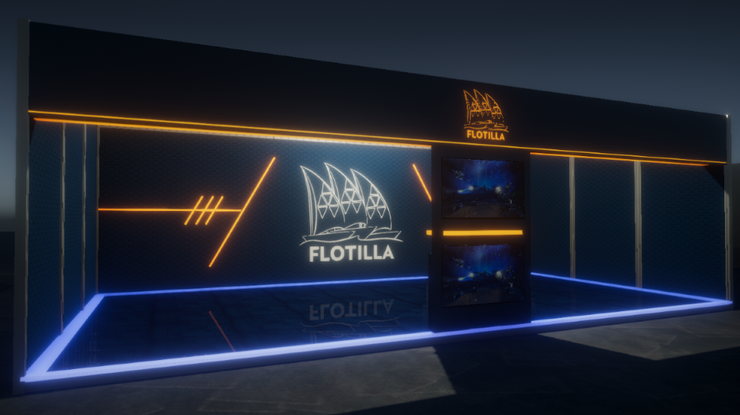 Many may find themselves caught up (or even euphoric) in the ethos of a rising technological idea - but there must be those willing few who are able to stop, pause and consider what we've built, where we are, and where we're going. It's critical for every member of the Extended Reality (XR) community to be educators of what we build, each and every time an opportunity presents itself. We share our skillsets and knowledge as contributions to the greater society.
The XR industry as a whole is tied into spaces. Augmented Reality by way of the AR cloud is gestured heavily toward making planet earth machine-readable. With Virtual Reality, we're able to envision, build and enter into spaces that were not there before. The need for more space has made this narrative a key and integral player in the ecosystem of spatial computing.
Tim Cook, CEO of Apple recently stated: "Simply put, we believe augmented reality is going to change the way we use technology forever. We're already seeing things that will transform the way you work, play, connect and learn."
Commercial real estate has been the foundational building block for business enterprises since the inception of metropolitan business itself. The CRE industry is in the infancy and very first steps of technological transformation. Short lived are the days of touring space-to-space with low-client-interest in location. Quite frankly this is a waste of time, carbon footprint and resources. We're slowly merging the use of handheld devices to that of wearable devices and operating in simulated environments. In other words, today we're looking at our devices, but tomorrow, we'll be working within them.
We are drawing into a new age of availability using spatial computing for teleporting in prospective spaces clients desire to build, congregate and live in. Every company and business of even a modicum level of success will at some point need a place to build in. Location discovery has always been a laborious process given the time it takes to show spaces. Today's development of emergent technologies is going to shorten the process and in turn brighten the experience of purchasing commercial real estate.
In major metropolitan cities and small ones in between, immersive development is being created for occupied and unoccupied spaces. The commercial real estate future consists of human-eye-simulated property tours with multi tele-present participation in virtual reality and digital space development atop undeveloped tangible indoor and outdoor environments by way of Augmented Reality. A processed look would have sales agents shorten the tour process by simply placing a head mounted display device on their customer's head, and providing access to a database of any desired available space for acquisition.
Technology companies in Silicon Valley, across the United States and globally are gearing up for enterprise and consumer use of spatial computing. The biggest industrial benefactors of this technology for the foreseeable future are: manufacturing, medical, retail, sports, entertainment, automotive and real estate. When we think about the beginnings of enterprise adoption, it should be a wise consideration that we 'start off right' in order to maximize our known (and even as yet undiscovered) goals and focal points of achievements in using this technology.
The Holodeck Idea
A Holodeck is a chamber or facility that's built for Immersive exploration and implementation using holographic or computer simulated visual, audio, and haptic hardware; fidelity is what we're after. Every commercial real estate agency in the near future will and should be fortified with an immersive holodeck to provide immersive tours of available properties. Holodecks are furnished with soft padded walls, haptic flooring for elevator simulation, spatial sound infrastructure for identical acoustic resonance, and enclosures for safety.
A more colloquial use of spatial computing lies within Mixed Reality. Operating within a real-time commercially available space or facility, a user can experience a holographic or computer-simulated image rendered atop a physical environment. Realtors and peers will be able to digitally view and imagine how their space may operate on a daily basis using augmented reality. Standing physically side-by-side, they can build and construct simulated operations right within an empty space, using digital constructs.
Even with physical tours of properties we're able to place AR anchors in viewable spaces and give a customer a tour of a physical empty space with their branding already set in place, with digital furniture and even moving people. This helps to reduce imagination of what could be and gear towards the visual realm of possibilities.
The Build
In order to better understand immersive spaces, I came to the conclusion that I'd have to build my own. There were no ideal spaces already built for me to use. This would take time, but time is justified given the importance of better understanding tangible environments for intangible uses.
In 2016 I built a Holodeck in a 50x50 space; the chroma keyed infinity green screen pool took us months to set up. In this process, I learned many things. There is no blueprint on how to best build Immersive Holodecks. There are examples on what could be done—but no clear direction on best practices. You take from what's out there, pair this with your instinct and build the best way you can.
Though I could write for some time on the materials and process of building the Holodeck, I'll refrain and digress to some of the areas in which we focused on: spatial sound resonance, distance cognitive perception, group usability, ground feel, temperature control, presence and more. It was a terrific learning experience. Today we're building spatial tools and experiences, but tomorrow we'll be building populated immersive worlds in which real estate firms will be selling and brokering digital spaces, in droves.
We're in the process of developing more Holodecks, though the journey is not swift, nor easy. It's a challenge almost every step of the way. With the electric speed and growth in which spatial computing technologies are rising, we continually find ourselves working and building with those in our industry and more importantly those outside our industry.
Though we're explorers in immersive digital spaces, real world spaces are very much a symbiotic constituent to the technology itself. If we're to capture true emotional presence and hyper-fidelity, then we must have appropriate movability to reach these levels. In our daily lives, we operate upon a sphere, grounded by gravity. In XR, we can unchain the limitations that bind us and go deeper and further for enhanced client experience.
This Week's Sponsor
Yardi® develops and supports industry-leading investment and property management software for all types and sizes of real estate companies. Established in 1984, Yardi is based in Santa Barbara, Calif., and serves clients worldwide. For more information on how Yardi is Energized for Tomorrow, visit yardi.com.
Read Next