Feature
Organizational Analytics + Workplace Strategy
December 4, 2019 | Jeremy Doyle, EVP of Strategy & Development, Humanyze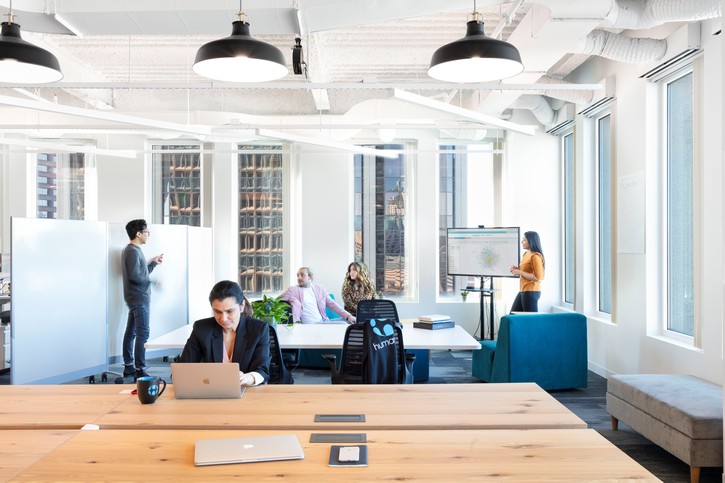 You neednít look further than recent business articles or your Twitter/LinkedIn feeds (or a recent IPO filing) to see the ways in which corporate real estate is wrestling with emerging technology and the opportunities promised. From optimizing space utilization and power usage to augmented security, and consumer-grade amenities at the touch of an app; all of these support portfolio performance, agility, and advantages for employee attraction and retention. All are noble pursuits, but it is difficult to measure and assess their impact on the productivity of the business clients in the space.
To that end, the expectations of business clients are growing. Increasingly agile, our research estimates that more than half of enterprise employees experience some change in their workplace every year. A significant portion includes space (re)design as well. Most of these initiatives require a cross-functional alliance among the workplace strategy team, internal partners, and vendors, to meet extensively with the business client to understand their priorities, and 'prove' their strategy to deliver success. While portfolio accounting value can often be proven, the business client wants to be assured of their strategic success as well.
To support organizational goals, the state of the art has mostly been activity-based work research, surveys, and post-occupancy studies. These provide great context, and the touch points can drive deeper rapport and business partner relationships. However, they are limited by cost, capacity, timeliness, and subjectivity. It is increasingly difficult to deliver these services at the rate and reach demanded by business clients.
Enter the field of Organizational Analytics
Organizational Analytics (OA) (sometimes mixed in with people analytics) is a growing field of data science based on the trend of enterprise digital transformation, with applications for everything from workplace of the future to process optimization, talent strategy, risk management, organizational health, and diversity & inclusion. In other words, those aspects of business management which are often deemed as qualitative, mostly analog, or at minimum difficult to manage by objective as opposed to reacting to lagging indicators.
OA leverages the mountains of Ďdigital breadcrumbsí generated by ever-present technology like email, chat, calendar and social media, as well as file sharing, issue ticketing and especially space specific applications such as building access, room booking, connectivity and sensors. OA merges these data sources to replicate and scale decades of science and research into organizational dynamics, collaboration, productivity, process analyses, leadership and development, innovation and problem-solving, and employee engagement.
Itís a very exciting field, with potential to open new doors in employee experience, and organizational performance - even reform core concepts of business itself. For now, letís explore a real estate specific case study:
Back Story
A large global enterprise chose to shift their headquarters real estate portfolio from dozens of distributed properties to a new concentrated campus with a mix of modern shared, assigned, and unassigned workspaces. Leadership could see that this strategy would yield an accounting gain but were unsure about the impact (gain or disruption) to operations, and employee experience. To dig deeper, a pilot was started to quantify the changes to workflows for one of their most profitable business units, as they were early movers from their standalone HQ to the new enterprise campus.
This pilot accurately captured significant shifts in collaboration patterns, workflows, and in employeesí daily experiences. It formed the foundation for a global organizational analytics transformation.
The Challenge
While the business unitís new home was in a specific building on the new campus, some individuals and teams were placed in nearby buildings as a result of growth, space constraints, and theorized cross-functional alignment. Over the following 18 months, business needs began to highlight potential gaps in workflows. OA was re-deployed to validate and quantify these concerns, and digital communication data gathered during the deployment focused on the following metrics:
Adjacencies: critical dependencies based on frequency and volume

Synchronicity: email/chat VS calls and meetings

Network breadth: average number of contacts across the business unit

Cohesiveness: efficiency of knowledge flow across the overall network

Physical proximity: probability of interaction with frequent contacts
The Findings
The data revealed a growing dependence on infrequent, formal meetings for critical cross-functional interfaces, while other means of communication decreased in frequency and volume. These gaps were especially present where physical proximity was furthest. Prior organizational research indicated that these conditions posed threats to the business unitís agility and productivity toward complex work output.
The Interventions
The team overseeing workplace strategy used these insights as the primary blueprint for support provided to business unit leadership. Together, they assessed potential staff realignments to available spaces in the business unitís assigned building. At the same time, a data-science method was developed for modeling restack scenarios in order to assess potential impacts on organizational agility and productivity. The models supported the relocation of non-business unit staff out of the building, consolidation of business unit staff from other buildings, and minimal internal restacking.
The models were then used to facilitate restacking across all of the remaining buildings on the campus, including thousands of staff and integrating teams from a recent acquisition.
Outcome
With the business unitís interventions complete, the platform compiled and analyzed pre- and post-move collaboration data for all staff present during both time periods (not just staff who moved):
Communication among top 10 collaborators experienced a statistically significant 5.3% increase post-move

Network breadth remained exactly the same, at 217 contacts per employee

Overall business unit network cohesion increased by 16%

Total communication volume was not changed
The Takeaways
These metrics indicate that the data models used to align physical proximity with communication patterns improved the efficiency and speed of workflows by a meaningful 5.3% margin. These results come while preserving access to diverse information (breadth) and without increasing communication silos (cohesion) or employee workloads.
Concentration, network breadth, and volume are individual-based metrics, while cohesion is a network-based metric (a single value derived from the whole network). While changes were subtle at the individual level, the impact was significant when measured across the whole group. This highlights how these types of interventions can indirectly influence individuals to make smaller behavioral changes that result in a much greater shift of the organizational characteristic.
This 5.3% can be applied directly to human capital productivity as a derivative to business output.
This case represents a breakthrough in data-driven decision making at one of the worldís largest companies. Strategic organizational changes are complex and contentious undertakings, which can impact the business and employees for years. Previously, the measurement of these impacts was cumbersome and subjective, usually observed through lagging performance indicators which do not support agile nor effective management.
We now have proven methods for increased certainty, speed, and agility in leadership decision making which are being applied globally across the company. This represents a meaningful, and measurable, competitive advantage for the business.
This Week's Sponsor
MRI Software delivers innovative applications and hosted solutions that free real estate companies to elevate their business. Our flexible technology platform and open and connected ecosystem meet the unique needs of real estate businesses, from property-level management and accounting to investment modeling and analytics for the global commercial and residential markets. For more information, please visit www.mrisoftware.com.
Read Next