Feature
CoRE Tech 2019 Hits 10th Anniversary Milestone – Conference Highlights
November 21, 2019 | Realcomm Staff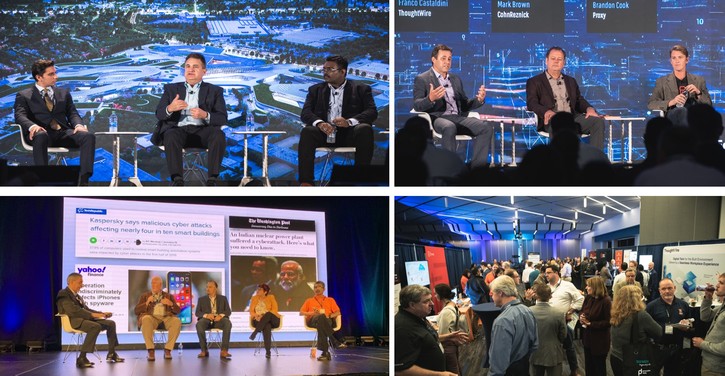 CoRE Tech was created ten years ago for a very specific purpose: to bring senior level Corporate Real Estate and Facilities professionals together to talk about technology, automation and innovation in a condensed, comprehensive and interrelated way. The three primary categories focused on were: 1) information management, 2) smart, connected buildings and 3) next generation space.
While seemingly independent topics, each and every year, the importance of integration, interoperability and the need for a strategic plan brings these three categories closer together.
This year's event brought CRE and Facilities professionals together from around the world. Senior leaders from companies like Google, Microsoft, ExxonMobil, JPMorgan Chase, Warner Media, Wells Fargo and many others discussed strategies, asked questions, debated important issues and had thousands of conversations regarding the Digital Transformation of the built infrastructure that houses today's employees.
The conference featured over 60 speakers; a very carefully curated Vendor Expo; an interactive Best Practice Case Study Showcase featuring projects from Intel, United Therapeutics, Warner Media, Coca Cola, McDonald's and more; an AR/VR Demo Lab; a Flex Space Business Lounge prototype; and eight onsite RE Tech Innovation Tours to some of Silicon Valley's most interesting and innovative corporate facilities.
The following is a summary of the many takeaways from CoRE Tech 2019!
DIGITAL EXPERIENCES are at the Forefront of Transformational Smart Campus Projects of the Future – Ford and Microsoft are Leading the Way


From a Centralized Operations Center to CRE Tech Innovation Lab – GOOGLE is One of the Leaders of Innovation in the Corporate Real Estate Industry


The SMART BUILDING JOURNEY Continues – Real Case Studies are Increasing and Demonstrate Innovation at Scale


VALUE ENGINEERING Continues to Impede Smart Building Projects – SMART READY Depends on Our Rethinking the Design-Build Process


PROJECT LEADERSHIP CHURN is Disrupting Digital Transformation – Change of Leadership Impacts the Ability to Execute Consistently


The TECH SKILLS SHORTAGE is Constraining Smart Campus Innovation – Although Modern, Amenity-Rich Workplaces Often Serve as a Value Proposition for ATTRACTING TALENT


Digital Workplace Experience Enabled by a Tap on the Phone – With Professional and Personal Lives Increasingly Blending, the Appetite for WORKPLACE APPS Grows


From Private Tech-Enabled Privacy Pods that Create Additional Meeting Areas in the Lobby or Any Other Open Space to Leasing Coworking Space for Remote Employees – FLEXSPACE Continues to Play a Major Role in a Corporate Real Estate Strategy


ADVANCED GENERAL TECHNOLOGIES are Enjoying Wider Adoption in the Corporate Real Estate Industry – AI, AR/VR and Autonomous Case Studies are Emerging


Visual Immersive Experiences Designed to Educate, Inform and Inspire – LED VIDEO WALLS are Transforming Interiors and Exteriors


Indoor Maps Get an Upgrade – MOBILE ENABLED SMART ROUTING to Navigate Buildings and Real-Time Location Tracking Including Applications Such as Efficient Worker Management and Connecting Workers Based on Proximity are Entering the Campus


Making Sense, Comprehend, Act and Learn – The Potential of AI and Its Ability to Interpret Information will Transform Corporate Real Estate and Facility Management Processes


The Contextual Model of an Entire Smart Building Environment is Emerging – DIGITAL TWINS Visualize How People and Processes Interact in the Built Environment


Next Generation Wireless is On the Horizon – 5G, CBRS, WI-FI 6 and BLE (Bluetooth Low Energy) Will Revolutionize How We Use IoT Devices and In-Building Communications


CHINA'S TECHNOLOGY PROWESS – Conversations Regarding Potential Ramifications and Implications are Starting to Emerge


Convenience & Efficiency vs. Surveillance – Facial Recognition and Tracking Sensors in Highly Connected Buildings are Raising PRIVACY Concerns


CYBERSECURITY Concerns are Impacting the Smart Building Conversation – To Stay Ahead of Cybersecurity Threats, All Stakeholders Need to Engage in a Continuous Dialogue


The PROPTECH LANDSCAPE Remains Confusing – Too Many PropTech Companies Have Entered the Marketplace, Often with Limited Understanding of the Industry and Its Complicated Processes


Experiencing Tech Innovation First-Hand – CoRE Tech's Silicon Valley Next-Gen CRE and Facility TOURS Took Attendees "Behind the Scenes" of Some of the Most Innovative Campuses and Served as an Exciting Learning Adjunct


Featuring Leading Edge Technology, Integration and Connectivity – CoRE Tech's SMART BUILDING SHOWCASE of the Most Innovative Corporate Buildings and Campuses Emphasized the Importance of Fully Utilizing a Company-Wide Strategy, Big Data and an Ecosystem of Partners


Asking the Right Questions to Address Corporate Real Estate Pain Points – The CoRE Tech VENDOR COMMUNITY IS ENGAGING with the Industry to Learn About Issues and Provide Relevant Solutions


Leveraging the Community's Experience and Knowledge – CoRE Tech's DEDICATED CORPORATE REAL ESTATE EXECUTIVES Share Successes and Failures with Peers to Advance the Industry
We would like to thank all those who participated in making this one of the best CoRE Tech conferences ever!
This Week's Sponsor
Altus Group is a market leader providing software, data solutions and technology-enabled expert services enabling commercial real estate professionals to connect to the market. ARGUS® solutions are the industry standard for creating cash flows and valuations helping thousands of commercial real estate professionals gain transparency into their property assets, manage risk and optimize their portfolios.
Read Next