Feature
Seven Technologies Destined to Change Commercial and
Corporate Real Estate
September 19, 2019 | Tina Danielsen, Sr. Writer, Realcomm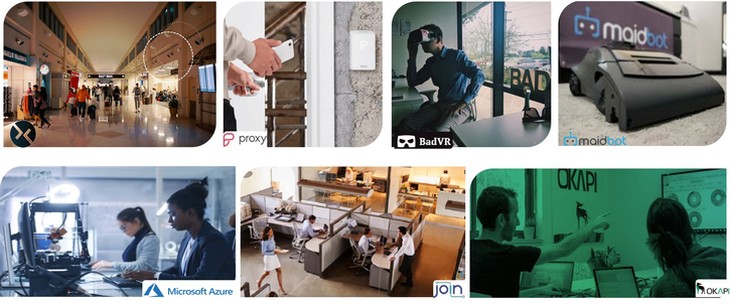 They say knowledge is power, but the sheer number of CRE technologies that arrive daily can create information paralysis. There are various options for every aspect of the built environment and business case, some bordering on science fiction. With the rapid influx of new products, today's organization must maintain a culture of continuous change and improvement.
Determining which technologies offer the best way forward takes time and input from every stakeholder. So, what are the new trends and opportunities? Here's a short list of some exciting new tech options:
Xandar Kardian: People Counting Sensor Technology
As buildings become smarter, tracking occupants for location and number of occupants is more common. It began as a function to save energy and use sites more efficiently, then developed into more robust data acquisition for security, safety, and marketing efforts. Cameras and/or different types of motion sensors are most commonly used because they are relatively small and cheap to install. Accuracy, however, can be less than desired—for example, a motion sensor cannot detect a person in a room if they are not moving. Cameras too, bring logistical challenges, whether trying to place them in a building with high ceilings or in a place where they are invasive (such as restrooms).
Xandar Kardian has developed a radar-based people counting technology that replaces cameras and motion detection with presence detection. Boasting 99% accuracy for presence detection (and 80-99% for people counting), the technology uses micro-vibration patterns emitted from human bodies. It is extremely sensitive—able to detect heartbeat and breathing—yet it is not privacy-invasive. It provides accurate data on space utilization in real time. An extremely low false-alarm rate means human patrols are optimized, and that in emergencies first responders can locate people quickly. An additional advantage is data on dwell time, or how long an occupant stays in a particular area. Knowing where (and when) people choose to spend most of their time enables companies to focus improvements in those areas, leading to greater occupant satisfaction.
Okapi: AI for Data Processing
Companies are constantly analyzing their data to gain an edge in business. Beyond just collecting data, they must also analyze the processes used for gathering and using that data, since business intelligence that is 'actionable' is necessary for meeting objectives. Okapi offers artificial intelligence specifically designed for CRE, via a platform that leverages machine learning algorithms. The platform provides building owners and operators a new way to improve tenant experience by gaining real knowledge on how a site and portfolio functions. The interesting aspect is that it collects data directly from legacy systems, with no need for complex integrations; multiple systems with multiple data streams are no problem.
The platform reveals underlying issues in real-time, while also finding hidden improvements in existing maintenance, leasing and occupancy data. Leveraging AI to analyze the relationship between workload and team capacity enables accurate staffing and resources. Each user receives unique, personalized notifications targeted to their role in asset management, property management, and engineering. Results include advantages in predictive maintenance, resource management, and cash flow planning.
Proxy: The Universal Digital Identity Signal
We hear so much about the user experience today—and the desire for those with busy lives to simplify processes. Right now, the technology that eases our lives also takes more of our time and attention. We must often trade a certain amount of privacy for a personalized experience. As companies seek ways to make experiences seamless, especially within buildings and workspaces, they often seek a balance between the two.
Enter Proxy, a privacy-driven technology that recognizes you as a physical person while letting you retain control of your digital identity. The 'Universal Identity Signal' acts as a digital proxy in the physical world, providing a wireless medium for any device in proximity. It allows passive detection and authentication of building entrants while it queries for relevant information needed to process the entrant (e.g., loading meeting slides for the conference room, or customizing a workstation to individual preferences). To make the signal universal, Proxy invented a universal access tokenization engine that makes every interaction uniquely encapsulated into a one-time encrypted token. The system works with existing infrastructure and has a mobile access control component. It uses a cloud-based dashboard, allowing management and control from anywhere in the world.
Join™: Secure Network Services
Network infrastructure is a necessary component for all organizations, but acquiring the right type and size for your particular company is a challenge. Custom builds are costly and may bind you to specific technology for too long; vendors may offer attractive solutions but perhaps a lengthy contract is not desirable. What is the best proposition beyond building and managing your own infrastructure?
Join provides a unique on-demand, single point of contact digital service that is configurable for each company, whether they are flex office operators or companies occupying Class A office space. Users access public web sites and public internet services through the cybersecurity in a private cloud; direct fiber access via this private internet is extremely fast. Network traffic is segmented to guarantee total security and VPN management creates a secure, non-hackable path between WiFi and wired Ethernet devices and the corporate network. The service is instantly scalable for companies that have changing needs.
Microsoft Azure Sphere: Secured End-to-End Connectivity for Microcontroller Unit (MCU)-Powered Devices
"There are nine billion MCU devices sold each year—and fewer than 1% of them are connected to the Internet." (Microsoft, 2018)
MCUs are pervasive today, appearing in every part of our computing world. Making these devices interactive and adaptive via connectivity would enhance their effectiveness and create better experiences. Azure Sphere is a high-level application platform with built-in communication and security features for internet-connected devices. It comprises a secured, connected, crossover MCU, a custom high-level Linux-based operating system (OS), and a cloud-based service providing continuous security. The MCUs enable real-time and application processing capabilities and can be monitored remotely. The Azure Sphere Security Service allows the MCUs to safely connect to the cloud and web.
BadVR: Immersive Analytics Platform
In the age of Big Data, companies focused first on determining what data was needed and implementing processes to gather it; over time processes were fine-tuned so that the data was accurate and true. Then the processes themselves came under scrutiny, to determine the best match for particular needs. The challenge now is: What is your data actually doing? What does it say? How can you understand it if you can't see it?
BadVR uses virtual reality and machine learning to allow interaction with the data: teams can view and manipulate various scenarios in 3-D environments to see information in a new way. The technology has significance for multiple business types:
Telecom: SeeSignal™ works in conjunction with the Magic Leap AR headset so you can 'see' wireless signal strength in a given space and offers ways to improve coverage in a visually accessible way. The platform has additional features for handling signal measurements at scale. With the advent of 5G, companies can analyze data more effectively with visual and immersive technologies, and telecoms can stop using RF models to determine transmitter placement.

Finance: Data density is especially prevalent in the financial sector, with massive datasets on multiple screens. Successful data modeling is enhanced in 3D for faster insights, analyzing 100x more data in half the time. Faster insight leads to faster action and an advantage over other market players.

Smart Cities & Utilities: Networks and infrastructure at city scale can be viewed to enhance services and security. Virtual reality can enable better decisions for everything from emergency response to street congestion to energy efficiency, helping municipal entities work better.
Maidbot: Industrial Cleaning Robot
Rosie is the world's first housekeeping robot, and she uses LiDAR technology to navigate. LiDAR (Light Detection and Ranging) is a remote sensing method using pulsed laser light to measure distance. Rosie has omni-directional wheels for ease of movement and was designed for use in the hospitality and retail industries as well as commercial buildings. While cleaning, Rosie also functions as an indoor mobile data platform that collects and analyzes data, including temperature, air quality, foot traffic and even mold growth.
While most people are familiar with the Roomba vacuum, this robot is built for industrial work: it is faster and much sturdier than a Roomba. Room cleaning time is greatly reduced, allowing for increased flexibility with hotel check-in times. Organizations also anticipate that cleaning staff will have less work-related injuries with the help of this autonomous cleaner.
It's clear that the future of Commercial and Corporate Real Estate is digital. Technology developments bring opportunities for businesses to improve how they operate and manage their companies. Understanding trends and positioning your company for early adoption can create an advantage over the competition.
Many of these new technologies will be discussed at CoRE Tech 2019 in Silicon Valley on November 13-15. Join us to learn about transformational tech for the CRE industry.
This Week's Sponsor
Yardi® develops and supports industry-leading investment and property management software for all types and sizes of real estate companies. Established in 1984, Yardi is based in Santa Barbara, Calif., and serves clients worldwide. For more information on how Yardi is Energized for Tomorrow, visit yardi.com.
Read Next