Partner Content
Move Over Digital Workplace. The Connected Workplace is Here.
August 1, 2019 | Hayley Stangeland, Marketing Manager, iOFFICE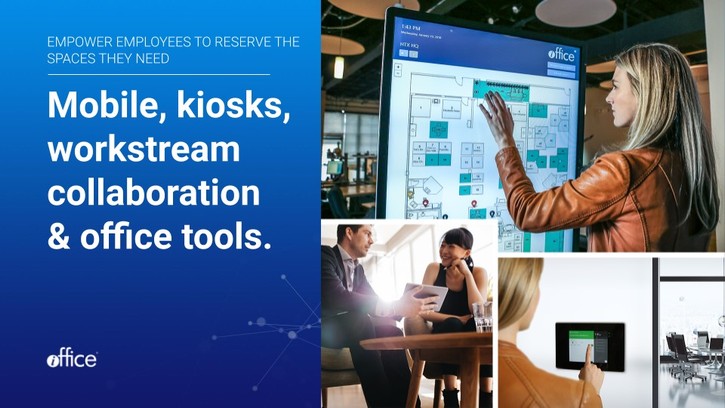 It's 2019, and virtually every enterprise and mid-sized company have at least heard about the Digital Workplace. Gartner says the Digital Workplace enables new, more effective ways of working, raises employee engagement and agility, and exploits consumer-oriented styles and technologies.
But a shift is on the horizon, and it includes the evolution beyond digitizing workplace tools or making technology more accessible to employees. It's called the Connected Workplace. It starts by honoring the employee experience, leveraging technologies like AI and IoT, and removing obstacles between HR, IT, and Facilities departments that hold employees back.
The Connected Workplace responds to employee needs, almost intuitively. Why? When systems, processes, tools, and tech rise up to meet you, the result creates exponentially more productive and happier employees. What HR, IT, or FM leader doesn't want that?
Disengaged: The Worker or the Workplace?
Gallup polls have shown that 66% of the American workforce is disengaged at work and roughly half of that population is actively looking for a job, while on the job. Few workplace leaders have asked the question: is the worker disengaged, or did the workplace never engage her from the first day? Is it difficult to find and book a conference room? Can a visitor easily find the correct parking facility? Is the right space allocated for growing or shrinking teams? Is there flexibility to move workers and work environments as needed? The Connected Workplace seeks to create a seamless environment that supports the worker and the visitor to make the work experience more productive and less painful. A connected space engages the worker by suggesting open, quiet areas for contemplative work, guiding a visitor to the auditorium via an app, and posting specials in the cafeteria for lunch.
When the worker spends hours each week doing these things manually, frustration skyrockets, productivity plummets, and everyone gets the sense that this place isn't as modern as they'd hoped. Then, the disengagement levels rise.
Engagement Begins with a Question
How do you engage employees in the Connected Workplace? Ask them. Start with a survey to narrow down what employees want, what would make their lives better, and what they need to succeed, not just today, but in the next 3-5 years. Next, put together an interdisciplinary employee task force to set priorities that dovetail with management's growth and the company's financial goals. A Connected Workplace is just as connected to the employee experience and cutting-edge technologies as it is grounded in business realities.
The Connected Workplace creates an opportunity to build incredible bridges with IT, as neither the Digital nor the Connected Workplace can happen without them. Take advantage of their expertise to share ideas around the new, Connected Workplace "tech stack" you can build together to support the employee experience. IT is your ally and you'll need to be in lockstep when connecting AI, IoT, sensors, beacons, and facility management systems that will become the backbone of your workplace.
Let's take a look at four "must-have" components underpinning your Connected Workplace and enhanced employee experience:
Understand how your employees are using your space: You can't create a Connected Workplace until you know what you're working with. Your survey, task force, as well as AutoCAD drawings, should give you the initial insights you need to get started. Select a platform that allows you to visualize your entire real estate portfolio, Google Maps style, down to floor plans and seating charts in real-time. That clarity is essential to create optimal efficiency and become even more innovative with the space you already have (or may not even need).
Plan seamless workplace and workforce moves: One thing you can rely on in this new era is change. And disruptive change is happening more frequently than ever, with enterprises mimicking accordions in their expansion and contractions across departments and geographies. Planning and executing a move is hard. Moving is listed as one of the top stressors that a person can experience in a lifetime—right along with divorce, job loss, or the loss of a loved one. Employees must be assured that their systems – IT, HR, and FM will function on day one. A SaaS platform that easily integrates with other workplace apps and systems can make this effortless. So, if you haven't already, it's time to drop the outdated paper logs and start tracking costs, employee requests, schedule vendors and create move scenarios to test staffing and seating plans for your workplace and workforce moves.
Empower your employees to reserve the rooms they need: You may not know it, but right now, there's a battle going on in your office for the conference room. Or maybe it's the quiet space for writing, or perhaps the best desk with great natural lighting. You may even have departments duking it out to maintain control over the largest conference room on the 4th floor. Today, IoT sensors and reservation software integrate with calendars to indicate which rooms are free, booked or "ghosted" so they can automatically be rescheduled again if no one arrives. Employees can book spaces from a kiosk, desktop, or mobile device so that scheduling becomes a pain-free process. Imagine the time saved in finding the right space when you need it. For workplace leaders, getting real-time data on which rooms are being reserved when and by whom, gives you the tools to plan how spaces should be used based upon how employees naturally use them.
Make a good first impression for visitors: When a visitor arrives, you want them to experience the best your brand, and your people, have to offer. As a recruiting tool, the parking, lobby, and journey to HR are crucial to letting others know what it will feel like to work at your office. For employees, this means pre-registering guests for easy check-in, knowing when their guests arrive, where to greet them, and how to reach them, which is pivotal to creating successful business relationships. Great employee experience tools allow employees access to this information on their cell phone, tablet, desktop via Slack, email, and text. The Connected Workplace responds to the way people naturally work across tech environments, the physical space, and the colleagues they collaborate with, internally and externally.
Workplace leaders also want their employees to feel safe at work. Smart lobby systems allow you to take a visitor's picture and automate badge printing. You can receive alerts for unwanted guests, manage visitors' NDA documents, and monitor their movements. Connected systems mean you can track and plan for peaks in visitor traffic so that they have the best experience at your office.
Test. Analyze. Connect.
Now it's time to determine whether these employee experience methods have made a difference. You'll want to work closely with IT to analyze how employees are responding to reservation and visitor systems. Are they having an impact? What still needs to be improved? After a dedicated observation phase, you might also check with HR on employee satisfaction rates. Once you develop and link the people, tools, and workflows that can quickly adapt to the needs of the employees and the business, you create the foundation for something beyond the digital workplace—the Connected Workplace.
This Week's Sponsor
iOFFICE provides today's real estate and facilities leaders with modern workplace solutions, based on the industry's first native SaaS platform, enabling the creation of connected experiences that drive enhanced business outcomes. Through a suite of employee-centric mobile apps and digital workplace solutions, employees are connected to one another and to internal workplace services. iOFFICE customers include global enterprises in every industry including a large percentage of Fortune 500 organizations.
Read Next