Feature
FACT OR FICTION – Making Sense of the RETech, PropTech and CRETech Landscape
May 16, 2019 | Realcomm Staff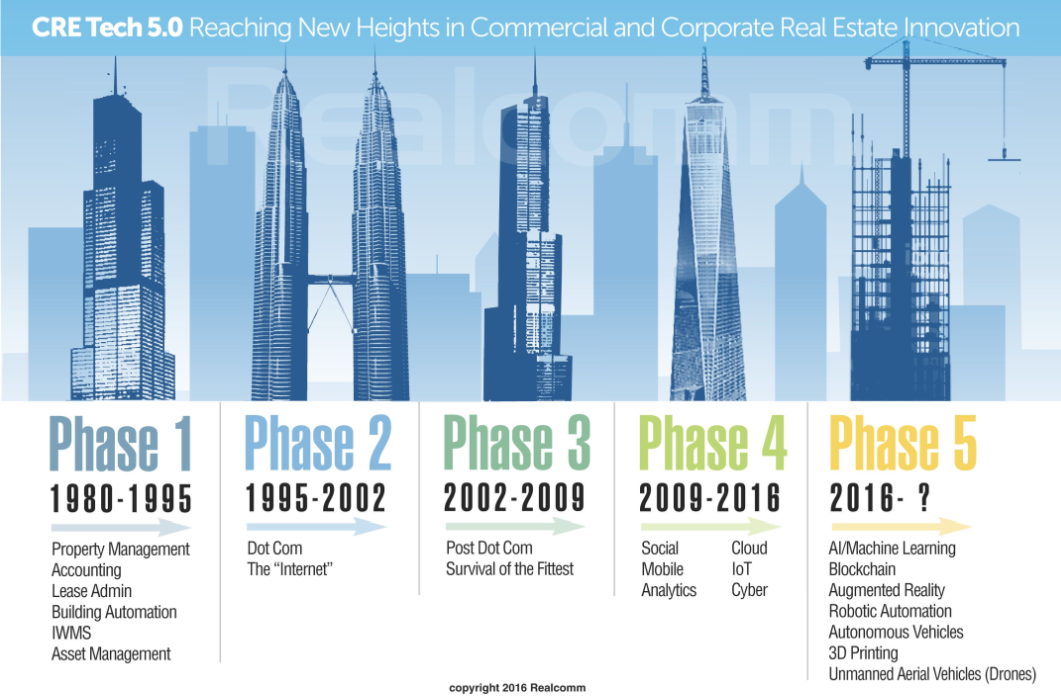 Billions of dollars, numerous capital sources, thousands of companies, dozens of reports, volumes of articles, conferences everywhere; some fact, some fiction and a fair amount of confusion define the times. The PropTech sector has experienced its most recent flurry of activity starting in 2009, what we call Phase 4. Some speculate that it was the economic downturn and the resultant 0% interest rates that sent capital in search of returns, even if it meant taking bigger risks. With the market flush with cash, all investment sectors including PropTech have experienced tremendous interest, activity and growth.
In order to better understand this most recent investment phase, it is important to note that automation and innovation within the Real Estate sector have been around for a very long time and is by no means a new phenomenon. Companies such as Yard, MRI and JD Edwards on the Real Estate information management side and Johnson, Honeywell and Siemens on the building automation side have been around for decades, having laid the foundation for the PropTech activity we are seeing today.
There is an inordinate amount of information flying around the industry relating to PropTech. Some of it accurate, some of it not; some by credible sources, some not. This preponderance of 'hype' is having a potentially adverse effect on the industry. With 'thousands' of companies and 'billions' of dollars invested, many feel overwhelmed – and in some cases decide to do nothing as they let the market figure out the winners and losers. In any event, it is critical that we assemble and communicate accurate information on tech investments made in the Commercial and Corporate Real Estate industry. One such notable and accurately reported investment made recently was the VTS 90M Series D round led by Brookfield Asset Management, GLP and others.
One report issued within the last 12 months states that there was approximately $10 billion invested in PropTech in 2018. Most took this headline and ran with it, without looking deeper into the data. Upon closer evaluation, assuming the base data was accurate, there appears to be very little of the billions referenced going to the Commercial and Corporate segments of the industry.
As illustrated by the following graphs, it appears that a disproportionate amount was invested internationally on technologies already (somewhat) mainstream in the United States, as well as in residential and Coworking. It is fairly safe to say that residential, although interesting, has very little to do with PropTech relevance in buildings. Additionally, a large amount of the dollars invested were for Coworking, which does involve buildings – but in a different kind of way. While there is a significant amount of technology, automation and innovation involved in the Coworking conversation, a large amount of the dollars invested are directed to more of the pure real estate requirements, such as identifying and securing space.
The topic of PropTech and the investment activity that has accelerated since 2009 is very important to our industry. Investments require a combination of enthusiasm and excitement balanced with a measured, thoughtful and studied approach and assessment of the products that are being introduced and the companies behind them. We will continue to work hard to provide an accurate assessment of the tremendous interest and opportunities in PropTech, CRETech or Real Estate Tech, whatever we decide to call it.
Realcomm | IBcon will be dedicating time in the General Session, as well as five different breakout sessions ranging from the VCs' perspective to a shootout of some of the best and most innovative startups. Two of the newest, most innovative companies will then be selected and presented with the "Digie" Awards. There will also be a CRE Tech LAUNCHPAD on our Exhibit Floor featuring startups.
This Week's Sponsor
Triacta designs and manufactures revenue grade meters and data acquisition devices for energy management, tenant billing, and building control applications. Every Triacta meter ships with software that combines meter management, automated data collection, powerful analysis tools, and flexible data export capabilities — everything needed to create and manage a metering infrastructure.
Read Next