Feature
Alibaba's Hema, Amazon's Go, Macerich's Brandbox: Where is Agile Retail Headed?
March 28, 2019 | Tina Danielsen, Sr. Writer, Realcomm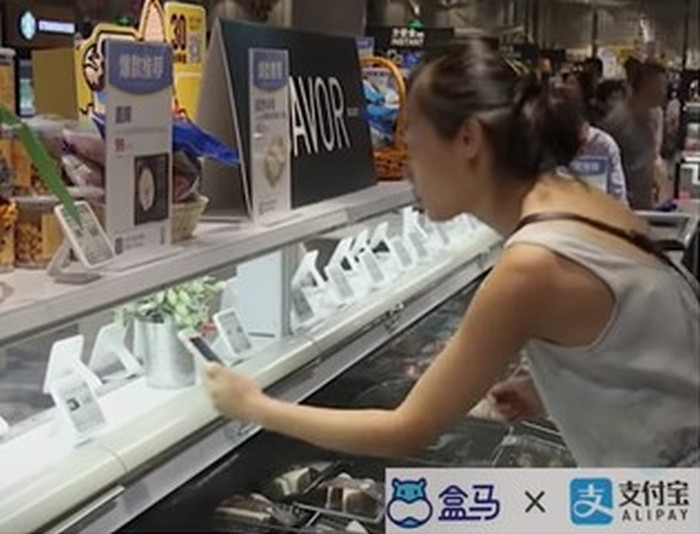 The omni-channel strategy has evolved as a standard for increased sales and customer loyalty; it leads marketing efforts in all industries today. This is especially true in retail, where every effort is made to connect with the customer in the way that they demand, no matter where they are or what device they are using.
Ever since e-commerce predicted the demise of physical stores, companies have attempted to ward off that possibility by combining online and offline sales. Past trends have included shopping apps, concierge services and interactive displays; but we are entering a new era. Retailers need solutions that are quickly adaptive to consumer needs and that can withstand market and economy fluctuations.
Agile retail, a model that uses big data to predict trends so retailers can respond faster to customer needs, has matured, bringing new strategies designed to take consumers beyond the basic shopping experience. Some of these concepts include:
Using technology to create a truly seamless shopping experience, from parking to checkout to home delivery

A hyper-efficient supply chain that delivers on demand with a minimal amount of local inventory

Multiple venue levels: pop-ups, kiosks, turnkey flexible spaces, temporary event sites, modular merchandise units, and micro-spaces as small as 20 square feet

Creating urgency: taking advantage of viral social media to create anticipation, drive attendance and create 'buzz' for events and product releases; part of the excitement is because details are announced only 48 hours (or so) before event occurs

Celebrity tie-ins: exposure to their larger audience and making shopping an exclusive event; customers get access to limited edition goods, and a chance to see or meet the celebrity

Futuristic food stores as online retailers engage in the food prep and automated delivery business

A switch from unproductive retail sites like big-box stores to ones that drive traffic: restaurants, experiential events, luxury movie theaters, fitness locations; activities that you can't access remotely

The marketplace setting: larger retailers featuring a single brand at a smaller venue for a period of time
While modular retail has been around for a few years, the way we are using it is different. Pop-ups and kiosks were traditionally used to fill space for emerging brands, or to offer sites for companies unable to afford long-term leases; now even established companies prefer them as a way to do business and follow trends.
The new business model creates a symbiosis between all stakeholders involved, from product owners to building owners. Landlords and owners are taking a stake in the success of retail tenants rather than just providing a lease, as retail REITs expand their assets. Landlords/owners also reap increased revenue from the additional value offered at their sites.
Advantages for retailers include:
The ability to create, anticipate or follow trends immediately to capture revenue before the excitement cools down

Severe reduction or elimination of traditional local inventories which are being replaced by highly efficient centralized supply chains

Being able to test products and the market in small ways before a larger investment

Seamless shopping through technology provides multiple data streams and possible additional revenue
Shopping locations must create an imperative to be there; otherwise, why not just shop online? Newer sites are often placed near hotels and mixed use living areas to increase daily foot traffic; shopping for a few items just becomes part of your day, as you enjoy all the amenities in the space. Consistent customer engagement in all its forms is what drives success and creates comfort—and especially loyalty—with the brand.
Amazon now has 10 of their offline Go stores placed, with 50 more reportedly planned this year. These sites use technology to offer a grab and go ease that omits the need for lines and checkout, and tracks inventory on the floor. The store's tagline "Just Walk Out" lets customers know just how easy it is.
There are 65 high-concept Alibaba Hema stores in China; they offer fresh food on site, a no-cashier payment system and a completely automated overhead conveyer belt delivery system. The system gathers items while you are walking around the store and delivers them to your home in 30 minutes—it's fast, it's free, and you don't even have to carry the bags home.
Simon Ventures offers retailers multiple options to showcase their products, such as The Edit retail platform. They share their domain experience as part of that service: expansion methods, scaling, relationship building. They are invested in helping their tenants be successful.
Brookfield Properties is rebranding many retail sites as 'lifestyle centers' offering relaxation and entertainment; leisure amenities include enhanced play areas, family-friendly exhibits and classes, in addition to restaurants and theaters. The idea is to make the sites places that families want to visit on a regular basis, whether they are shopping or not. This familiarity creates brand loyalty.
The Macerich mall at Tyson's Corner offers the flexible Brandbox retail format, which includes design, analytics, security, marketing, and short leases. In a profitable turnabout, some of their Brandbox retailers have reportedly been successful enough to enter into conversations about long-term leases.
All of these companies have seen the writing on the wall and are positioning themselves to succeed in the new era. Whatever the shopper demographics are, they are ready to hone in and effectively give retailers what they need to be successful, and customers a new and engaging shopping experience.
The evolution of retail, along with many other trending industry topics, will be discussed at Realcomm | IBcon 2019. The conference will be held at the Nashville Music City Center on June 13 & 14 (Golf and RE Tech Tours June 11 | Pre–Con Events: June 12). Register today!
This Week's Sponsor
iOFFICE equips workplace leaders with data and mobile tools to plan for the future of their connected workplace. Hummingbird is an EX solution and app that connects employees to everything they need while collecting data—resulting in greater productivity and satisfaction. Learn how more than 2.4M users at 1,400 companies use iOFFICE to create productive workplaces: www.iofficecorp.com.
Read Next