Partner Content
Getting to the Top of the Stack | How Employee Experience [EX] is Becoming the Priority for C-Suite Leaders
November 21, 2018 | Elizabeth Dukes, Co-Founder & CMO, iOffice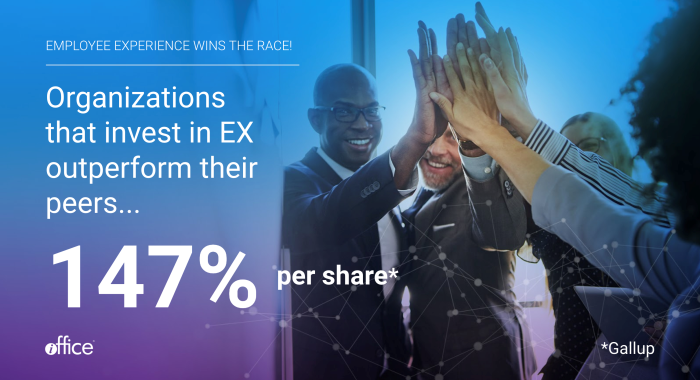 Whether you're a CRE exec or workplace leader, 2019 is going to be the year where the Employee Experience [EX] trumps all office tech. Why? It's economics. For the first time in more than a decade, unemployment has hit 3.7% – an all- time low. For many internal HR teams, this is the first time that the competition for talent has reached its apex. Every competitive advantage is critical in order to attract, recruit, and retain top talent. And the office is no exception. As leaders look to keep great team members, it's not enough to have a beautiful office, or a productive one. The office has to learn from and respond to the employee. It actually has to get smarter.
Gartner coined the term Digital Workplace nearly five years ago. "A digital workplace is a business strategy to boost employee agility and engagement through a more consumerized work environment. While each one is different, successful digital workplaces share characteristics that maximize the creative potential of the workforce and allow new ways of working that deliver better business outcomes."
Typically, these achievements came about by creating a "smart workplace" — one that deployed technology that would be as easy to use as a smart phone — and one that could provide data back to the employer to track space utilization, create better systems for orchestrating moves, mail delivery, service requests, and room reservations. These systems would hypothetically integrate with HR and IT functions to make the employee's life easier, so she could concentrate on the bigger tasks at hand. Ideally, these IWMS solutions, the underpinning of so much of the digital workplace, would also provide data back to the employer and CRE exec to better plan for the future and provide a baseline for future decisions. The goal of the digital workplace was to eliminate the distraction to the employee and free them up to do their best work.
And it worked, for a while. Companies created employee tasks forces, chose an urgent catalyst — like a move or expansion — to assess the issues. Next, armed with employee sentiment, they set off to knock down the silos between HR, IT, and FM by getting both their teams and technologies talking to each other. Not an easy task when so many on-premises solutions were not cloud-based. Not only would the systems fight each other, but they struggled to share data. Getting the SaaS solutions to the enterprise with open REST APIs was the game changer in unleashing the data and getting systems speaking to each other. In addition, employees could now schedule their own service requests, book conference rooms and check in visitors. The DIY office, it seems, was finally here.
For the first time, the office tech stack was a comprehensive collection of flexible, new and old technologies that sought to serve both the employee and the business. Or did it? Once these division leaders found out that both tech and data were plentiful and accessible, many companies experienced an app explosion. Employees, FM, HR, CRE, and IT teams were all adding to the stack. Data was piling up, but who was using it or gaining insights from it? Employees were adding their own app preferences to Outlook, Slack, and Salesforce without even notifying IT. One of our Fortune 500 clients actually counted 56 apps on their corporate tech stack! Some of which were of unknown origin or value.
It was time to come clean, get real, and reflect on whether this approach was serving the greatest good and the original ideal: to create the most satisfying and productive workplaces. The answer? Not yet.
Beyond the Digital Workplace
Without a doubt, the SaaS-based IWMS remains the foundation for smart, digital enterprises everywhere. Let's call this foundation of the tech stack. Most systems today feature the most critical elements for running an enterprise workplace:
Space Management

Maintenance Management

Visitor Management

Resource Scheduling

Lease accounting
Over time and with employee-input, employers learned a few key lessons:
Mobile solutions are a MUST have, not a nice to have, for employees to actually adopt new technologies. They must be accessible everywhere, and that's especially true for remote workers.

Activity-based working (ABW) is a game-changer. Offering employees different work environments that reflect their tasks (open spaces for collaboration, quiet spaces for phone calls, break rooms to relax, and a host of different-sized and A/V equipped conference rooms) better meets the need of the worker and their work.

It's not just what happens at work, it's what happens between work. Employees wanted a way to connect with each other and visitors. Wayfinding – to a conference room, to a colleague's desk, to help a guest find the right floor, is key. Room reservations weren't just about getting a room, it was about knowing which was the best room, with the right equipment and the right size to accommodate the conversation, distance and mood that each meeting would have. These subtleties matter.

Communicating about change is critical. Employers are learning that employees know what they need, but often don't have the venue or the tools to express it. Creating an employee task force allows staff to participate in setting priorities, and reach across silos for cooperation and data sharing. It also and gives employers a conduit to communicate insights gleaned from workplace data, and how it will be used ultimately serve them.
Enter the Responsive Workplace
If the IWMS is the foundation of the workplace tech stack, the EX layer is at the top and permeates every level of the technology found within it. Today, each layer of the tech stack must connect with one another, must give and receive data to each other, and produce powerful insights for both benchmarking across industries and predictive analytics for the future. This interactive connectivity gives you the power and freedom to respond to your current workforce and intelligently invest in your future workplace. Every app, every sensor, every piece of software must seek first to elevate the Employee Experience [EX] and in turn, the bottom line for the business. Why? According to Gallup, companies with highly engaged workforces outperform their peers by 147% in earnings per share. That is simply staggering. Author Jacob Morgan says that employee-centric companies produce four times the profit and two times the revenue of similar companies in the same industries.
Today, doing so is not as difficult as it sounds. There's no need to "rip and replace" other SaaS technologies, just connect them and allow them to share data. Most sensor and badge data are collected effortlessly and passively as employees come and go through office environments. Some forward-thinking companies are even deploying them to reduce cleaning services in unused spaces, identify unused parking spaces or the most popular gym equipment in the fitness center to better replicate wellness experiences across facilities and geographies.
When the workplace responds automatically to the employees' needs, their experience and productivity skyrockets. That satisfaction, in light of a tough job market, will be the measure of every 'Best Places to Work' list. But the gains to the bottom line, shareholder value, and premium space usage and optimization will move EX solutions to the top of the tech stack… and to the top of the strategic plans stack on every CEO's desk for years to come.
This Week's Sponsor
iOFFICE equips facilities, CRE, and workplace leaders with the real-time data and mobile tools to plan for the future of their workforce and workplace. iOFFICE HUMMINGBIRD is the first Employee Experience solution and app that allows employees to find, request, use and reserve the spaces, information, people and events they need while automatically collecting critical business intelligence. The iOFFICE MARKETPLACE is a growing network of vetted application partners offering from energy optimization, digital signage and wayfinding apps that use the iOFFICE platform. More than 2.4M users at 1400 fast-moving companies like Adobe, Homeaway, HESS, FBL, Sephora, Sodexo, McKesson, Publicis, Under Armour are creating the most productive workplaces on earth.
Read Next