Partner Content
The Smart, Connected Building
April 26, 2018 | Bill Cune, VP, Commercial Technology, Corning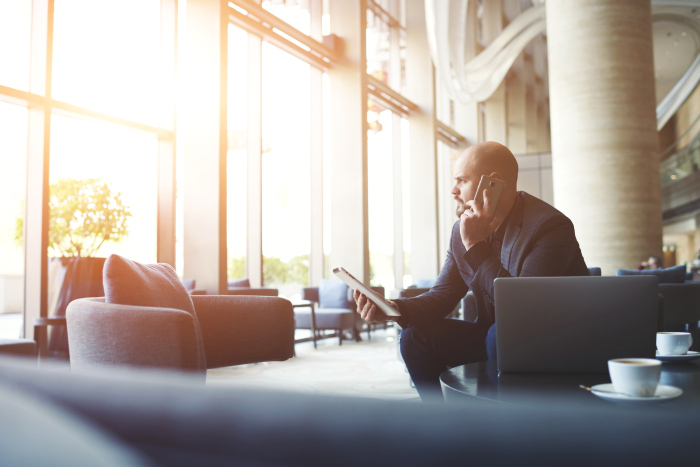 The commercial real estate market is transforming. Physical attributes such as the building's location, presentation and on-site amenities are no longer the key selling propositions; technology has joined the list as a key differentiator.
In an article on bisnow.com titled To Be An Amazon Magnet, Your City Must be Wired, Arie Barendrecht, founder and CEO of WiredScore, said "It's easy to believe at this point that connectivity is the lifeblood of all modern businesses. The key thing to realize is almost every important thing we do at work, every application we use, is on connectivity."
To keep up with tenant needs and expectations in today's business age, it has become imperative that buildings are both smarter and more connected. Services, applications, and technologies such as mobility, building automation, asset management, security, digital signage, eCommerce, the Internet of Things, and machine learning – to name a few – are all enabled through a robust base building network. This reliance on connectivity underscores that network infrastructure is as important as mechanical, electrical and plumbing (MEP) systems for commercial real estate buildings.
James Carlini, author of Location Location Connectivity, observes smart networks need to be reliable, redundant and resilient.
"20th century real estate strategies and solutions will not fit or satisfy 21st century real estate requirements," Carlini explains. "The needs and demands for buildings today have far surpassed those of the past."
As networks shift from wired to wireless, connectivity is increasingly stressed at the edge of the indoor network. The traditional approach of installing a single-purpose infrastructure to support a single application in a building is no longer an efficient or effective method.
Fiber infrastructure, however, is future-flexible and is the ideal media to converge and support multiple services and applications.
Carlini counsels that a smart, connected building infrastructure should be engineered to last the lifetime of the building, "not the lifespan of the technology hung off of it. If you are switching out cabling every five years, you are not doing a good job of network planning."
Fiber not only provides virtually unlimited capacity, but it is also the ideal media to converge multiple applications and services such as voice, data, and video. This approach empowers the multiple stakeholders within a building – including the owner, tenants, and service providers – to deploy the applications they need or prefer through access to a single infrastructure.
But what about powering all those edge applications? Composite cabling marries fiber and copper conductors into a single infrastructure to provide both the benefits of convergence and scale with Power over Ethernet, or PoE.
To be clear, while there is still a place for copper in smart, connected building infrastructure, the limitations of copper solutions for bandwidth, power handling, and distance mean that networks should rely on copper for only the final meters at edge. Unifying the structure in this way is cost saving and efficient, therefore also making it the most environmentally friendly.
It has long been observed that while the pace of change for technology is rapid, the pace of change for commercial real estate is slow. Emerging technologies, like 5G and the continuous enabling of everyday items through the Internet of Things (IoT), will only create even starker differentiations. Former Class A buildings may no longer be able to entice Class A tenants, subsequently transforming the commercial real estate industry and redefining the competitive edge.
"Horse-and-buggy approaches to commercial real estate expose building owners to a single point of failure," says Carlini. "Get rid of those obsolete rules of thumb immediately because they do not support the mission critical-applications of today's corporate core business."
The key to modern marketability in the industry truly is the smart, connected building – a building designed in a smart manner with a unified and scalable fiber network infrastructure. More and more buildings are recognizing the need for businesses to have holistically equipped network capabilities that allow tenants to scale and be modular according to their business needs.
"By doing this, you have effectively cut out at least 95 percent of your competition when it comes to seeking out a Class A tenant," adds Carlini.
All things considered, commercial real estate is undoubtedly on the cusp of revolution. The streamlined convenience of converged network capabilities is sparking a future-forward outlook for tenants and property owners alike. As technology continues to evolve and new platforms are enabled, the demand and, therefore, the need for buildings to be smart and connected will expand – eventually making the transition from high-demand to expectation.
The smart, connected building provides opportunity for significant business potential for myriad commercial real estate stakeholders, no matter how they may fit in to the industry.
To learn more, listen to a recorded webinar on "The Smart, Connected Building Transformation."
This Week's Sponsor
Corning is one of the world's leading innovators in materials science. For more than 165 years, we have applied our unparalleled expertise in specialty glass, ceramics, and optical physics to develop products that have created new industries and transformed people's lives. Corning® Optical Network Evolution (ONE™) solutions provide fiber optic infrastructure to satisfy the application and bandwidth requirements in demand today, and tomorrow. Be it multi-family, commercial, retail, or mixed use, the real estate market requires connectivity to support the "live, work, and play" lifestyle embraced by tenants and buyers. www.corning.com/one-infrastructure
Read Next