Feature
Tech Companies Embrace Real Estate Development: From Buildings to Cities
March 1, 2018 | Jim Young, Co-Founder & CEO, Realcomm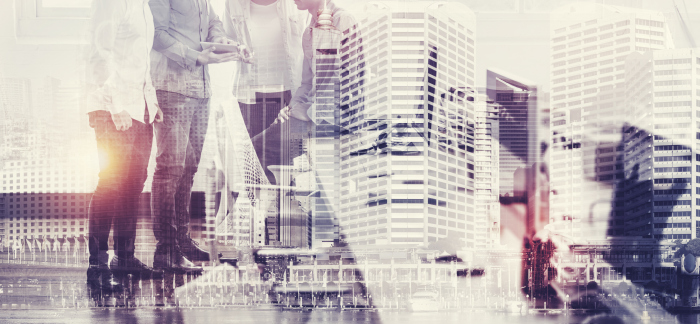 The process of developing a building or mega mixed-use project is a formidable task. Business analysis, financing, land assemblage, zoning, design, construction, leasing and operations all require a comprehensive and complex skillset. Additionally, the requirement to assess optimum market timing to avoid economic disaster makes the process even more difficult. Clearly, the business of buildings is not for the faint of heart.
In modern times, the types of organizations taking on these projects were centrally focused on the real estate business. For the most part, the process has been fairly analog and involved traditional methodologies associated with the brick and mortar industry.
Over the last 20 years, technology has been creeping into the discussion. Real Estate process automation, smart buildings and next generation occupant experience all require significant technology to transform analog buildings into digital projects. While the real estate industry is adopting innovation at a fairly aggressive rate, some argue that it is not fast enough…enter technology companies.
More recently, we have begun to see a number of technology companies and entrepreneurs enter the real estate development business. We have seen this before when Walt Disney and Ken Sakamura decided they could implement innovation at a faster rate than the traditional industry (for Disneyland and the Tron House). Although not specifically technology companies, their thinking was that technology changes process and that means a change to design. The next level of thinking suggested that those familiar with technology and innovation were better able to predict the coming lifestyle changes better than the real estate industry – and therefore were in a better position to build these projects.
These technology companies are toying with the idea of creating the next smart building, mixed use project, campus or even city. Some examples are:
Qualcomm
Qualcomm is working with wireless technologies in their buildings and campus to create the next generation of digital experiences for employees and guests.
Microsoft
They set the benchmark for smart campus strategy with their connected buildings. This effort is continuing with projects such as smart bathrooms and better user experiences. Bill Gates is involved with smart real estate projects in Florida and Arizona.
Google
Google is at the forefront of smart building, portfolio and campus strategy. Their connected building strategy is taking automation to another level. In addition, through one of their subsidiaries, they are embarking on a smart city project in Toronto called Quayside. This project on the Toronto Waterfront promises to deliver a 21st century lifestyle.
Amazon
Amazon's strategy to deploy Alexa everywhere will continue to impact the user interface and ultimately user experience. This is apparent in homes and could soon be moving to commercial spaces. Additionally, rumor has it that Jeff Bezos is looking into smart city projects in Washington D.C. and Seattle.
Apple
Apple's new campus in Silicon Valley is an example of Tech Giants taking development a little more seriously than they used to. Its iconic circular design suggests they wanted to make an innovation statement. The design standards and use of technology also demonstrated that they are interested in defining the next generation of Real Estate development.
Panasonic
Panasonic has kept most of their smart city activity in Fujisawa, Japan. That has all changed with the development of Peña Station Next outside of Denver. The idea was to use all of Panasonic's smart city knowledge from Japan and build a similar project in the United States. Panasonic is not only providing the strategy and technology but owns the land and is acting as a developer.
Citylink.ai
Minh Le, a technology and venture capital executive, intends to build smart cities all over the world. Starting in Virginia, the Gramercy District is a futuristic mixed-use project that will integrate technology into every aspect of a digital lifestyle. The goal is to create a smart city platform - using Gramercy as the testbed - that can then be deployed in smart cities globally.
Every day someone, somewhere in the world is talking about another smart city. The reality is that these conversations have been going on for a long time starting with Walt Disney in the 1960s. The big difference now is the speed and breadth of developments being discussed globally.
The concept is simple: combine bricks and mortar with technology to create a new kind of life experience. We have seen real estate developers embrace technology, now we are seeing technology titans embrace real estate development. To date, the spoils have been elusive and there have been more challenges than successes. This very important and timely topic will be discussed at length at Realcomm and IBcon this June in Las Vegas.
This Week's Sponsor
Tempered Networks offers organizations a smarter, secure and scalable way to connect, segment, and manage building automation system (BAS) deployments. With no changes to the underlying infrastructure, you can easily isolate BACnet traffic, for example, with hardened segmentation using point-and-click orchestration that anyone can manage. Facilities and Operations teams can remove the traditional IT networking obstacles - with the lowest TCO - without compromising security for simplicity. Visit www.temperednetworks.com.
Read Next