Feature
Mirvac | 80 Ann Street: State-of-the-Art Workplace Precinct
September 22, 2022 | Realcomm Staff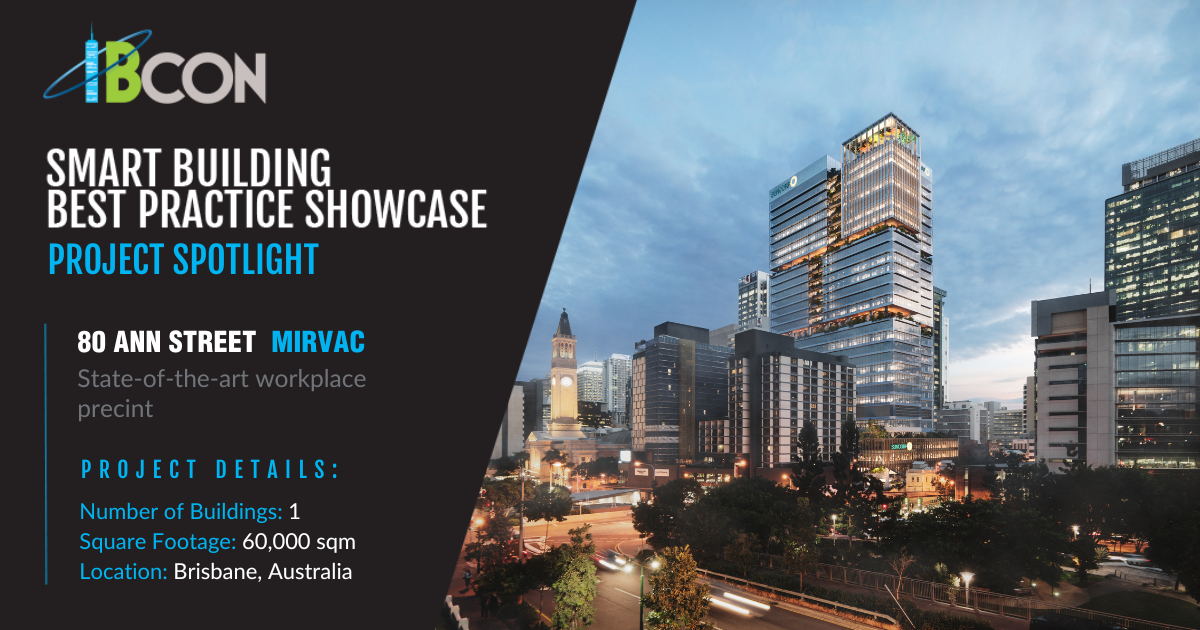 The IBcon Smart Building Best Practice Showcase is an annual event held at the Realcomm | IBcon conference where real estate leaders present their most innovative, technology driven commercial and corporate real estate projects. These projects demonstrate leading-edge technologies and vision for intelligent and adaptive design that is transforming the next generation of IT-enabled real estate. The Weekly News Briefing will feature a unique Showcase project each week.
Heritage Lanes is one of Australiaís most sustainable and efficient buildings. In line with Mirvacís commitment to transition to renewable energy across its portfolio, 80 Ann
features 100% electric heating (including all hot water) and is net zero carbon in operations. Multiple breathable floors promote natural and mixed-mode ventilation throughout the building, and landscaped terraces connect to nature and invite the lush tropical flora into the workspaces. Throughout the construction of the precinct, the Mirvac team delivered a leading education program to partners and suppliers on product initiatives that can reduce environmental impact and encourage transparency, ethical supply chains, circularity, low carbon production, going over and above when delivering on ESG commitments.
This Week's Sponsor
Losant is an Enterprise IoT Platform that makes it easy to collect, visualize, and analyze data to create a smart office, building, or campus so you can quickly deliver real value to property managers, facility managers, and campus security teams. In addition, the Losant platform provides an intelligent orchestration layer between existing systems and new data sources.
Read Next