Partner Content
A Seven-Step Plan for Achieving Your M&A Targets
July 21, 2022 | Barry Faulkner, Enterprise Managing Consultant, RealFoundations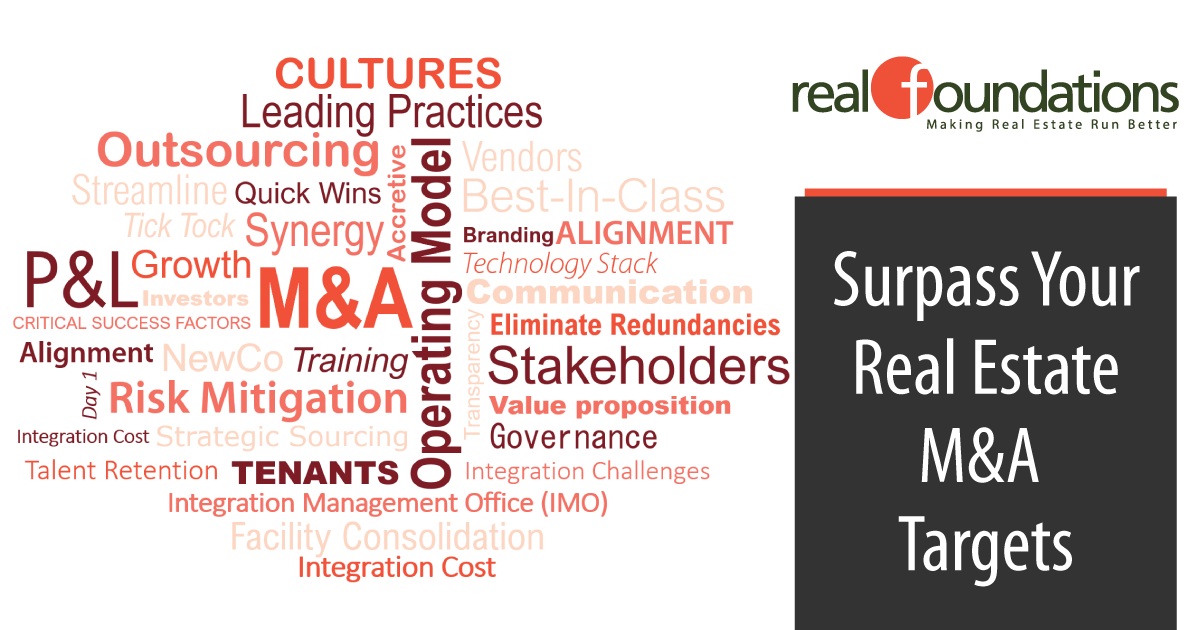 Few events have greater potential to vastly improve the performance and value of a real estate company than mergers and acquisitions (M&As). However, most large M&As underperform significantly – the new post-acquisition entity more often than not fails to achieve the synergies, economies of scale, growth opportunities, financial targets or other goals envisioned for it. Corporate leadership often does not realize the scope and complexity of coordinating an M&A transaction across multiple dimensions, occurring simultaneously and in a compressed timeframe, while also maintaining legacy business operations.
Success requires thoughtful and active design and implementation of a comprehensive plan to integrate all functions of the two legacy enterprises into a single, unified, operation. Companies that take a disciplined, rigorous, methodology-driven approach to this transformation invariably have strong outcomes. The following are key steps to take to ensure successful M&A outcomes.
1. Get Organized as Soon as Terms are Reached
Once parties are in agreement, representatives from both organizations need to begin creating a framework for transaction project governance which includes:
Establishing executive sponsorship in either one senior executive, or a small group of decision makers, who must participate as thought leaders and drivers of the M&A work. They must be visionary, provide a roadmap for the new company, inspire and motivate the internal delivery team, and continually push team members to come up with ideas for improvement.
Forming a Steering Committee consisting of executives and leaders from the most-impacted departments of both companies. The committee will meet regularly to make decisions, oversee budgets, assign resources, resolve issues and risks, etc. They will be responsible for ensuring progress against the integration plan.
Creating a cross-functional Integration Management Office (IMO) to plan and oversee all projects for combining the two entities. Often, the department leads for accounting, technology, operations, revenue management, HR and other functions will lead workstreams. They have the knowledge and experience for making tactical decisions regarding their respective areas of the operating model. They are also the most qualified to identify risks, set and enforce standards as the organizations combine and keep stakeholders updated about progress and challenges.
2. Lock Up Key Personnel Early in the Process
Promptly identify and retain key executives and functional leads from the two companies – those best suited for managing the post-transaction integration. Incentivize them to remain as an integral part of the new entity (or through a transitionary period) because they have vital knowledge and perspective about their organizations to help make informed decisions. Having familiar leaders gives employees a sense of continuity and certainty about the future, which bolsters retention and productivity.
3. Focus on Day 1 Operations
Right out of the gate, post-merger/acquisition, the new company must be fully operational – able to pay bills, collect rents, make payroll, communicate timely with tenants, etc. Operations need to be stabilized to ensure business runs effectively, even if not at 100 percent efficiency. Executives then can plan the next 30, 60, 90 and 180 days with greater specificity and optimize efficiencies to hit synergy targets.
4. Develop a Communications Plan for Internal and External Stakeholders
An internal plan keeps employees, executives, investors, and other stakeholders informed of M&A goals and provides updates on progress and staff impacts. Transparency helps everyone better understand the changes they and the organization are going through and ensures support for the company mission. The external plan informs tenants, vendors, and analysts about the company's vision for the post-M&A entity and lets them know about impacts they may experience, both during the transition and after the deal closes.
5. Determine the Operating Model for the New Combined Company
Leadership needs to consider how the future company will be structured going forward. Detailed thought must be given to operational and technical design for not just the current portfolio, but also for fulfilling its new vision. Will the company adopt one or the other model or take a best of bread approach, what enhancements are required for the larger company, etc.? These questions and others require careful focus. Key operating model components span:
Work Activities – To successfully design a future-state, combined operating model, executives need a systematic view of both companies' current operating platforms and an understanding of the work that each of the two legacy enterprises have undertaken to historically manage their businesses. Similar organizations will often conduct their work by different methods, so deep knowledge of current processes will inform the design of future combined entity processes.
Sourcing – Next, they should look at resourcing, or who is doing the work. Two organizations may accomplish the same tasks, but with different sourcing models. For example, one might be vertically integrated while the other outsources functions to multiple vendors. Developing a complete understanding of responsible parties along with their oversight and measurement will give leadership a clear idea of scaling capabilities for the combined enterprise.
Information – Finally, it is imperative to also consider the most appropriate technology stack for the new firm's business functions. Creating a detailed technology map for both organizations will help guide decisions about which systems and information should be transitioned to the combined company. Leadership can then decide which legacy applications survive or get retired and/or whether to integrate new solutions. Then, they can design and configure the new platform to support future strategy and requirements.
6. Create and Adhere to a Data Governance Program
This step is key to ensuring the new company's data is fit – accurate, timely, complete, consistent, and compliant. The data governance program establishes and applies policies, procedures, standards, and definitions for how the enterprise will manage its data. It should include a data dictionary that lists and defines every important data element, the methods for calculating each element, the class of data and data type, the information consumers, and the source system(s) from which the data originates.
7. Implement a Change Management/Adoption Acceleration Program
Detailed change management programs are designed to keep employees informed of new assets, system changes and new data practices affecting their work. This mitigates business disruption and helps boost employee morale in what may be a tumultuous time. A good program announces the M&A objectives and explains how the organizations will form and operate with collaborative, cross-functional teams. It includes frequent communications to manage expectations, provide integration updates and offer training on using new systems and handling data differently.
Mobilize for M&A Success
Mergers and acquisitions can be difficult undertakings and companies often underestimate the complexity, time, effort, and risk management required to achieve successful outcomes. One of the most important things a real estate enterprise can do to reach its stated M&A goals is collaborate with a qualified consulting firm with a track record of delivering successful transaction integration. RealFoundations' M&A Practice levers a proven, real estate industry-focused methodology to help clients meet and ideally surpass target synergies, consolidate, and streamline their technology infrastructure, and implement a cohesive and efficient post-transaction operating model to carry the combined company into the future. To achieve your future M&A targets, put RealFoundations' expertise to work for you.
This Week's Sponsor
RealFoundations is the world's foremost professional services firm focused solely on the real estate industry. Through our delivery of Management Consulting and Managed Services, we help companies that develop, own, operate, service or invest in real estate make better, more profitable decisions. We are proud partners to over 450 real estate companies around the globe, providing accelerated solutions that solve real estate's most complex challenges. We Make Real Estate Run Better. Visit www.realfoundations.net for more information.
Read Next