Feature
Today's Digital Workplace REconfigured
April 7, 2022 | Robert Fitzgerald, Regional Technology Director, JLL Technologies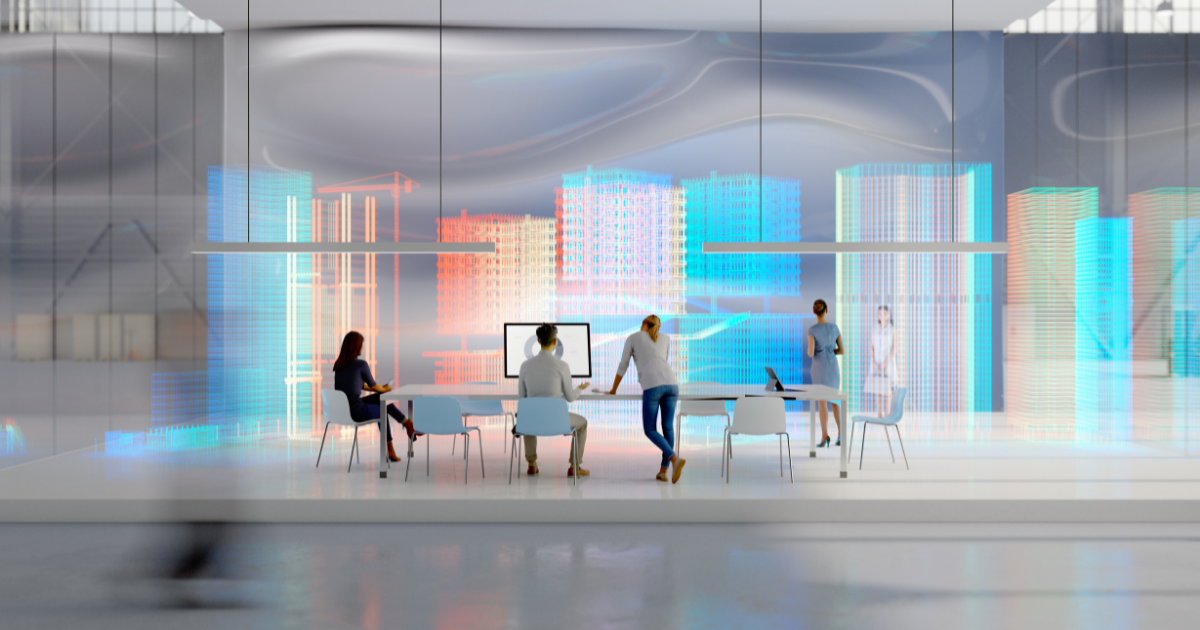 The Digital Workplace is an evolving concept full of seemingly unlimited opportunities for how CRE teams are digitizing operations in the workplace. The term 'Digital Workplace' conjures debates based on a couple of different reasons: 1) What should the end state of my digital journey look like? and 2) How do you define workplace? The answer to Question 1 depends on the eventual outcomes your organization wants to see materialize. Question 2 has and will continue to be a topic for several articles. For this article, I will limit workplace to mean the "office," in whatever form it will exist in the future.
One thing many in the CRE industry do agree upon is that a properly planned, implemented and supported workplace technology solution is one way to deliver on your company's strategic imperatives. According to the Forrester report, 87% of the Facilities and CRE decision makers surveyed agree that workplace technology is 'important to very important' in achieving corporations' top priorities.
After two years of largely virtual engagement, the human experience we create in the workplace matters more than we ever thought, therefore we know the future of work will need to be highly digital.
Let's review some of the more common building blocks and technologies many organizations feel are necessary for moving their digital agenda forward.
Basic Building Blocks
First and foremost, it is important for organizations to think through and document any outcomes which they are trying to achieve; long before identifying specific technology solutions. Far too often clients become enamored with the latest and greatest 'shiny object' without considering if the technology will support the experiences they are aiming to create or solve specific business challenges. Instead, we encourage our clients to start by defining a day-in-the-life view for key personas to help understand the specific challenges each may encounter at various interaction points throughout their day.
Equally important for many clients is how they want their brand and culture to come alive in the workplace. Aligning your workplace vision with HR and Marketing can help create a cohesive feeling to how engagement should work internally and externally throughout the organization.
Clearly defined user journeys, coupled with brand and culture alignment, begin to set the stage for identifying the infrastructure, applications and various ways for employees to interact with your workplace technology.
Technology and Data Ecosystem
Earlier in my career, one of my mentors told me "Data is King" and I believe that to be truer now than ever before. Data-driven decisions are the expected norm, but many clients are still trying to decide what to report and analyze, as well as how and where to store their data. Some clients struggle with questions like "what are we managing, how are we performing and trending, what are my risks and opportunities?"
There are a variety of ways to centralize and normalize your portfolio and operations data. Today's modern IWMS solutions easily ingest data from external data sources. An alternative approach would be to implement a fully connected technology ecosystem which may include best of breed point solutions, coupled with niche data sources, to enhance or augment your CRE data.
Regardless of which approach you choose; it is imperative to prioritize your data and reporting requirements prior to designing a data consolidation framework. Equally important is to identify your data controls and QA process in partnership with your client and workplace partners. Once these decisions are made, you can begin to design improvements to your process and technology stack.
Smart / IOT / Human Experience
Generally speaking, today's workforce is more technically inclined than previous generations. They expect their workplace to operate much like their connected home. In other words, they want their "9-5" day to feel more like their "5-9" evening. Yet, according to Gartner's 2020 Digital Friction Survey, employees waste 5 hours or more a week, when working with technology.
Owners and Occupiers and faced with the two-pronged challenge of maximizing the experience for tenants and occupants, while at the same time increasing a buildings or portfolios efficiency. After two years of near isolation and fully virtual engagement, today's workforce wants more control of their environment so they can optimize their own personal productivity. They also expect tools that connect them to their colleagues in seamless fashion and they want to know their employers are sustainably minded, both in mission and in practice.
To support these desires, Owners and Occupiers are investing and implementing interactive collaboration tools, digital signage and wayfinding, intelligent lighting and HVAC with individual occupant control, room and parking reservation systems, virtual concierge and touchless visitor management solutions.
Voice enabled digital assistants such as JLL JET, answer the demand for a better overall workplace experience. Through a mobile device, users can interact using voice or type for commands such as finding and reserving a room or desk, creating a facility, IT, or HR service request, locating a colleague, exploring menus or points of interest and helping users navigate to their desired location.
By leveraging technologies such as these, CRE teams can help remove friction from daily task, increase employee productivity and ultimately improve occupant experience throughout the day.
Dynamic Space and Services supports Sustainable Operations
How do you effectively manage occupancy across a distributed portfolio with constantly evolving space demands, increased mobility, and rapidly evolving workstyles? As companies begin to accelerate their Hybrid work plans, workplace utilization sensors and leveraging AI are in high demand as a means of helping companies collect intelligence on when and how space is being used. This micro supply demand management (smart assignment of workspaces) allows planners to effectively manage dynamic environments while also collecting real-time and historical information to help drive further portfolio consolidation opportunities.
In similar fashion, additional sensor types can be used to predict when services like maintenance or cleaning need to take place. As an example, dynamic cleaning solutions shift traditional janitorial services to a demand-based cleaning program through installation of inexpensive temperature and proximity sensors. This permits the adjustment of services based on usage, allowing your staff to fine-tune routes and frequencies based on trends. What better way to improve customer satisfaction and cleaning team efficiency than by targeting maintenance efforts to when and where cleaning is needed the most!
Returning to the office continues to be a matter of trust, and because of this, occupants want to know the health of their space. Employers of choice want their employees to know they care about their health and well-being. Implementing Indoor Air Quality (IAQ) sensors throughout their buildings, integrated back to interactive digital displays, helps employers keep their occupants apprised of temperature, humidity, CO2 and VOC levels. This data can be used to generate trends and to keep occupants informed of building health, and more importantly, any related potential impacts to employee productivity and health.
Our Challenge
Going forward there will continue to be a human first imperative which means the office of the future will have to be human centered, placing health and well-being at the forefront. To execute this vision, we must recognize and reimagine what makes a meaningful experience and strive to create moments that matter in both the physical and digital dimensions. Employees yearn for healthy and productive environments where they can connect, learn, socialize, and perform at their best. Providing seamless and fully integrated digital ecosystems that support this movement seems to be the least we could do to help our clients embrace our new normal.
This article ties in with this year's conference theme, The Great REconfiguration, which explores how post-pandemic, it is unlikely we will ever go back to the old normal. Buildings will remain an integral part of our daily lives, but in a different, more intelligent way: REconfigured to provide employees with a frictionless environment between digital services and physical spaces. Learn more about this topic and many others at Realcomm | IBcon 2022 which will be held on June 15-16 (Golf Outing: June 13 | Precon Events: June 14) at the Orange County Convention Center in Orlando, FL. Register today!
This Week's Sponsor
Embracing open software/hardware platforms, Lynxspring develops, manufactures, and distributes edge-to-enterprise solutions creating smarter, sustainable buildings, better energy management systems, equipment control and specialty machine-to-machine and IoT applications. Lynxspring technologies simplify connectivity, integration, interoperability, data access and normalization and analytics from the edge to the enterprise. The company's solutions are commercially deployed in millions of square feet in the United States and internationally.
Read Next