Partner Content
Hybrid Work: Finding the Tech to Compliment Your Office Space and Workers' Needs
March 24, 2022 | Erin Cross, Content Specialist, Appspace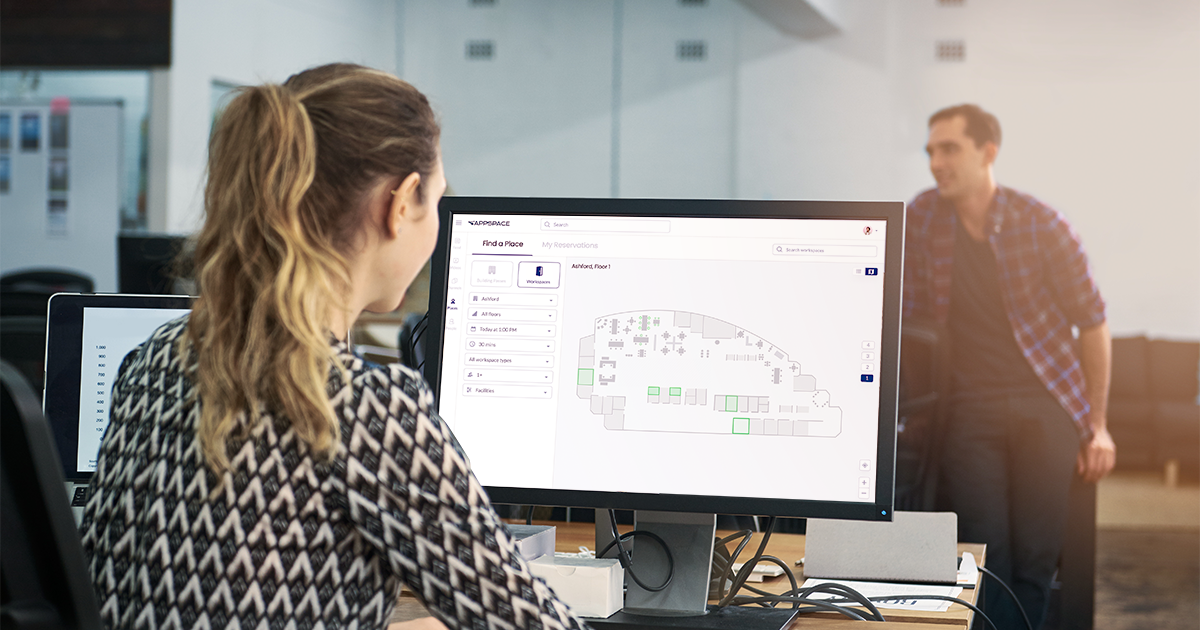 We not only need to consider that the way work is changing, but that the spaces from which we work are changing too. New demands for smart technology are necessary, not just a wish list item.
The rate at which companies and employees implement and demand hybrid work is rising by the day. 74% of companies plan to implement a hybrid work model at their organization. The average IT department spend has risen 6.7% in the last year as companies continue to support hybrid and remote employees.
As IT teams examine software options that can get the job done to support a hybrid team, a lot of the required functionality pertains to the physical office space. Here are some of the things that the Appspace platform has incorporated to meet the new needs of hybrid workplaces:
Employee Check-In
Yes, check-in is no longer reserved for guests. Part of having a thriving hybrid workplace is planning your in-office time for any collaboration time or face-to-face meetings. On the business side of things, having employees check-in helps facilities managers determine what workstations are the most used and heavy traffic times. Knowing both of these things can help make necessary adjustments to the office environment if required. Employees and guests will feel confident in their health and safety with a check-in process for anyone walking through your office doors. Bonus points if the process is touchless!
Desk Booking
With the cutdown of office spaces, many employees will no longer have a singular desk that belongs to them. Instead, employees must book their workspace before heading to the office or upon arrival in the lobby. Businesses use room and desk reservation software to help make it easy for their employees and administrative staff. By not having a seating chart, employees can pick workstations that best suit their needs for that particular workday, and with the right software platform, check-in and out utilizing their personal devices on the fly.
Company Communications
Transparency and participation are essential to workers. Being included in the conversations is high on the priority list. Schedule regular meetings and have a regular cadence for announcements. A communications plan will help achieve positive communication. Hereís a checklist that can help you get a communications plan off the ground.
With employees sitting both in the office, at home, or on the front lines, itís more important than ever to get communications out easily and efficiently. Utilizing digital signage, an intranet, and an employee app allows companies to push communications out to all employees simultaneously. An added bonus - employees are more engaged when they are well-informed. Making this a priority with your dispersed workforce is necessary and a key to improved engagement and retention.
Cleaning & Safety
In todayís world, we strive for cleaner spaces to feel safe and stay healthy. Companies are providing more essential cleaning supplies throughout the office, but itís a team effort to help keep the office clean. Reminders to sanitize rooms, desks, workplace amenities after use, sanitization stations, and scheduled cleaning will be part of the standard operating procedure. Utilizing signage and maps can help remind employees to keep spaces clean and direct them to cleaning supplies.
Technology is your friend; use it!
The right technology should be able to assist organizations in improving communications with all employees, whether they are deskless, in-office, or hybrid. Using a unified platform helps reduce the number of individual products required to achieve a successful hybrid work environment. Implementing the right technology will aid in the creation of an environment that promotes employee engagement and well-being.
One of the most important things to understand when creating a hybrid workplace is it isnít a one-size-fits-all approach. How an organization chooses to scale and implement a hybrid workspace will be unique. Still, there are core strategies that all teams need to incorporate into their hybrid workplace to bridge the gap between the physical and digital workplace.
With the diverse demands of a hybrid workplace, a unified platform that allows for desk reservation, meeting, and room booking, multiple communication points will create a consistent and productive workplace for employees. Companies are looking for ways to keep everyone engaged and informed with employees, in the office, on the front lines, or completely remote. Connect your digital and physical workplaces with Appspace to give your company all the benefits in a single easy-to-use platform.
This Week's Sponsor
Appspace provides a unified platform that helps companies connect their workforce, manage workspaces, and modernize the office experience. It is simple to use and supports every employee across the digital and physical workplace. With offices in the US, UK, UAE, Australia, and Malaysia, Appspace helps customers have an exceptional and collaborative workplace, whether employees are at the office, at home, or on the go. Over 3,000 customers and 150 of the Fortune 500 trust Appspace to create a workplace that employees love. Learn more at appspace.com.
Read Next