Feature
5G and In-Building Wireless – Fact or Fiction?
March 17, 2022 | Nancy Stone, Managing Partner, SVP Operations & Events, Realcomm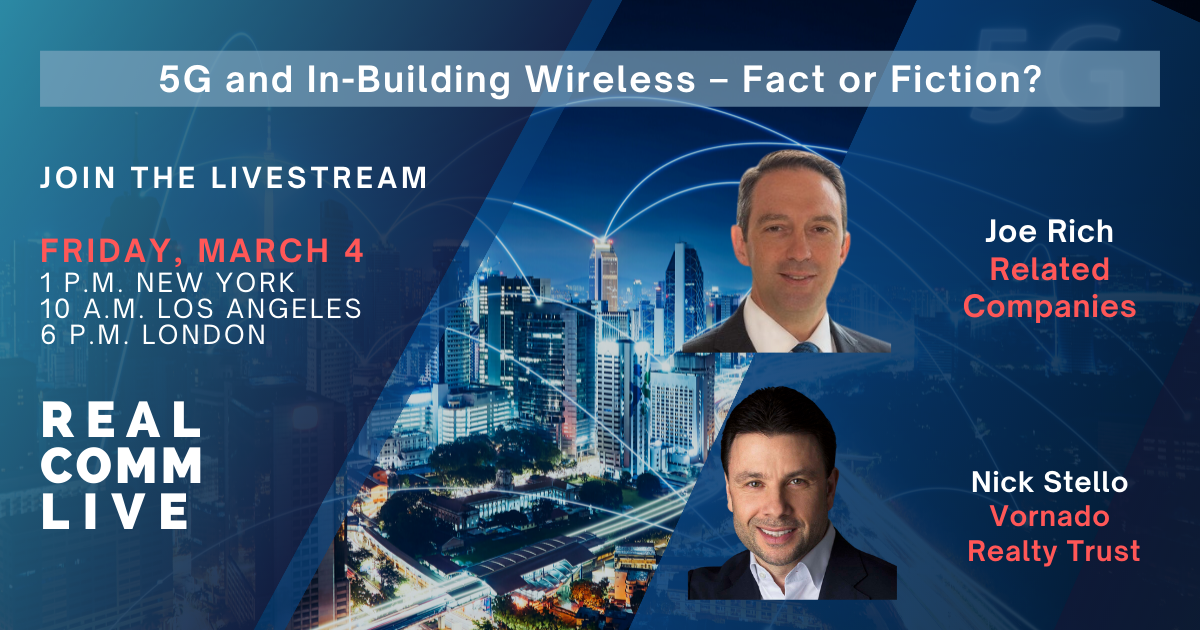 5G technology has grabbed the world's attention, touting the capability of connecting virtually everyone and everything together at unprecedented speed and low latency. But is it really what all the commercials advertise and will your cell phone actually work in your office building the way they claim? What about CBRS? How will that play into your in-building wireless strategy?
Each week, Realcomm Live speaks with influential industry leaders and subject matter experts about commercial and corporate real estate top of mind topics. Recently, we met with two high-powered New York building owners, Vornado Realty Trust's Nick Stello, SVP and IT Infrastructure, and Related Companies' Joe Rich, SVP and CIO, to discuss these questions and what 5G means to their portfolios, to look at what's going on with carrier involvement, and to explore what comes after 5G for phones.
This year's conference will feature new pavilions showcasing CRE tech and innovation, including 5G & in-building wireless featuring leading vendors in the space. Realcomm | IBcon 2022 will be held on June 15-16 (Golf Outing: June 13 | Precon Events: June 14) at the Orange County Convention Center in Orlando Florida. Register today! Early bird rate expiring March 22.
This Week's Sponsor
Corning Optical Communications delivers connectivity to every edge of the network, with optical fiber, cable, hardware & equipment to fully optimize solutions for high-speed communications networks. For the enterprise, a future-ready fiber network can enable the ability to converge multiple technologies over a single, simplified infrastructure, helping to deliver high-demand building applications like Wi-Fi, security and Corning's in-building cellular solutions.
Read Next