Partner Content
2022: The Year of the Experiential Office
December 9, 2021 | Chuck McDowell, SVP, Commercial & Occupier Solutions, MRI Software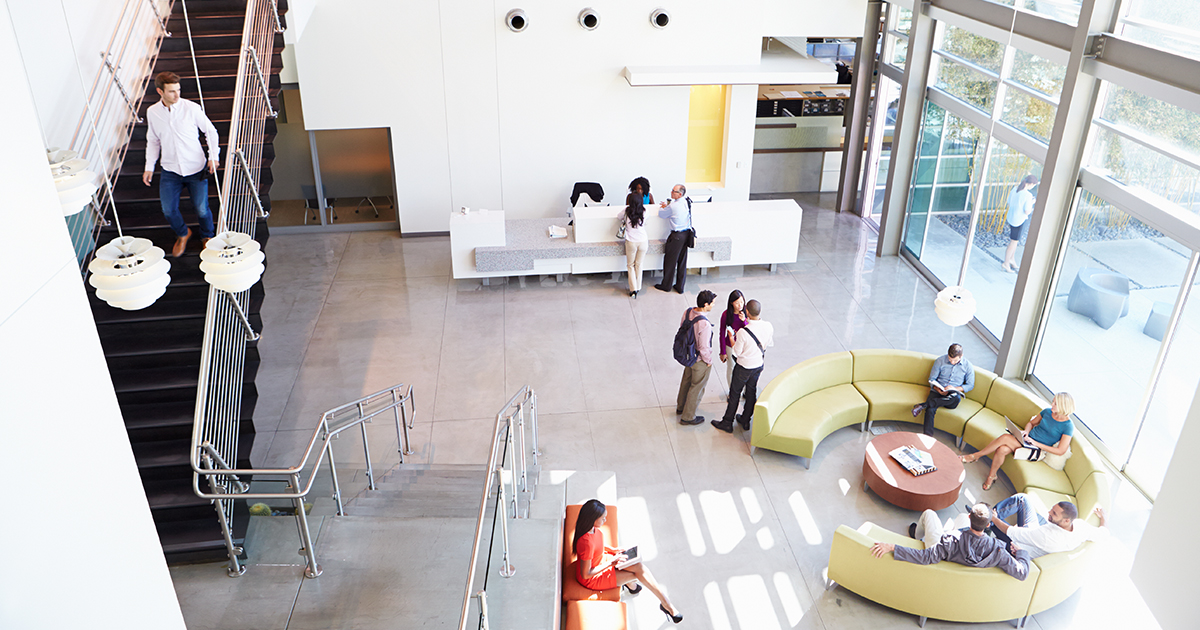 You've probably heard the term "experiential retail," but have you heard of "experiential office?" Given the recent emphasis on improving the experience of office occupants, the concept at least, if not the term, should become a popular topic among real estate executives.
Shopify defines experiential retail as "the immersive experience that brick-and-mortar retailers give shoppers." As landlords and companies try to entice tenants and employees to return to the office, they should follow the model of brick-and-mortar retailers, who make the in-store experience worth the trip for shoppers. Similarly, landlords should make the onsite experience worth the price of occupancy, and companies should make the office appealing to employees who might otherwise prefer to work remotely. Fortunately, technology makes achievement of these objectives feasible.
What Experiential Offices Provide
Experiential offices in 2022 and beyond will provide a mix of healthy environment, security, and amenities. Fears of COVID-19 persist, so employees want assurance that their offices are equipped to protect against the virus' spread. That means social distancing, space management, and other preventative measures.
It's clear that more and more companies are addressing these concerns: 2021 saw an enormous surge in demand for MRI's WhosOnLocation and ManhattanOne products. WhosOnLocation offers what we call "people presence management," including touchless sign-in and contact tracing; while ManhattanOne provides tools for space planning, strategic space utilization, and room and desk booking, all of which also serve to make the hybrid model of work easier to implement.
Another benefit of these technologies is energy management, a primary component of ESG programs. The sensors used in the space and visitor management technologies provide valuable data that companies can use to save energy. For example, if fewer people occupy an office at one time, air conditioning and lighting levels can be reduced without sacrificing comfort or productivity. The results are cost savings and a lower carbon footprint. The latter is important not only to employees, many of whom prefer to work for environmentally minded employers, but also to investors that place a high value on sustainable business operations.
Pre-pandemic, employers sought to attract talent through such amenities as ping pong tables, an onsite gym, or a party room. These perks lost luster once the pandemic hit, but they'll likely regain importance as it wanes. And in the interim, the same space and visitor management technologies mentioned above can eradicate the risk of too many people using an amenity at the same time.
Commercial property owners and managers should pay attention. They have little say in the apps that a tenant chooses to use within its own office space, but common areas – including some amenity spaces – are the landlord's responsibility. It's quite likely that tenants will start to expect visitor and space management software for lobbies, elevators, hallways, cafeterias, and restrooms. Buildings that don't offer such technologies will be less attractive in a market where tenants have the upper hand.
The Landlord Factor
The office experience includes landlord/tenant relationships. Let's return to the analogy of experiential retail. Would you rather shop in a store where the salespeople are rude or ignore you, or where the salespeople respond to you immediately and help you find what you're looking for? Probably the latter.
Landlords and their property managers, like brick-and-mortar retailers, have to make the office experience welcoming and convenient for tenants. This starts with the leasing process, and artificial intelligence (AI) can help. The technology gained traction at the beginning of the pandemic by helping tenants quickly find and review lease obligations and Force Majeure clauses, but it also enables digitalization of contracts and automation of renewal correspondence. The less hassle involved in the leasing process, the better the experience.
Tenants also want to know that landlords view them as clients rather than simply as leaseholders. The beginning of the pandemic brought landlords and tenants closer together as they tried to navigate lockdowns and negotiate rent reductions and buyouts. The lines of communication should stay open even though the pandemic is (we hope) beginning to wane. Landlords and property managers should use all communication tools at their disposal – texts, emails, online portals, etc. – to update tenants on services, protective measures, and building events. The more caring a landlord seems, the more likely a tenant will view his or her property as a place where business can thrive. Positive perceptions, in turn, support the overall office experience.
Conclusion
Landlords, property managers, and tenants all have a role to play in positioning the office as an attractive destination. Their job is to create safe, healthy, amenity-rich, and friendly environments that offer an attractive alternative to working from home. Those whose approaches are based on technology are best positioned to succeed. In the end, although real estate is a brick-and-mortar business, it's the digital world that cements its future.
This Week's Sponsor
MRI Software delivers innovative applications and hosted solutions for real estate owners, operators, occupiers, and investors. Through a flexible technology platform and an open and connected ecosystem, MRI meets the unique needs of real estate businesses – from property-level management and accounting to investment modeling and analytics for the global commercial and residential markets. For more information, please visit www.mrisoftware.com.
Read Next