Partner Content
Unleash the Power of Real Estate CRM in Today's Hybrid Workplace
August 26, 2021 | Donnie Law, CEO and Chief Software Architect, REMLogics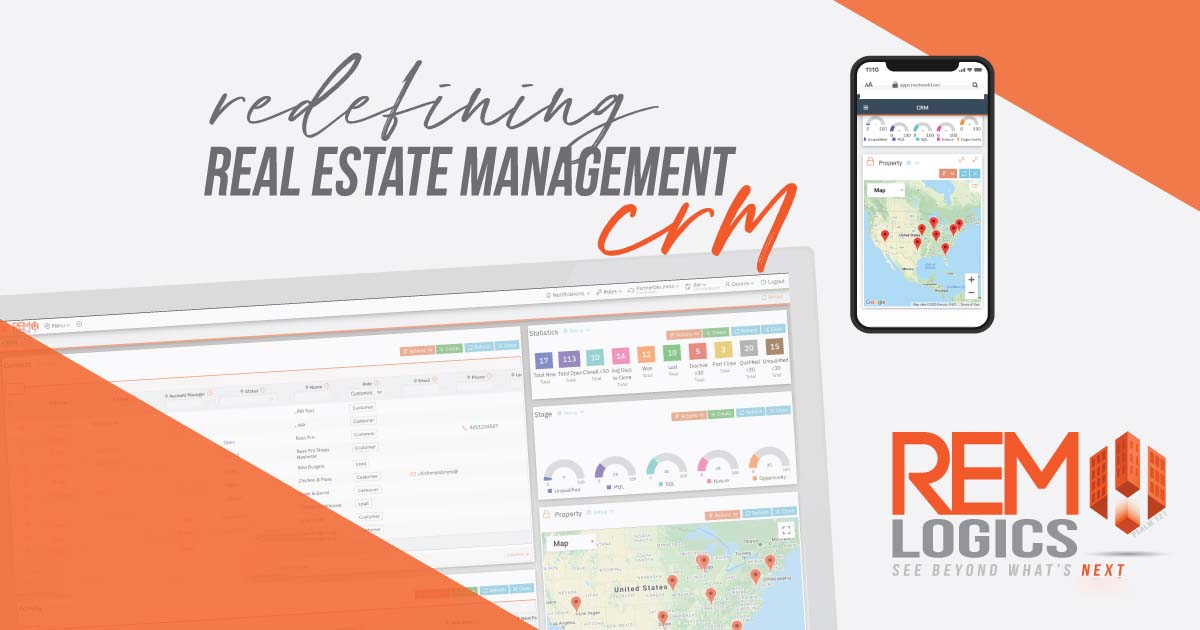 CRM is a "must have" and not a "nice to have" tool to effectively manage the complete tenant lifecycle. It is the driving force of businesses that can increase efficiencies and improve productivity for everyone in the organization. Recent research supports the investment in CRM, especially when fully adopted by leasing and sales teams. Here are some revealing insights.
In addition, there is tremendous value in adopting a CRM technology platform that is engineered to communicate with marketing and back-office ERP systems. This provides one, holistic view for everyone in the organization.
Today's Environment
The Covid-19 Delta Variant is once again pressing top real estate management organizations to embrace agile return-to-work plan strategies. According to a recent Robert Half survey there is a gap between what managers prefer and what employees want. Seventy-one percent of managers want employees fully back in the office with only 25% of employees in favor of the traditional model. One in three employees in the study currently working from home say they would look for a new job if required to return to the office full-time. 49% of employees in the study where in favor of working from home and in the office during the week. Organizations will need to transition to a hybrid workplace model to satisfy both management concerns and employee expectations.
Bridge the Gap
Managers are more in favor of employees being back in the office full-time. They believe remote workers will have less effective communication. Additionally, they think employees will not be able to sufficiently manage workloads resulting in work not getting completed.
Employees can achieve high levels of performance in a hybrid workplace with the right technology. All roles within the organization – executive, leasing, property management, project management, accounting, lease administration, facility maintenance, or IT – need to be connected to eliminate management concerns.
Capture the Real Power of CRM
Being able to embrace the technology platform that supports a CRM investment is where the real power will be captured.
When evaluating a real estate CRM, five important questions need to be answered. First, is it built on a cloud-native platform? Second, is it mobile-ready right out of the box? Third, is it built to integrate with front-end marketing lead generation and back-office ERP systems? Fourth, is it designed specifically for real estate professionals with best practice automated workflows? And fifth, is it flexible enough to adapt to future technology and business process needs?
Five Important Questions Answered
Built on a cloud-native platform: Most real estate centric CRM solutions today are cloud-based, but not cloud-native. The difference lies in the platform the CRM application is built on. Look for a platform that best aligns with today's business realities. The right platform is enterprise-grade, self-service driven and built with enhanced cloud security. The design architecture will be dynamic and elastic providing its own real-time transaction data warehouse and audit trail. Robust reporting, testing, and documentation tools are a must. A CRM built on the right platform provides the security of self-sufficiency with business growth.

Mobile-Ready Right Out-of-the-Box: With a hybrid workplace and a more mobile workforce, full CRM adoption by all employees is now more important to success than ever before. Look for a CRM solution that is mobile-first in its design and that can be used on any device, from anywhere, and at any time with the same User Interface (UI).

Built to Integrate: Integration should be a first-class citizen in today's world. Look for an open CRM environment with the capability to configure no-code APIs that integrate to back-office ERP systems and other work productivity tools. These may include Outlook, marketing platforms, and other best-of-breed real estate applications. CRM and ERP integration ensures that information shared between the two systems create a complete single source-of-the-truth.

Automated Workflows: Real estate CRMs provide front-end visibility to marketing and prospective tenant information to manage all deal flow activities. A CRM should allow leasing agents to track pre-lease activities and generate a lease agreement for electronic execution by the tenant. Next-in-line workflows automatically trigger activities and approvals for executives, property managers, TI coordinators, project managers, lease administrators, and lease accountants. These automated workflows streamline everyone's work and ensure process accuracy.

Growth and Innovation: Nearly half of 414 organizations surveyed by TechRepublic Premium are using low-code or no-code to innovate their business, improve productivity, and automate workflows. Look for a CRM built on a no-code ERP platform to make sure it can grow with changing technology and business needs. Transforming CRM and ERP subject matter experts into no-code citizen developers can reduce IT workloads and turn innovative ideas into action.
Conclusion
Real estate organizations can bridge the gap between management and employees on how work is performed in the future with a hybrid workplace model, and it begins with CRM. Adopting a mobile cloud-native and configurable no-code ERP platform will enable everyone in the organization to better manage the tenant lifecycle. It will also deliver on the ability to innovate, automate, and capture the real power of a CRM for a complete single-source-of-the-truth.
This Week's Sponsor
We help customers See Beyond What's Next with cloud-native ERP real estate management solutions for office, retail, industrial, and residential owner operators. REMLogics is built on a modern no-code ERP platform so customers can continually innovate and respond faster to the ever-changing real estate and technology landscape. To learn more visit www.remlogics.net.
Read Next