Partner Content
Strengthen Company Performance by Outsourcing Application Support to a Managed Services Firm
August 5, 2021 | Emily Fuller, Senior Manager of Application Services, RealFoundations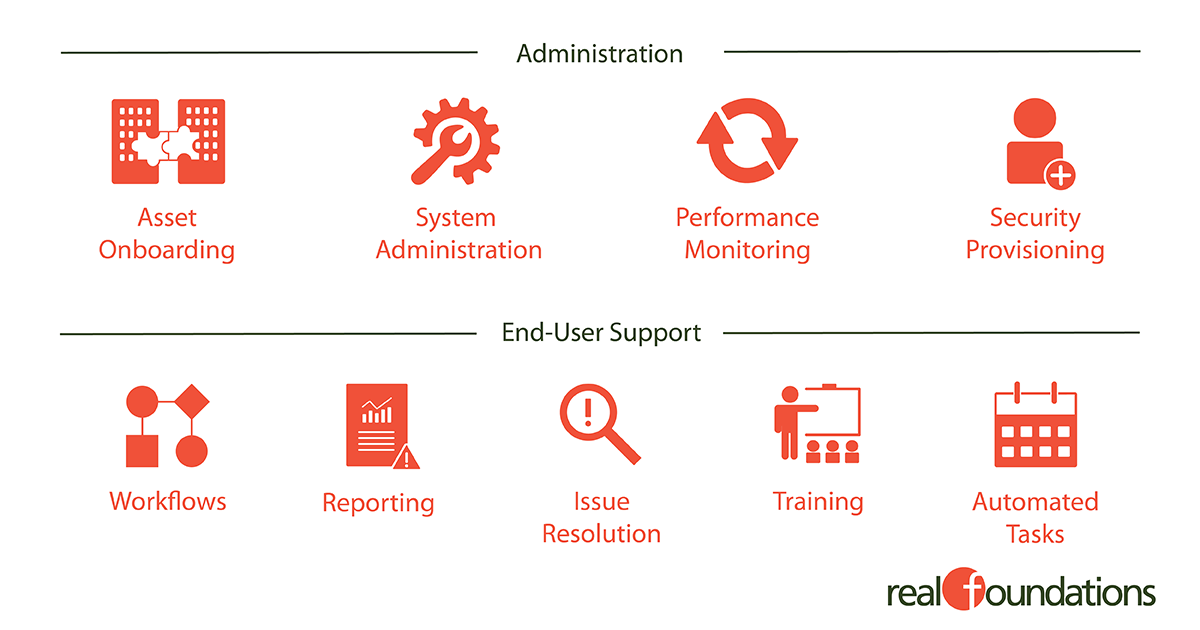 To be successful in real estate today, it is not only critical to run your business on a robust enterprise resource planning (ERP) platform (e.g., Yardi, MRI, JD Edwards) but also to provide high-quality administrative, technical and operational support for the solution and its users.
Good support enables a company to continuously leverage all features of its ERP and operate with maximum efficiency and effectiveness. It keeps the technology running smoothly without interruption, ensuring that users have 24/7 access to and know how to take full advantage of the tools they need. This empowers the organization to optimize business outcomes and achieve peak performance from its real estate portfolio. Key daily activities that benefit from dedicated, quality support include:
New asset/portfolio onboarding.
User provisioning, deprovisioning and maintenance.
System or module upgrades and administration.
Workflow approvals, invoicing and payments processing.
Issues with report reconciliation.
Scheduled tasks and automated report generation.
End-user training and process documentation.
Avenues for Technology Support
There are several ways a company can support its ERP and the systemís end-users. The best way depends on the individual needs of every organization and, like most things, there are pros and cons to each approach.
In-house Staffing
Some companies have dedicated, in-house support teams consisting of super users, IT professionals and project managers. This might work best for large organizations that have the capital to sustain the overhead. For many firms, though, in-house support isnít an option. Some may not want to get into the technology management business which they perceive as a distraction from the organizationís core focus on and competencies in real estate. Also, qualified, broadly knowledgeable talent can be hard to hire and retain. And when thereís budget for additional staff, itís frequently earmarked for different types of hires viewed as more crucial to revenue generation and other priorities.
Technology Providers
Alternatively, a company can receive support from its ERP vendor. Most vendors offer tiered support for technical issues. The big advantage here, of course, is that the vendor has a thorough knowledge of its own product. The trade-off, though, is that vendors usually donít have client-specific, operational real estate expertise. They are prone to taking an out-of-the-box approach that can require clients to change their processes and workflows to fit the vendorís technology Ė versus finding a way to make the solution support each clientís unique ways of working. Also, vendor staff can be stretched thin serving hundreds and even thousands of customers.
Managed Services Firm
Another option is sourcing ERP support to an experienced, external managed services firm. Sometimes, a companyís existing internal team is no longer be able to provide adequate support. If the company acquires new assets/portfolios, it may need more ďhands on deckĒ for this function. A reduction in force could result in a leaner internal application support or database administration team with insufficient bandwidth and/or gaps in know-how. A smaller company with more limited resources may prefer not to handle support in-house. Or when an organization of any size switches to another leading ERP or integrates additional technologies, in-house staff may lack the requisite, solution-specific knowledge. Outsourcing typically helps a company save on overhead costs while delivering a larger, one-stop network of qualified and broadly skilled professionals to manage the full gamut of support needs.
When going the managed services route, size and terms of engagement matter. Generally, itís best to work with a firm that has a deep support bench, consisting of application support specialists who have substantial real estate experience and solution support capabilities. A majority of consulting firms, however, have teams of just a few people who mostly offer short-term staff augmentation instead of ongoing, close partnership-type of relationships. Smaller teams invariably have less collective industry background and expertise to share with one another for expeditious resolution of client issues. They also will be less equipped to handle round-the-clock support or juggle the competing needs of multiple clients. An individual consultant is even more limited in what she/he can provide.
Criteria for Selecting a Managed Services Firm
If opting for the managed services approach, research and select a firm that has:
A large, global team of experts with cross-functional backgrounds in all aspects of real estate operations and backend functions.
Hands-on experience with the leading real estate ERPs and integrated technologies, along with disparate solutions that support accounting, asset management, construction, etc.
A highly collaborative culture with tech-enabled, real-time knowledge sharing so all app support team members can learn from one another and apply what they learn to addressing the full range of client needs.
A partnership approach to client engagements for developing thoughtful solutions that truly ensure an organizationís long-term success Ė versus implementing quick fixes in a rush to close support desk tickets.
A proven methodology for learning about, understanding, documenting and working with each clientís processes and workflow so support can be tailored to the organizationís unique ways of operating.
RealFoundationsí extensive, multi-sector industry knowledge and strong partnerships with the leading software providers enable our Application Support practitioners to provide quality solutions that build long-term value for our clients.
This Week's Sponsor
RealFoundations is the world's foremost professional services firm focused solely on the real estate industry. Through our delivery of Management Consulting and Managed Services, we help companies that develop, own, operate, service or invest in real estate make better, more profitable decisions. We are proud partners to over 450 real estate companies around the globe, providing accelerated solutions that solve some of real estate's most complex challenges. We Make Real Estate Run Better. www.realfoundations.net
Read Next