Feature
What Did the Pandemic Teach Us About Office Occupancy and Energy Use
August 5, 2021 | Chris Cayten, Principal and Senior Director, CodeGreen Solutions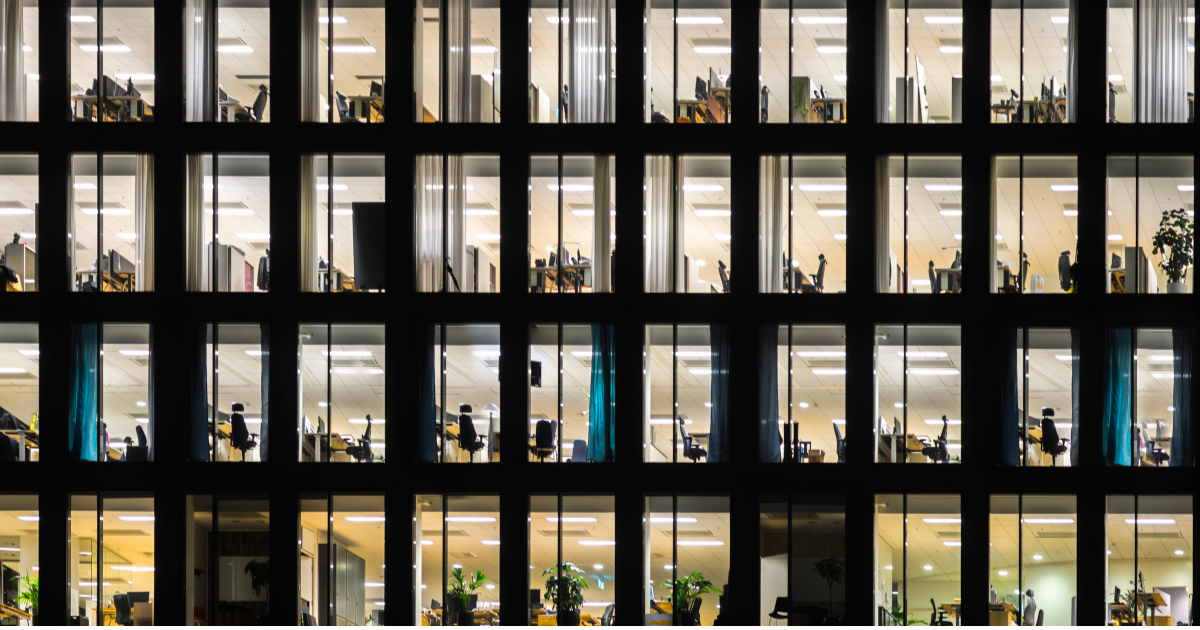 2020 was one of the most unprecedented years on record. Communities and businesses of all kinds faced dramatic challenges, and the real estate industry was directly and indirectly impacted across the globe. Commercial buildings, especially in large cities, saw office occupancy drop by 80-90% with most organizations shifting to remote work; retail and restaurant occupancy dropped to zero for many months. One would think that these sizable drops in occupancy would have been accompanied by similar reductions in energy use – but they weren't. Why?
Across various building types and geographies, office building occupancy dropped to near zero but energy use only fell by 10-15%. There are a number of factors that contributed to this phenomenon ranging from operational and human decisions to technical limitations, all exacerbated by the almost overnight vacating of offices and the immediate transition to remote work.
Buildings, facility operators and corporate operations teams were blindsided by the new status quo and had no idea if it would last a week, a month or a year (or more). After a few months, when it became clear this would be the new normal for the foreseeable future, operations teams began to address the challenges (and opportunities) posed by partially occupied buildings for short- and long-term energy efficiency and sustainability initiatives. What we have learned about buildings during this time will serve the industry well as we work to improve building operational efficiencies that can accommodate a wider variety of occupancy patterns in the coming decades. But first, we need to look at how we got here and some of the barriers we need to overcome to make buildings more energy efficient and flexible. The need for flexibility in building operations will continue to grow as buildings modulate to accommodate demands from changing occupancy patterns, extreme weather and new utility grid capabilities brought on by building electrification and the growth of renewable energy and storage.
Design
Probably one of the main reasons buildings don't operate efficiently when they are 90% empty is because they were never designed to be 90% empty. Every aspect of the building systems, from vertical transportation to lighting to infiltration, ventilation, heating and cooling, is designed to meet "design loads" for a full or near-full building. This is true for the building as a whole as well as each individual office space. Every sensor, motor, fan, pump and the brains that control them have been programmed to support occupied spaces. Over the past decade, there have been siloed advances in controlling various systems based on occupancy, like motion sensors on lights (we've all been in the bathroom when the light goes out and we have to waive our arms to get them back on), even demand-controlled ventilation that regulates air flow based on measured CO2 levels in a space. The latest energy code also requires that a portion of electrical outlets be tied to occupancy sensors to help reduce phantom loads from unnecessary electrical devices. But these various occupancy-driven controls are confined to specific systems and typically do not communicate with each other to drive whole-building energy savings across systems. Most existing buildings, and even most existing tenant spaces, were built before these types of controls were commonplace across the design and engineering communities, but thankfully this is changing.
Operations
The abrupt shift to remote work caught most facilities and operations teams off-guard. Computers, monitors, printers, servers, etc., were left as-is when office staff left the building. There have been developments in cloud-based computing that can shift computing power to servers located in places with lower cooling needs and more renewable electricity that combine to dramatically reduce the energy cost and the carbon footprint of these functions (in addition to freeing up valuable real estate in desirable urban offices). For most companies, there was no time to initiate these cloud-based solutions, so they were forced to keep local servers and computers running.
Many lighting, cooling and ventilation systems were left running on normal work week schedules for months before tenant or landlord operations teams intervened to make the proper adjustments. The heating, cooling and ventilation in office spaces in most large office buildings are managed by the landlord and leases stipulate the daily schedules and required HVAC that must be provided. Landlords cannot deviate from these requirements without a direct request or consent from the tenant. As a result, many landlords who were aware of the energy being wasted were unable to make energy saving adjustments until tenants agreed. In addition, landlords were put in a catch-22 since many tenants were looking for rent relief. Landlords needed to prove that tenant spaces were still meeting the lease requirements and even exceeding ventilation codes in order to require tenants continue pay full rent. If landlords let temperatures drift out of typical occupied comfort zones or ventilation drop to after-hours rates during the workday, tenants could use this to negotiate or even litigate to get out of paying rent.
As a result of these design and operational challenges, many buildings and tenant spaces continued to operate as though they were fully occupied, resulting in only minor overall energy use reductions. Addressing this issue will require changes to how we design, operate and occupy these buildings for the future.
Where do we go from here?
This pandemic has shown that our buildings must get much smarter. Building owners, operators and occupants must have a plan that allows building systems to modulate in order to maximize energy efficiency under any operating conditions. There are many solutions available today for new buildings with sensors to control building systems to turn on the lights, the computer and the air vent for each individual person as they pass through the turnstile, but not a minute before. Architects and engineers have begun to incorporate these technologies into new buildings and tenant fit-outs and energy codes now have far greater requirements around not just equipment, but controls. For existing buildings, these types of end-to-end solutions are a bit more challenging. Since 80% of the buildings we'll have in 2050 are already built, we need to tackle retrofitting these buildings if we are going to reach local, national and global carbon emissions reductions targets.
Transforming an existing building into a smart building that can operate across a wider occupancy spectrum is a step-by-step process that requires: (1) strategic planning and intervention at every stage in the building lifecycle and (2) detailed measurements and verification to assess the effectiveness of each step. Every tenant space that turns over should be updated with granular submeters, sensors and controls that can speak to the base building and communicate information about occupancy, energy usage and air quality throughout the day to optimize system-wide efficiency, reduce energy and demand costs, and lower the building's carbon footprint, all while maintaining healthy comfortable spaces. Common areas and base building systems also need to be incorporated into smart controls to optimize building-wide efficiency while supporting all occupied space needs throughout the building. Only with a coordinated strategy and a set of holistic smart controls can buildings become flexible enough to optimize energy and carbon emissions performance in the face of future occupancy shifts, extreme weather events, grid constraints or a zombie apocalypse.
Chris Cayten was a guest at Realcomm Live where he demystified and cut through the confusion of ESG and explored the role technology plays in an ESG strategy. Watch today!
This Week's Sponsor
RealFoundations is the world's foremost professional services firm focused solely on the real estate industry. Through our delivery of Management Consulting and Managed Services, we help companies that develop, own, operate, service or invest in real estate make better, more profitable decisions. We are proud partners to over 450 real estate companies around the globe, providing accelerated solutions that solve some of real estate's most complex challenges. We Make Real Estate Run Better. www.realfoundations.net
Read Next