Partner Content
What CRE Can Learn from One Workplace's Approach to Workplace Experience
June 24, 2021 | Chris Wiegand, EVP, Revenue Operations, Inpixon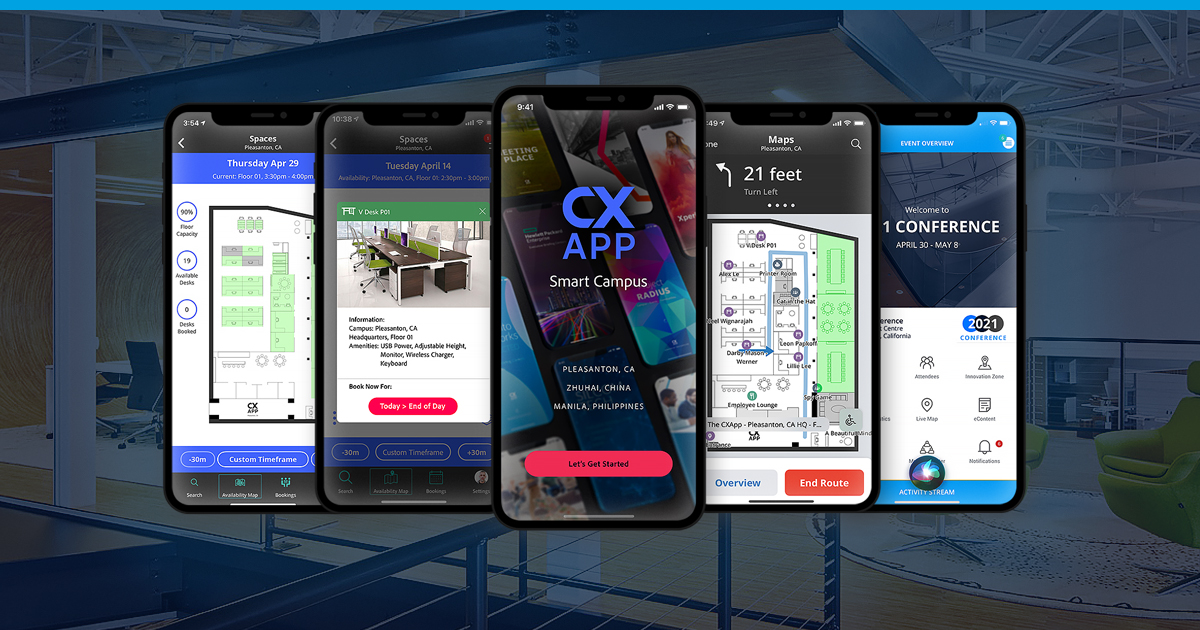 The world of work is constantly in flux. With every decade, the layouts, designs and expectations around our offices evolve. Sometimes these changes are subtle, like the addition of snacks and espresso machines to the office kitchen. Other times, they are drastic and constitute a monumental paradigm shift.
Last March, the world of work faced one such paradigm shift. As office workers packed up their laptops and took their work home, no one was sure when they'd be returning to the office environment, or what it might look like when we did. However, for all the uncertainty in our world, it was clear early on that the world of corporate real estate would bear the burden when it came to the transforming how offices look and function.
The challenges facing the corporate real estate sector today as a result are plentiful and varied. While many organizations are either heading back into the office or planning their office reopening, many have opted to embrace hybridized working cultures and won't be requiring their employees to be onsite every day. As physical offices become predominantly collaboration and meeting zones, commercial developers, owners and building managers would be wise to take heed of how workplace expectations can improve tenant experiences.
Case Study: Taking the mobile-first approach to employee experience and tenant engagement
One Workplace is the largest West Coast commercial interiors provider, and they have taken a leading stance in redefining the workplace experience. From startups to biotech, Fortune 100 to 1000 firms and everyone in between, One Workplace creates high-performing spaces that help businesses keep pace with change. Long before the pandemic, One Workplace set out on a journey to reimagine the workplace experience. As the virus moved across the globe, they were already exploring technology solutions to improve their workplace experience, address safety protocols and engage employees.
Rather than a 'return-to-work,' One Workplace was planning for a step forward: a collective movement toward something new, something aspirational, and something that would transform One Workplace and its customers - no matter how or where their teams contribute. It was with these goals and challenges in mind that One Workplace set out to find a technology solution that would go beyond the status quo and make their workplaces smarter, safer and more engaging.
Working with The CXApp, recently acquired by Inpixon, One Workplace was able to deploy a game-changing mobile app for their employees that is designed to make their work environments safer, while respecting their working autonomy. Using their Our Workplace app, employees can use desk-booking to find safe places to work throughout their office while management can maintain appropriate building capacity and adhere to local social distancing regulations and restrictions.
Through the Our Workplace app, employees can book a workspace either on the way into the office or in advance and receive turn-by-turn wayfinding to that desk if the location is in an area of the office that is unfamiliar to them. But managing desk booking is just the first step to creating an exceptional workplace experience. The Our Workplace app boasts additional features including floorplan and capacity management, wayfinding, office information, dining management and a wellness hub.
Creating a connected office ecosystem
Today, more than ever before, tenants and their employees expect their workspaces to be extremely functional, highly interactive, hubs for collaboration. Technology has become as important to the employee experience as network connectivity and the furniture in an office, and corporate real estate professionals need to provide the experience that employees expect from their offices. In providing a mobile app that applies the highest standards of collaboration, communication, installation and integration, organizations can ensure that they are exceeding their tenants' expectations.
Ultimately, it is incredibly important that office space solutions are interoperable and allow for the integration of workplace tools ranging from desk and room booking, video conferencing systems, and more. By providing a single mobile app to employees that enables them to do everything, organizations can make employees' lives easier and creating less of a headache for organizational IT teams that need to manage permissions for multiple applications. Corporate real estate teams should be looking to deploy similar solutions across their properties, and may indeed find that if they don't, they will run into issues around lease extensions and negotiations.
It is high time to redefine tenant experiences. The stakes for stalling have never been higher. If one thing is clear, it is that the traditional formula around price and location is no longer viable on its own. It is now imperative that the world of corporate real estate puts people at the forefront of their decision-making to provide an experience that tenants will stay, and ultimately, pay for. As many companies are formulating their real estate investment strategies for the coming months and years, there has never been a better time to look toward the innovations of companies like One Workplace as a beacon for success in the changing world of work.
Find out how One Workplace redefined the workplace experience for their employees and customers. Read the case study today and see how The CXApp's smart campus mobile solution can improve tenant experiences.
This Week's Sponsor
The CXApp, an Inpixon Company, is a digital workplace experience and tenant engagement solution driving mobile-first engagement through smart, personalized and connected journeys. We are the leading mobile app that is customized and deployed across your entire real estate portfolio and programs. The CXApp streamlines all digital touchpoints across the workplace into one central hub, shaping the future of work.
Read Next