Feature
Old Meets New – A Hybrid Workstyle, Lifestyle Is Here to Stay!
June 17, 2021 | Jim Young, Co-Founder & CEO, Realcomm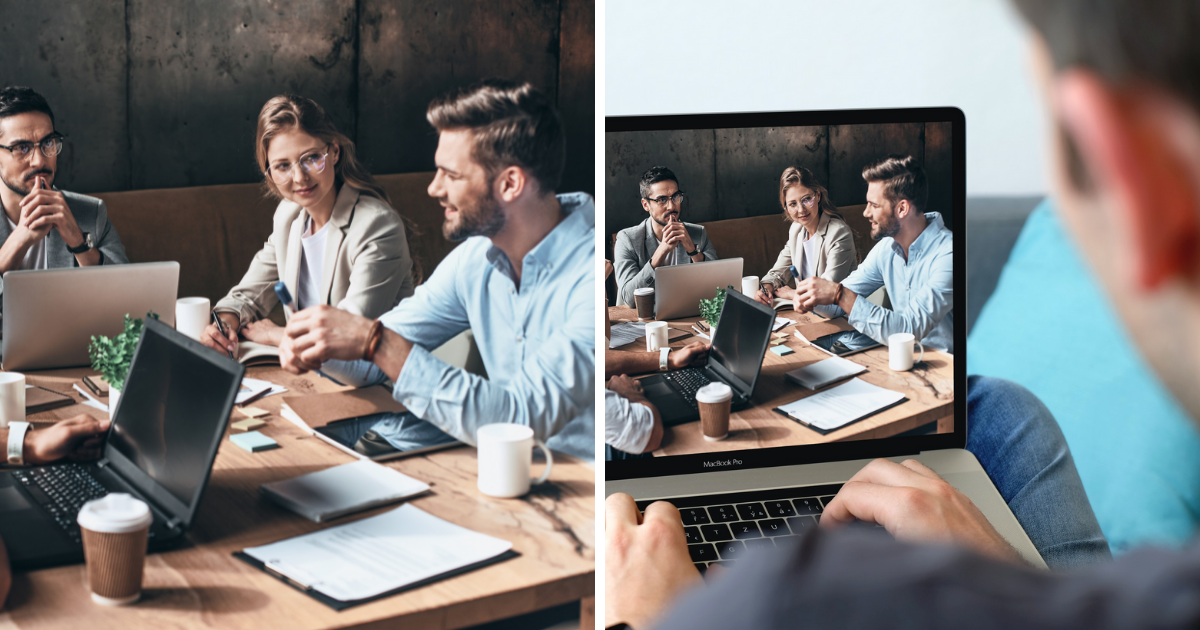 It's hard to believe that it will soon be a year and a half since the United States and the world went into various levels of hibernation caused by the pandemic. This was, by far, the most disruptive global event in modern history. China emerged quickly, while the rest of the world has gone through various extremes of lockdowns and re-openings, struggling to find a solution. Now, with a high level of Americans being vaccinated there appears to be some legitimate light at the end of the tunnel for the United States.
So, what happened to the commercial and corporate real estate industry during this hibernation? More specifically, what happened to the RE Tech/PropTech industry? The answer is complicated.
The biggest work and shop from home experiment in the history of mankind took 20 years of a digital transformation trend line and shot it straight up. Even the most resistant executives had no choice but to join the "from home" movement, and over time, created many converts. Today, after many months of behavior modification, there are supporters on both sides of the conversation: "Come back to the office or work from anywhere?"
With people largely absent from buildings, many companies took the downtime to revisit their IT and smart building initiatives and actually got a lot of long-standing projects off the to-do list. One of the areas that flourished was the installation of technology that allowed for buildings to be managed remotely. This was done initially because of the pandemic but quickly led to the realization that hyper-efficient management resulted in significant cost savings.
What still needs to be reconciled before the RE Technology and PropTech industries can flourish to the next level is determining who will be coming back, when and for how long. Shifting workplace habits and other lifestyle behaviors have fundamentally been accelerated. We cannot unlearn the time and energy savings that results from not having to commute. We now appreciate the additional hours of family time, the ability to work from anywhere and the unexpected sustainability accomplishments. All these revelations must be considered while also weighing the age-old benefits of being together, collaborating, sharing ideas, creating relationships and forming friendships. That accidental conversation in the hallway after the meeting will never lose its value.
How long will it be before we truly understand the new normal (or as some are calling it, the "now" normal)? Will the onsite office work week be five days or shortened to less as a new standard? How flexible will management be? What role will immersive technologies like telepresence and augmented reality play in the hybrid model of the future? If we can create a seamless bridge between the physical office and the digital experience, how will this change the duration and logistics of the traditional workplace environment? How do we strike a good balance of human interaction with hyper-efficiency? We have already seen people participating in remote meetings right down the hall from a co-worker because it's easier and faster. Can we strategize what the new world will look like and simply implement new ideas, or will we have to go through various iterations of trial and error with real humans involved in the test?
Realcomm recently did our second hybrid event. We attempted to seamlessly integrate those in the room with those "on the digital wall" and to make each person feel that they were an active and equal part of the conversation.
We intentionally set the expectation that this was not a produced event but rather an experiment in which attendees had an active role. We asked them to set their expectation low, be an active participant and come to the table with ideas on how to improve the experience. We simply could not have achieved a true understanding of what this would look like until we brought everyone in and experienced it first-hand. Both hybrid events were a great success; we learned a great deal and are one step closer to understanding what a hybrid event experience looks like. The similarities to a hybrid workplace are significant.
I have a strong sense that this is going to be the same with the return to work. We will simply not know until people start coming back en masse, bringing their own behaviors, needs, desires and requirements—and the feedback is gathered. In many respects, most organizations lost last year, given that so few companies had people back in the office in significant numbers. There could have been safe experiments throughout 2020 that would have been providing feedback, even if only in small amounts to management. It also would have been a great opportunity to experiment with the relevant immersive technologies that we will use in the future workplace.
From an operations perspective, answers are somewhat elusive on how fast we can take building management to the "smart building" paradigm. Until the data is in on actual building usage so we can visualize what the space ultimately looks like, we cannot make 500,000 SF smart if we may only need 250,000 SF in the future. This transformation is truly going to require many multiple iterations of trial and error. To make matters even more challenging, this new workplace will require time and money at a time when the real estate industry is still trying to reconcile a year and a half of empty buildings – with many tenants struggling to pay their rent.
In many of my conversations, I hear "We just can't wait to get back to the way we were" or "I can't wait for the day when I do not have to do another Zoom meeting." For those people I would hope that they would not let this crisis go unused. We were forced to learn a lot and we had a glimpse into the future, one that in many cases is more efficient and effective. A future that can assist in meeting those aggressive climate change goals while at the same time providing for highly creative, stimulating, rewarding and effective workplace experiences.
In my opinion, the future is a HYBRID one; a future with the perfect combination of bricks and mortar and technology. A seamless integration of physical and virtual experiences, one that honors a person's time as well as the resources required to run a planet of 7.4 billion people. To physically travel just because that is the way we did business for the last 50 years is a complete waste of everything we have learned from this massive, global experiment. The corporate campus needs to treat the home office as if it is just down the hall. In person or online will not be winners unto themselves, but rather the perfect combination of both.
Hybrid is our word for 2021 at the intersection of commercial and corporate real estate, technology, automation and innovation.
This Week's Sponsor
Yardi® develops and supports industry-leading investment and property management software for all types and sizes of real estate companies. Established in 1984, Yardi is based in Santa Barbara, Calif., and serves clients worldwide. For more information on how Yardi is Energized for Tomorrow, visit yardi.com.
Read Next