Feature
Real Estate, Technology, COVID-19: Reflections on 2020
December 30, 2020 | Realcomm Staff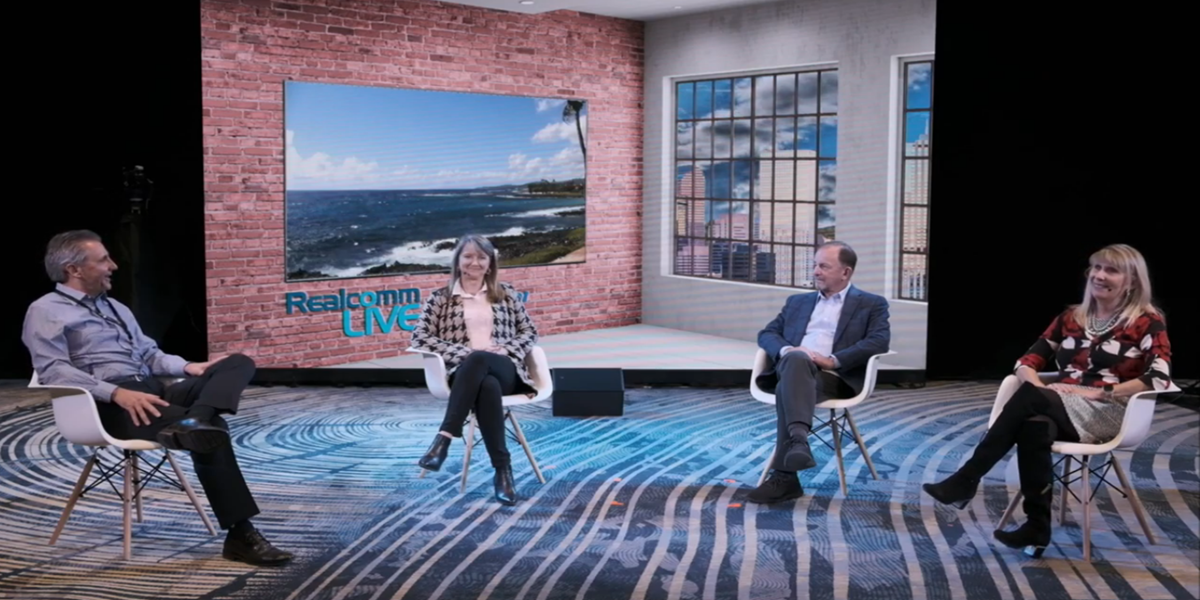 Given the range of real estate-related organizations our senior leadership team comes in contact with each day, we thought it would be an interesting exercise to summarize our perspectives of 2020.
Our first thought is with all those who have passed and their family and friends. This is the first time in modern history in the United States, and the world as a whole, have been involved in a pandemic and the road has not been an easy one.
---
From an industry perspective, it has been a challenge as well. With New York city barely reaching 15% building occupancy and San Francisco still in the 5-7% range, the question begs how long can this go on? There are Class A buildings with top tier tenants who continue to pay their rent, but what about all of the others? With empty offices, retail shops and restaurants, the impact to the economy and millions of livelihoods cannot continue to withstand this situation. We will need to see a return to some form of normalcy in 2021 and many are hoping the vaccine is what leads us back. While economic stimulus by the government is required, it is not sustainable long term. As building owners prepare for re-entry, technology will play a major role. COVID tech will allow occupants to feel more confident in the safety of the building and experiential technology will provide a collaborative work environment that is far superior to a work from home environment. The biggest challenge will be how to pay for this new type of environment while the industry is experiencing the financial stress brought on by the pandemic.
From a company perspective, it has probably been the most challenging year in our 22-year history. In March, we were preparing for a great event in Miami, which ended abruptly with the introduction of the pandemic. From the very beginning we pledged to do whatever we could to have some type of in-person event in 2020. Most canceled their in-person meetings and went 100% online. Our logic to move forward onsite was simple: we are in the buildings industry, the place where people go to work, shop, play and learn. We needed to do whatever we could to figure out how to get back safely, not at 100%, but simply to move forward in some capacity.
On the virtual side, we searched for the most engaging online platform and it was modified to be even more so: the event had 100 educational sessions, 225 live speakers, 20 hours of live news desk programming with speakers from around the world, an interactive exhibit floor featuring over 100 tech solution providers and more. On the physical side, our team and about 60 people traveled to Colorado safely for what would become one of our most memorable events. When we opened with the first session, people cheered. We shared information, socialized safely and proved we could meet in a responsible way. The COVID technologies we brought in were world class and provided a venue that was one of the safest in-building spaces in the world.
On top of a world-class hybrid event, this year Realcomm also produced 42 webinars, published 52 weekly news briefs (upgraded format), introduced a weekly live news show and held a virtual CIO event. Despite one of the most difficult financial situations in our history, we moved the ball forward, kept our employees employed and proved we could be inside a building safely. I am extremely proud of our team and feel very blessed to work with them in good times and in bad. They truly know how to look at the glass as half full and make an effort to move forward, no matter how small and painful the steps might be!
---
I was born in the early '50s and looking back, think how blessed weíve all been to have been able to live in relative peace and prosperityÖ no civil war, no world wars, no famines, no great depression.
So when I think of how our world was blindsided last February by a global pandemic, I tend to put it into the perspective that while it's horrific, relatively speaking, I can imagine a host of other disruptive events that could potentially have been much more destructive.
As luck would have it, 20 years ago I chose to make the Realcomm conference my career and have never for a moment regretted it. Admittedly, itís been challenging trying to digitize an industry thatís reluctant to change, but itís been rewarding in a lot of ways. Over the years Iíve been fortunate to get to know and work with so many phenomenal folks in the industry; truly some of the best minds and most giving spirits on the planet.
Itís been a journey. Some significant ups and downs from the dot.com bust to the global debt crises of the late 2000s, but we were able to stay resilient and in relatively short order, could see the end in sight.
Not so as much with the COVID crisis.
Conferences have been extremely hard hit. Yes, we pivoted to virtual and hybrid events but, letís be real, theyíre no substitute for the ďliveĒ experience. The most frustrating thing about this pandemic is that we donít have a good line of sight for when we can reasonably expect a return to normalcy.
Uncertainty about the pandemic aside, I often reflect on some of the positives that have resulted from it:
The Realcomm team pulled together the industryís first, and to date, only hybrid conference
The commercial real estate technology industry generously stepped up to support our efforts to continue to introduce and champion tech and automation best practices
While staying at home, Iíve been able to focus a LOT more attention on my family
Iíve read a ton of books, cleaned my garage, my closets, and even managed to learn a few new songs on the guitar
Wishing you all a very healthy, happy, prosperous and COVID-free 2021!!
---
What a challenging year! The effects of the coronavirus pandemic have been unprecedented and tragic in so many ways. No one escaped the reach of the situation; our world - where we work, eat, shop, where we do everything - was completely disrupted.
But as the country embraces the hopeful news of an effective vaccine and with its distribution in progress, we are finally able to look ahead. Itís anyoneís guess what the ďnew normalĒ will look like, but there is hope the path includes healthier times and economic recovery.
As the real estate industry plans for the future, it is clear 2021 strategies will be different. The focus on smarter and healthier buildings didnít begin with the COVID-19 pandemic, but this focus is now even more important as we contemplate reoccupancy and what the workplace of the future looks like in a post-pandemic world.
The pandemic has shown us that things we could never imagine happening do, and in all likelihood, will happen again. It is essential for businesses to anticipate and prepare for that eventuality. Flexibility and the agility to pivot with a momentís notice is critical. Fortunately, 2020 taught us this is possible as we saw so many in our industry step up to the challenges they faced and successfully implement technology and business continuity strategies to ensure the survival of their companies.
As we look back over the year, we have much to be proud of and grateful for in spite of the problems we have faced. Thankfully, itís time to put this year behind us and toast to better days ahead!
---
As we celebrated the turn of the page from 2019 to 2020, it immediately looked like the next 12 months were going to make for a banner year, a great beginning to a new decade. Momentum from our flagship conference the preceding June was as strong as it had ever been and strategic planning was in full force. We were poised for a great ride and I was optimistic that this might be the best year Realcomm had ever had.
I was wrong about a lot of things this year: I thought the virus would be short lived and it was nothing more than the common flu; that there would be no real long-term economic effects to our country and we would bounce back quickly. I remember telling someone early on that humans had notoriously short memories and normalcy would soon return, bringing with it a forgetfulness that any of this really happened.
Ten months later, weíre anxiously awaiting the dawn of 2021; as if at midnight on December 31st, the curse will be lifted and all the bad things that seem to be just waiting for an opportunity will go back into hiding and balance will be restored again. Honestly, with all the crazy, bizarre things that have happened this year, Iím in that camp, too, as silly as it sounds.
But for all the things I was wrong about, I was also right about some things, too. I knew that we had an incredible community of technology partners but the extent to which they have stuck by us, supported and encouraged us has been nothing short of extraordinary. We had smart building experts who jumped on airplanes with no hesitation and some drove 12+ hours to help us ready a venue for our hybrid conference.
I celebrated 15 years with Realcomm back in October and 2020 has far and away been the most difficult year of all of them. It's also been one of the most rewarding, not from a career standpoint, but from a human one. I knew that we had an incredible Realcomm team, but I am so proud at how relentlessly we just kept fighting through everything that 2020 threw at us.
My heart goes out to all those that have lost loved ones during this time and prayers are with those that are struggling financially. I heard something in church a long time ago and I thought it was so beautiful:
Hope for the fighters
Peace for the survivors
Prayers for the taken
It has been a privilege and an honor to see so many come together with grit and fortitude ... and I look forward to better days ahead as we move into next year.
This Week's Sponsor
NavigatorCRE integrates and aligns data, programs, and teams on a single patented, visually stunning platform so executives and operators can keep up with the speed of change and achieve their goals for performance and growth. Return on Speed (TM).
Read Next