Feature
2020 Year in Review from Top RE Tech Visionaries
December 17, 2020 | Howard Berger, Managing Partner, SVP Programs, Realcomm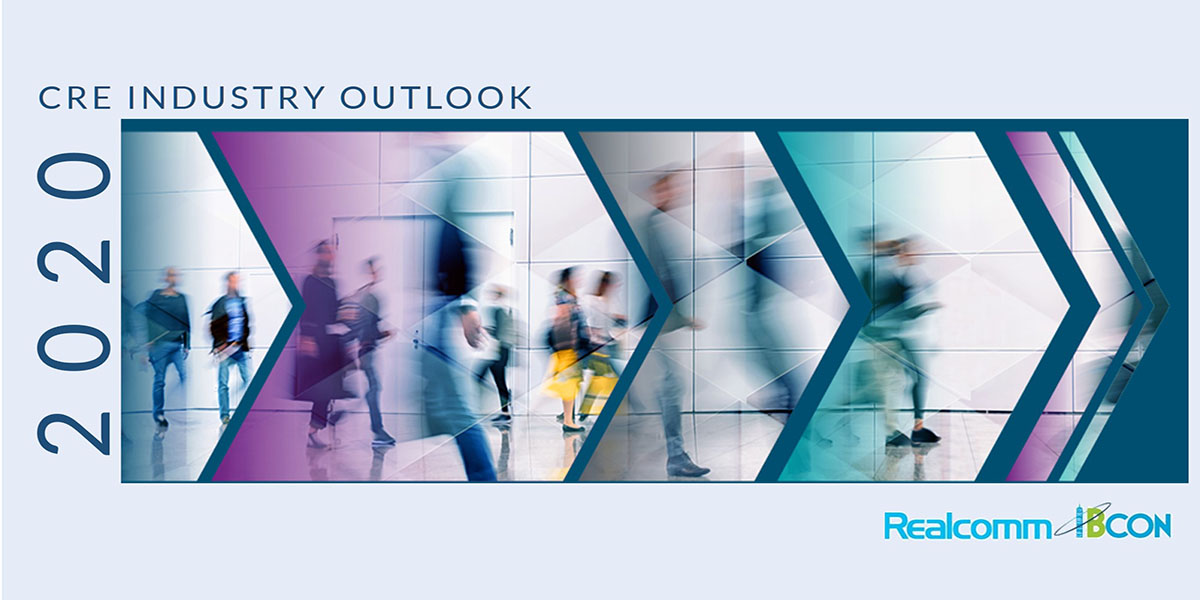 This year has been filled with unprecedented challenges. Not a person or organization has escaped the impacts of the COVID-19 pandemic. But while 2020 was wrought with problems of epic proportions, still out of the tumultuousness came ingenuity. In a few short months, our industry stepped up to the many challenges they faced and successfully implemented technology and business continuity strategies to move entire workforces out of the office and into the home. What may have taken some organizations ten years to accomplish pre-pandemic happened literally overnight.
We asked several key industry leaders representing commercial, corporate and higher education real estate technology to reflect on this year, as well as share their projections for 2021. They provide insight and inspiration for us all as we move forward into the new year.
---
It's a wrap! 2020 was the year of the constant pivot, continued industry comradery and a grounding in what's important in life. Our companies and teams excelled in adaptive behavior, pushing the boundaries and new ways of working. I am proud to be part of a team, organization and an industry that executed on behalf of its customers, service providers and employees.
As technologists, we are wired to be optimists! The anticipated final chapter and arc of this pandemic will be an unprecedented rebound packed with dynamism centered on tech opportunities. Well underway prior to COVID, the industry will be challenged to drive technology adoption for the work-life expectations of the built environment. I love our community and the continued friendships … so onto 2021!
---
Our team had chosen the word "pivot" as our theme of 2020, not realizing just how meaningful that word would be for our organization and the world. As a company, we had focused on driving business continuity practices into all areas of the business and as we moved into remote work in mid-March, our transition was seamless. This allowed us to focus on utilizing data and information capabilities to work with our tenants, residents, employees and vendors to ensure safe working and living environments. 2020 has also given us the opportunity to rethink everything in our architecture and take advantage of new technology to create a frictionless hybrid work environment. As one of my colleagues said recently, "We should not focus on what we've lost but instead on what we've learned."
For 2021, we chose the word "thrive" as our theme. Employees are energized by the new ways of working and how technology enables the balance of collaboration and focus time. We look forward to advancing our already-flourishing, award-winning ESG program as well as using technology to support the company's DEIB initiatives. Across the organization, we have multiple disciplines engaged in on-going PropTech innovation. New data visualization and research capabilities are changing the way we analyze and act. At the start of each day, I write the words "Resilient, agile, forward-thinking" to remind myself of my goals and the IT team's goals for the company. We are eager to embrace the opportunities of the new year.
---
To say that 2020 was an unusual year would be the understatement of my career. This year has definitely tested all of us at the professional and personal level like no other year in my life. Health and wellness, already a focus for many of our respective CRE firms, was brought to the forefront like a lightning strike. As we pivoted to a WFH situation, IT leaders were asked to put to practice all the disaster recovery/ business continuity and mobility plans that we had developed over the years. For many IT leaders, this became an opportunity to shine and I was excited to see that many of my peers and their teams successfully responded to the challenge. I was also extremely proud of the relationships many of us had developed over the years and how we all chipped in to help each other, regardless of whether we could also be considered "competitors" on the business side.
I also can't thank the Realcomm team enough for being there with us along the way, ensuring that we and our families were safe and healthy, but also doing whatever they could to ensure that our CRE industry could weather this storm. I have been fortunate to be able to call them "friends" for many years, and this year they became my "BFFs."
As I look towards 2021, I have a sense of optimism, and not just because I am "Mr. Positivity" as most folks will tell you and from the result of my StrengthsFinder assessment. I'm optimistic because our respective teams not only rose to the challenge, but I would venture to say, exceeded all expectations. Many IT projects that were paused early in the pandemic were picked up again and completed by end of the year, making it feel like a normal year- end along with planning process for the following year. In 2020, I'll take all the "normal" I can get. However, we also know that our team members have been going at 100% the entire year and will need to recharge. Therefore, while we will continue to work on digital strategy to position Hines for business growth, I will look at 2021 as a "stabilization" year to make sure we continue to have a solid technology and cyber-safe foundation. I also look forward to being able to get back together with my CRE IT and Realcomm friends in person again in 2021. Wishing everyone a wonderful holiday season as we say goodbye to 2020 and look forward to a much different 2021.
---
In what has been a truly extraordinary year, 2020 showed us how critical technology is when adapting and responding to an ever-changing world. Technology is the lifeline that allowed us to continue running our business, serving customers and keeping our people engaged and well, wherever they were. As a leader, this year taught me that we can't possibly foresee every eventuality or have all the answers, but we can thrive by asking questions with curiosity and responding with empathy, creativity and agility.
Moving into 2021, these same traits will be put to use in cultivating an even deeper partnership with our tenant and investor customers. By leveraging our shared expertise, technology and data we will explore new ways to co-create places that people love coming to, while ensuring space can be used safely, sustainably and flexibly in pursuit of our mutual aspirations. It's an exciting time to be part of the PropTech community!
---
Reflecting on 2020 and then looking ahead, I draw inspiration from Vince Lombardi who famously said, "It's not whether you get knocked down, it's whether you get back up." 2020 was my first full year in the commercial real estate industry, and, perhaps with a contrarian view, I am really glad to have joined during this turbulent time. It has shown me the true character of this industry. We worked together across the ecosystem in response to the COVID-19 pandemic to rapidly ensure that our buildings would be safe to return to, sharing and collaborating along the way. We put our customers and our staff first and accelerated efforts to bring technology to our industry as we all worked from home. I have learned more in the past year than in a decade and am very thankful to all that have patiently taught me along the way.
Looking ahead to 2021, I can't help but be optimistic. The silver lining of our WFH is that digital transformation is no longer a fringe pursuit, but a necessity. Expect to see major leaps forward in all parts of our value chain primarily around shifting toward data-driven processes, automation, and empowerment of our customers digitally. Proof of concepts will give way to significant global implementations, and a number of key PropTech pioneers will emerge as dominant forces for change. It is a great time to be in commercial real estate, and my sense is that Vince would be proud.
---
Wells Fargo started 2020 with energy behind significant digital transformation within our corporate property operations driven by organizational expense reduction targets and the desire to improve our cybersecurity posture and capitalize on newly adopted real estate strategies. The coronavirus pandemic became an inhibitor to progressing the technology strategy roadmap as our resources became consumed with safety and security of our employees and customers. Instead, much of the year was spent on development and delivery of a safety control framework providing the policies, procedures and tools necessary for Wells Fargo employees' return to the office and help our customers succeed financially.
As we enter 2021, we are fortunate to have full organizational support for continuing our technology strategy and roadmap progress. 2021 will see application rationalization combined with a renewed set of tools supporting seamless end-to-end automated/ digital process support. We will capitalize on new digital workplace experience capabilities to better support a new working paradigm: new spaces that support unassigned, non-reservable seating, expanded collaboration spaces and other building amenities reflecting a workforce who may no longer be 100% in office. It is an approach accelerated as a result of the coronavirus pandemic.
---
When 2020 started, I had big plans for a graduation, a birthday party, an anniversary celebration and a family trip to Portugal. But 2020 had different plans for all of us. Where we could, like everyone else, we adapted and overcame. When the lockdown started there was extreme concern about whether or not we could work as effectively away from the office as in the office. For Related, I think we all exceeded expectations, as did most companies. The internet and VPNs held up and all of our teams adapted as they needed to.
We've been 100% back in the office since 6/22 - and I personally hope that it stays this way. We follow all CDC and local health department protocols including daily health screens, masks in the office, physical distancing and biweekly testing. Vigilance of everyone on the protocols and staying up to date on the science are also key. Finally, clear, honest and frequent communication - up, down and sideways - during these times of extreme uncertainty is essential.
Like most, I am excited to turn the calendar to 2021 and I am hopeful for the new year. Hope about a vaccine and an end to the pandemic. Hope that fear dissipates, just a little, from our society. Hope that our new political leaders step up and lead. The first half of '21 will be a slog for sure, but during that time the business models that will stick, and the ones that are never coming back will become clearer. The second half will be a race to dominate the new models and the suppliers to them. My advice? Fix any weaknesses in your business, your systems and be ready to run, because the race is coming. And, what's more normal than that?
---
No one could have planned the impact of COVID-19 on our world, including institutions of higher education. Facility units continuously strive to become proactive in their daily operation, so much so that it becomes part of their DNA. This pandemic turned that natural proactive instinct upside down and most of us found ourselves reacting to the constantly changing information on how this virus worked. The only hope for success was to react well using all our collective experiences.
The pandemic also provided campus facilities the opportunity to be seen as a source of expertise for the campus. The facility management leadership team welcomed this opportunity and forged new partnerships with academic and research leaders to provide a safe, smart and healthy environment for continued learning and exploration. While the adverse impact to the financial outlook from the pandemic will continue for the foreseeable future, we continue to be inspired by the way our team, and teams like us around the country, respond to a unique global challenge.
---
There is global optimism as the various vaccines are being rolled out, however, looking back to March of this year, the world wondered about the impact of the pandemic. Human resilience was on trial and how we weathered the storm was probationary. An acceleration of technology unfolded with companies implementing five-year strategic plans in a course of five months. The industry collaborated, shared ideas, worked in partnership and pooled resources not only to deal with the pandemic, but for intensification and strengthening growth.
The jewel of asset-class that industrial has developed into will continue with exponential growth as e-commerce accelerates. The commercial space will see a surge in the next few years as tenants return to work and retail will be reinvented to better fit our future needs.
This Week's Sponsor
Yardi® develops and supports industry-leading investment and property management software for all types and sizes of real estate companies. Established in 1984, Yardi is based in Santa Barbara, Calif., and serves clients worldwide. For more information on how Yardi is Energized for Tomorrow, visit www.yardi.com.
Read Next