Feature
Wells Fargo SVP Earns 2020 Realcomm Lifetime Achievement Award
November 24, 2020 | Charles Meyers, SVP & Chief Technical Architect, Corporate Property Group, Wells Fargo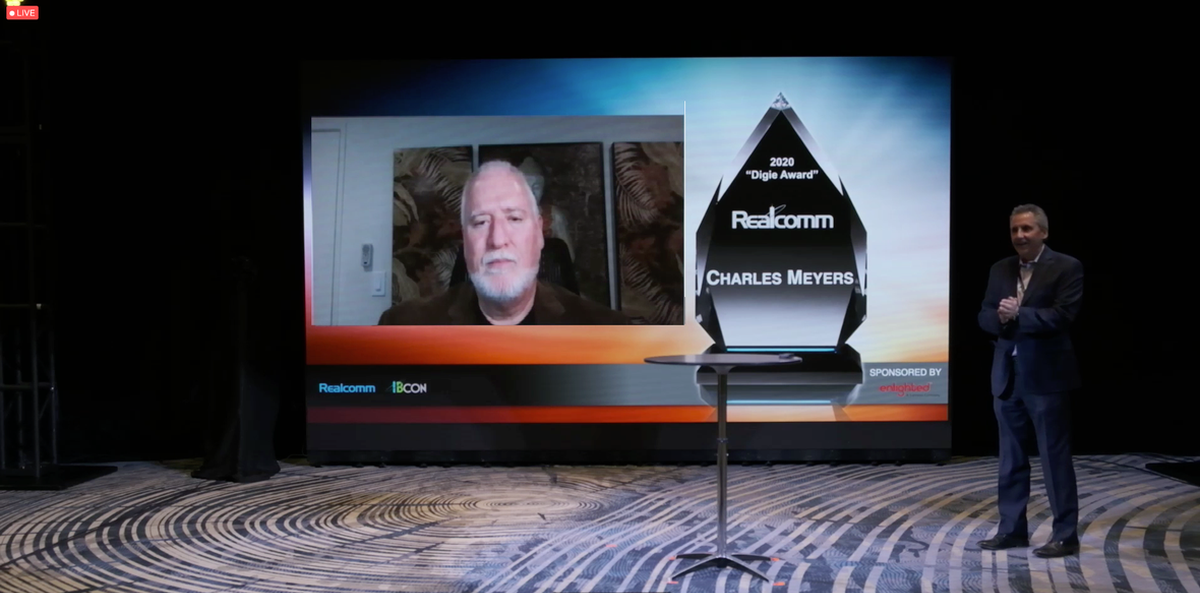 For the past 22 years, the Digie awards have recognized real estate companies, projects, technologies and people positively impacting the commercial and corporate real estate industry through technology, automation and innovation. Last month, Wells Fargo SVP and Chief Technical Architect Charles Meyers earned the Realcomm Lifetime Achievement Award for his commitment to improving RE operations through technology, promoting the importance of cybersecurity in the built environment and generously sharing industry knowledge with peers.
As many commence in yearend reflections for 2020 - a difficult and trying year around the world - we invited Charles to share his 20-year journey in Wells Fargo corporate real estate: the lessons learned, the relationships built and the reasons he's grateful to be a leader in our global peer-to-peer community.
Humble beginnings
I want to thank the entire Realcomm family for awarding me the Lifetime Achievement Award. I join a group of 21 individuals who have received this celebrated recognition, and I am both honored and humbled to be counted in their illustrious company. I did not achieve this alone, but on the backs of those who came before me and hand-in-hand with those I have worked with these last 20 years. To be honest, I am as surprised as any by this award. After all, I wasn't even supposed to be here. I first started working at Wells Fargo at the behest of a friend who was creating an IT team inside the Corporate Properties Group. I offered to help but only promised him a two-year commitment. I never expected to find myself here 20 years later. As I look back on a 20-year career in Corporate Properties with Wells Fargo, I can certainly say it has been full of surprises.
Perseverance as a team
I work for a company and with a group of professionals that I respect immensely. I am proud of our work and of my contributions. When I joined a national bank, I never imagined that the work would be as interesting and as multi-layered as it has been. We have driven innovative projects and solutions, and are always looking to integrate cutting edge and new technologies in ways that provide useful and necessary data. At the most critical point in those early efforts my boss at the time would say, "We get this done right, we'll be in cruise mode." Ha! As we all know, you can celebrate the successes, but there's always a new challenge waiting around the corner that will likely humble you quickly.
When the challenges come, we don't shirk our responsibilities; we press, we push and we pivot. We do whatever we can to progress, achieve and/or create new options. At the risk of sounding cliché, this mindset of "leaning in" may not bring the solution originally envisioned, but often it will have better results. It also creates an energy and invigoration for the team as they realize that you are committed to deliver, and you won't be daunted by the roadblocks. This gives a team the freedom to reach, extending themselves and their imaginations. This provides them the opportunity to achieve something more, something tangible … a greatness. Anytime you manage to achieve something you didn't think possible you get that feeling, that ethereal and purposeful sense that you have accomplished something meaningful.
'Leaning in' with peer-to-peer leadership and learning
Wells Fargo and the Corporate Properties team are only part of my story. The other part involves the world outside my company. Engaging in external partnerships and relationships is what really takes a career to the next level. Realcomm has made a direct contribution to the success of so many of our efforts. From picking up the phone and getting a reference or recommendation, to attending sessions that introduced me to new and valuable technologies, not to mention the myriad of collaborations that helped refine our solutions, the Realcomm community has been there. All of this has contributed to my success and the success of the initiatives I have been privileged to be a part of at Wells Fargo. There is only one requirement, you need to lean in.
It is on you to introduce yourself, ask questions and actively listen. It is these professional connections that exponentially increase your opportunity to acquire valuable knowledge and expertise. I must admit that for many years I attended the conference mostly to assess our own progress and compare our technologies to others. Things changed for me with the increased focus on intelligent buildings, workplace enhancements and cyber security. As our world became more complex, I needed to lean in more.
Leveraging what I learned, I began introducing multiple representatives from our Information Technology team, including members from Enterprise Architecture, Enterprise Networks, Information Security and IT Operations to Realcomm. Engaging our enterprise information technology teams was the inflection point that began an accelerated evolution of our programs and building technology road map. I can proudly say that we are currently using technologies that we first discovered at Realcomm in 2014.
The Real Estate Cyber Consortium
Today, members of our industry are leaning in as a consortium. The Real Estate Cyber Consortium (RECC) is leveraging our partnerships and relationships along with the invaluable support of Realcomm to enhance cyber security in the building technology supply chain. Our mission will rely on engagement from every part of our industry and I am excited to know that as the RECC becomes a non-profit membership organization in 2021 others can join this effort and be part of our collective success.
Again, I am grateful for the recognition, the partnership, and the friendships. I hope you will join us as we continue to advance technology and cybersecurity in the commercial and corporate real estate industry. Please email recc@realcomm.com for more information.
This Week's Sponsor
Altus Group Limited is a leading provider of independent advisory services, software and data solutions to the global commercial real estate industry. Featuring our industry-leading ARGUS® software solutions, for the past 25 years ARGUS products have been the industry standard for creating cash flows and valuations helping thousands of commercial real estate professionals gain transparency into their property assets, manage risk and optimize their portfolios. www.altusgroup.com/argus/
Read Next