News
CBRE, Tishman Speyer, Prologis, QuadReal, Morguard and British Land Share Reentry, IT and Workplace Strategies
November 19, 2020 | Sherry Whittemore, SVP Content Strategy, Realcomm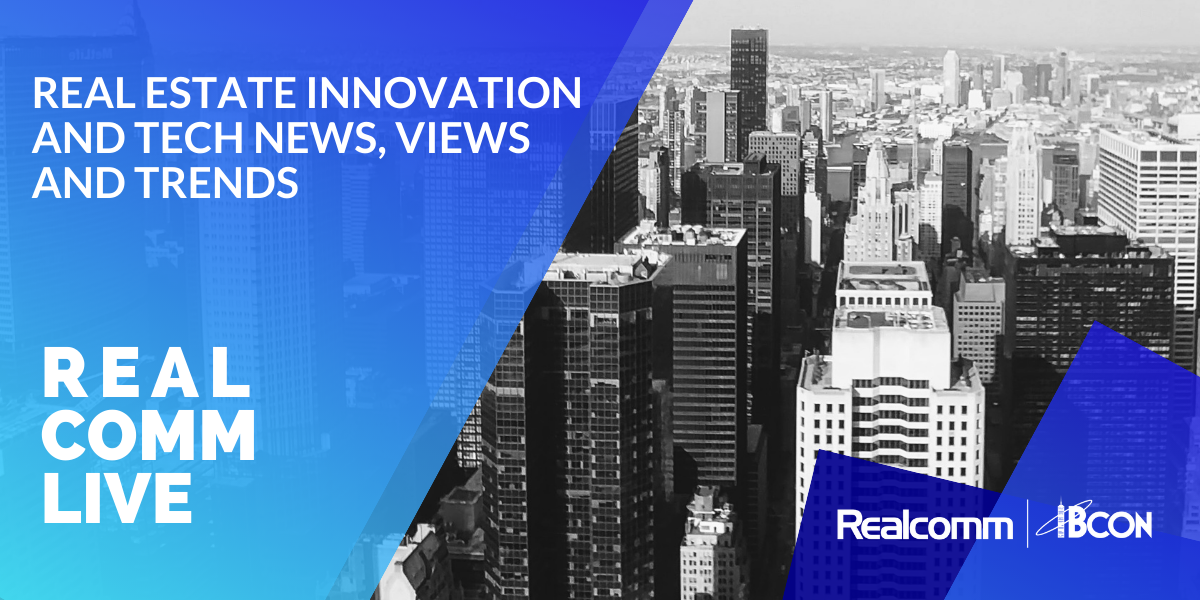 The Realcomm | IBcon 2020 news desk featured 35 Realcomm Live interviews with industry thought leaders from around the globe. Content that streamed during the world's first real estate hybrid tech conference, held in late October, is curated each month in a video showcase designed to highlight how commercial and corporate real estate organizations implement new technology, build innovative teams, connect buildings and neighborhoods, and manage cyber hacks and security attacks.
November's showcase focuses on the pandemic's impact on workplace reentry, IT strategy and CRE technology.
Digital Transformation in Office, Industrial and Retail
Providing a global perspective on post-COVID reentry, workplace technology and market rebound, British Land CIO, Head of Technology Amy Slater, Prologis Managing Director, CTO Sineesh Keshav and Morguard CIO Aaron Pais explain how each company has pivoted over the past six months. Watch the video.
Slater offered a corporate real estate perspective from the United Kingdom. While the U.K. has fallen back into a "mini lockdown," she said, existing WFH systems enabled British Land to remain agile and responsive. Slater foresees a need and desire for office reentry with tenants' requesting a renewed focus on wellness systems and touchless building access via mobile apps. The company is investing in tools that help schedule occupancy rates and installing sensors for monitoring air quality.
The industrial outlook has remained rosier than other sectors, Keshav reported. Fueled primarily by an ecommerce uptick, Prologis, a global leader in logistics real estate and supply chain logistics, saw 37% new lease signings in the most recent quarter, which is up from a historical average of 20%. Keshav credits strong performance with lessons learned from the 2008 financial crisis; the company fared well during the pandemic because of a strong balance sheet and leverage ratios.
Keshav noted that customer habits have irreversibly changed in the past six months: Pandemic or not, consumers are no longer satisfied with a five-day delivery time. There has been a shift from just-in-time inventory and efficiency-based supply chains to more resilient supply changes.
Canadian-based Morguard operates three diversified lines of business: investments in property, real estate investments in trusts and advisory and investment services. Managing a diversified office, industrial, retail and multifamily portfolio, Pais spoke across classes:
Canada's industrial sector has remained largely unaffected. Space is in short supply with rents cycling high and vacancies cycling low. Ecommerce has been a key driver of growth and strength.
Office is seeing a moderate weakening trend, mostly in downtown areas of large cities, with the office space market in a holding pattern until the economic outlook is clarified.
"Retail has been clobbered." COVID has simply sped up the fallout that's been underway for the past couple of years due to demographic shifts and changes in spending habits, and tenants are having difficulty paying rent and maintaining sales revenue.
Multifamily has seen some softening.
Across the board, Pais said most people believe once the virus is contained things will go back to normal with tighter conditions such as rising rents and lower occupancy.
Tishman Speyer 2020/2021 Technology Strategy
Simon Okunev, CIO, Managing Director of IT at Tishman Speyer, has a simple yet powerful approach to managing real estate IT operations:
Strategize operations.
Earn and build trust.
Know and experience your products and services from the client perspective.
Prepare people for the future.
"Most people want to jump into the cool stuff, the building tech that's changing the world," Okunev said. "But the reality is that you need to get your house in order first." Before you get a seat at the table and become a true business partner you need to figure out how to run and streamline operations, he explained. "Then, you gain trust and become more of an advisor to your business."
A leading owner, developer, operator and fund manager of first-class real estate around the world, Tishman Speyer easily adapted to WFH when the pandemic hit do to a well-prepared remote work strategy already in place, Okunev explained. The company mindset is mobile and remote first.
From an IT perspective, it was a relatively easy transition, he added. However, the biggest impact from COVID was on leading teams. Pandemics are traumatic, Okunev said, and the complexity came when applying the human factor of employees and clients.
While the pandemic changed the shape and scope of his role, Okunev stayed true to his IT strategy and knew the direction he needed to take. When the first opportunity arose, he returned to the office to understand how tenants would feel reentering buildings. Am I safe? Do I feel comfortable? He asked the questions tenants would soon surface and quickly realized the need to change how colleagues interact in a hybrid environment.
His current focus is differentiating tech that is here for the long-term and what is a temporary. IT has momentum now, Okunev explained. The pandemic has highlighted the critical needs for tighter building infrastructures and cybersecurity. "Tech needs to be rethought: Accelerate the interest in IT as managed services and part of the offering when leasing offices," he said.
The user experience is now the total experience, where tenants are seeking complete care of all their tech needs. "The key here is not rush to cool gadgets and solutions without building the foundation for it," Okunev said. "We need to build a foundation with converged networks that can really prepare people for the future."
Smart Buildings Globally: Reverse, Neutral or Fast Forward
Evaluating the impact of COVID-19 on the smart building industry, CBRE Managing Director Smart Buildings & IoT Matt Toner, Schneider VP, Digital Buildings Louise Monger and QuadReal VP, Smart Building Technology and Digital Innovation Thano Lambrinos agree the pandemic has accelerated the digitalization of buildings. Watch the video.
Toner said that the pandemic provided an opportunity to proof existing technology use cases, such as remote maintenance, indoor air quality and experience apps. He explained CBRE's end-to-end services approach with regard to smart buildings IoT, focusing on servicing clients from strategy to design, integration, implementation and utilization of technology.
Looking at a similar inclusive service approach, QuadReal is leveraging technology to extend services previously provided in common areas into tenant space, Lambrinos said. He echoed Toner's statement that the pandemic accelerated smart building technology use cases, explaining how smart building technologies already piloted at QuadReal were repurposed to address the unique challenges COVID-19 presented for the built environment.
Despite Australia's subdued response to COVID-19, Sydney-based Monger also reported that AMP Capital (her former employer until recent) pivoted existing technology to health and well-being use cases. She credits the accelerated use of technology to drive efficiency in building operations to the unique circumstances of the pandemic and a potential consequent recession. Given the current economic uncertainty, Monger cautions that although new developments have received more attention in the smart building environment, existing buildings bear a greater potential to achieve efficient operations by leveraging data and repurposing existing systems.
Subscribe to our YouTube channel and join us every Friday at 10 a.m. Los Angeles / 1 p.m. New York / 6 p.m. London for Realcomm Live, featuring real estate innovation and tech news, views and trends.
This Week's Sponsor
RealFoundations is the world's foremost professional services firm focused solely on the real estate industry. Through our delivery of Management Consulting and Managed Services, we help companies that develop, own, operate, service or invest in real estate make better, more profitable decisions. We are proud partners to over 450 real estate companies around the globe, providing accelerated solutions that solve some of real estate's most complex challenges. We Make Real Estate Run Better.
Read Next