News
Congratulations to Our 2020 Digie Award Winners!
November 5, 2020 | Realcomm Staff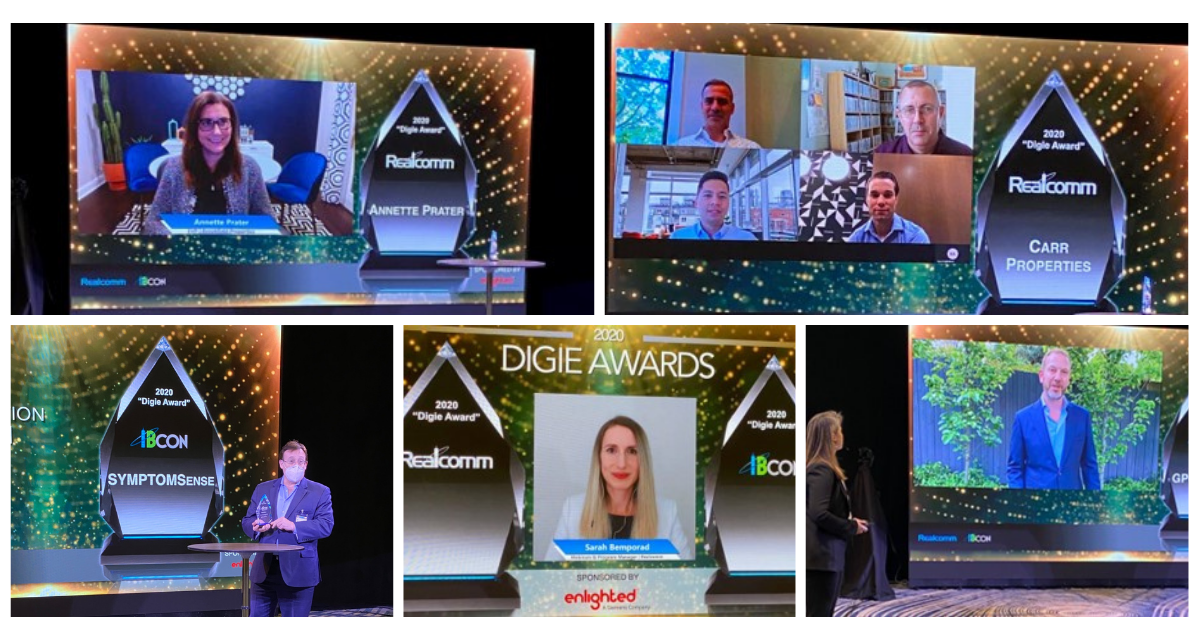 The Digie award winners were announced at Realcomm | IBcon 2020 on Oct. 28 at the Gaylord Rockies in Colorado. For the past 22 years, these awards have recognized real estate companies, projects, technologies and people that have gone above and beyond to positively impact our industry using technology, automation and innovation.
For the commercial and corporate real estate industry, COVID-19 created a new set of unique challenges ranging from developing work-at-home strategies to ensuring buildings are performing at the most optimum, healthy levels. This year, we also recognized individuals who are leading the charge on COVID-19 strategic and transformational technologies, creating a more efficient, effective and adaptive industry and shaping the future of smart buildings.
Following are the 2020 Digie award winners:
REALCOMM
BEST USE OF AUTOMATION
Property/Facility Management: Arcadia Management
Uses extraordinary measures to utilize technology for property management
Constantly works with leading vendors to drive innovation
Consistently commits to sharing insights and educating the industry
Commercial Services: CBRE
Continuously strives for innovation on a global scale
Instituted an RPA center of excellence to effectively deploy knowledge and resources
Strategically uses technology and automation throughout all business units
Commercial Real Estate: Carr Properties
Demonstrates willingness to share concepts and innovation with industry
Constantly pushes the envelope and applies technology to building operations
Fosters collaboration between IT and other departments, especially OT
Retail Real Estate: Kimco Realty
Tirelessly explores smart building technologies throughout entire portfolio
Implemented multiple modules of the MRI platform in a substantial innovation project
Pushes the boundaries of industry innovation through the use of technology and automation
Corporate Real Estate: Microsoft
Promotes smart buildings and campuses as a global leader in the industry
Developed a strong partnership ecosystem to support automation on all campus levels
Took aggressive steps for organizational realignment on its smart building vision
Investment Management: Invesco
Business and technology team members successfully collaborated in unique ways on a massive data conversion project
Drove innovation that brought together multiple technologies to streamline the IM business processes
Developed multiple solutions that exceeded initial project expectations
BEST TECH INNOVATION COMMERCIAL/CORPORATE REAL ESTATE
Steadily drives forward industry benchmarks for AP in commercial real estate
Incorporated extensive software feedback from clients to meet market needs
Continuously improves and reinvents its technology to remain cutting-edge and industry relevant
JULIE DEVINE DIGITAL IMPACT AWARD
Valued as a visionary and leader in real estate technology internationally
Generously collaborates with peers in the industry
Leads and drives innovation within Brookfield and the industry at large
Recognized as a global thought leader in commercial real estate technology and innovation
Devoted a career to constant improvement in commercial real estate operations
Actively supports networking and collaboration throughout the industry
LIFETIME ACHIEVEMENT AWARD
Shows an extraordinary commitment to improving real estate operations through the use of technology
Tirelessly promotes the value of cybersecurity for the built environment
Passionately shares industry knowledge with peers to positively influence the industry
IBCON
MOST INTELLIGENT BUILDING PROJECTS
Office Building: GPO Exchange
Successfully integrated over 40 base building systems into a single platform for increased efficiency
Created the Charli app for community engagement with buildings and services
Achieved highest levels of data integrity and insights resulting in better real-time decision-making
Office Portfolio: AMP Capital
Created a portfolio-wide smart building strategy integrating all assets into a common smart building platform
Extensively uses IoT to manage building operations, manage occupancy and deliver tenant services
Deployed an industry leading managed portfolio cyber solution to protect its customers, tenants and investors
Corporate Headquarters: Microsoft Redmond Campus
Focuses on smart building technology deployments that make buildings smart from the ground up
Uses latest technologies anticipating employee needs while creating connections and fostering a sense of community
Features privacy and cybersecurity as the foundational pillars for trusted smart campus strategy
Retail: Amazon Go
Leads frictionless experiences in the evolving retail industry
Cleverly integrated the Amazon Go app with the retail experience
Develops computer vision, deep learning and sensor fusion applications for the retail process
Specialty: The Sinclair, Autograph Collection – Fort Worth
Explores the capabilities of LED lighting using low voltage PoE DC power
The hotel is used as an innovation lab for further testing of technologies for guest occupant experience
Seamlessly incorporates smart technologies, including fiber for high-speed Wi-Fi, touch-screen mirrors for room controls, LG wallpaper TVs and digital showers
Industrial: Amazon
Aggressively deploying rooftop solar panels across many of its fulfillment centers
Developed intelligent fulfillment robots along with sophisticated algorithms for safe and efficient controls
Extensive use of indoor mapping and AI to simulate and efficiently manage high traffic paths
Multifamily/Residential: Crescent Heights NEMA
Instituted touchless access for optimum occupant experience
Introduced a dedicated amenity space featuring leading-edge equipment, including 3D scanning and printing, as well as coding and design stations
Features fiber-optic, gigabit-capable internet with property-wide connectivity
Best COVID Tech: RXR Realty – 75 Rockefeller Plaza
Transformed delivery of technology services utilizing Microsoft Azure IoT, Azure AI and Intelligent Edge
Implemented the RxWell mobile app for touchless access control management and a variety of tenant, employee and visitor services
Rolled out a full portfolio-wide hardware and software building management and occupant wellness program
Mixed Use: Water Street Tampa
First project to receive WELL Design & Operations certification
Implemented consistent technology across all BMS, fire alarm and access control systems and a universal access Wi-Fi network
Created a controllable converged infrastructure for communications, lighting and information kiosks
Higher Education Campus: University of Nebraska-Lincoln
Seamlessly and effectively executed a campus wide COVID response to promote a safe return to campus
Consistently brings extraordinary innovation and forward thinking to campus operations
Implemented cost effective and tech-enabled state-of-the-art hybrid classrooms
City | State: Seoul, South Korea
Developed a digital platform, integrating data from all city operations and allowing visualization in a single pane of glass
Significantly enhanced public transportation through "Seoul's Intelligent Traffic System" (ITS), Smart Transportation Card and Bus Information System (BIS)
Aggressively used technology for strategic COVID response
BEST TECH INNOVATION
Telepresence: ARHT Media
Innovatively uses HoloPresence technology to virtually bring in speakers from around the world to eliminate the challenges of time and distance
Actively communicates and educates on the value of HoloPresence for other industries
Focused on making the technology more usable and cost-effective
LED Immersive Experience: StandardVision
Develops architectural lighting for enhanced exterior building visualizations as a long-time leader in the industry
Designed and implemented some of the world's most iconic digital media installations
Educates and shares experience and vision with the industry
Intelligent Buildings: Density – People Counting
Introduced an effective, accurate and cost-effective hardware and software solution for people counting
Demonstrated an accurate, anonymous, real-time people count with a 20-foot range, 40-foot effective diameter
Created technology that is less invasive and provides greater privacy than alternative occupancy and location tracking solutions
COVID Tech: SymptomSense
Employs multi-factor vital screening health assessment measures to ensure unparalleled 98% degree of accuracy in determining relative health state
Integrates and analyzes blood pressure, heart rate, oxygenation level and temperature sensors in a portable Screening Evaluation Gateway (SEG)
Facilitates eliminating infections and inspires confidence in employees, tenants and visitors thanks to high accuracy and rapid scan rates
JULIE DEVINE DIGITAL IMPACT AWARD:
As a thought leader, drives the development of next generation smart building strategies globally
Influences the industry by leading by example and through his willingness to share
Successfully navigated both the technological and change management aspects of digital transformation as demonstrated in the Microsoft Redmond Campus
Developed extraordinary vision for smart building technologies for Warner Media headquarters
Is a consistent proponent of open, interoperable IP for smart buildings
Demonstrates a relentless pursuit of integrating skill sets from both the operational and information technology disciplines with successful outcomes
Congratulations to the 2020 Digie Award winners and nominees for your contributions in positively impacting and furthering our industry. Special thanks to Enlighted for sponsoring the Realcomm | IBcon Digie award ceremony this year!
This Week's Sponsor
Yardi® develops and supports industry-leading investment and property management software for all types and sizes of real estate companies. Established in 1984, Yardi is based in Santa Barbara, Calif., and serves clients worldwide. For more information on how Yardi is Energized for Tomorrow, visit www.yardi.com.
Read Next