Feature
Microsoft's Global Smart Building Vision
October 29, 2020 | Tina Danielsen, Sr. Writer, Realcomm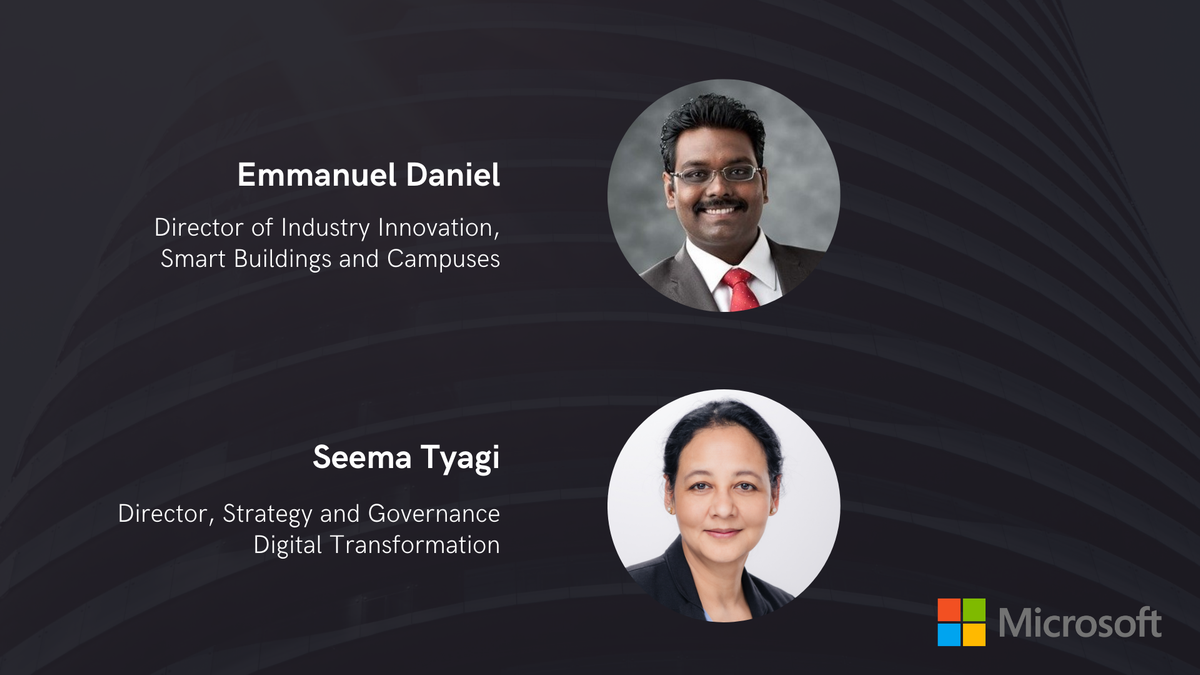 Microsoft is on a journey to transform its global real estate portfolio through data-driven innovation. Microsoft's global reach and real estate footprint required a master plan, one that encompasses every aspect of the built environment, top technologies, and the most important considerations for human well-being. Realcomm spoke with Seema Tyagi and Emmanuel Daniel to learn more about Microsoft's vision and ongoing smart building strategy.
Seema Tyagi is the Director, Strategy and Governance Digital Transformation within the Center of Innovation team in Microsoft's Real Estate and Security Organization. She is responsible for building and delivering the digital transformation strategy for Microsoft campuses. She leads a global multidisciplinary team focused on innovative end user experiences that merge technology with the built environment backed by highly automated business processes leading to efficient operations.
Emmanuel Daniel is the Director of Industry Innovation, Smart Buildings & Campuses, and is responsible for building and delivering the digital transformation strategy for Microsoft's global campuses. He leads a global multidisciplinary team of architects and experience designers to build experiences that merge technology with the built environment, leading to the formation of spaces that respond to user needs. He is accountable for identifying, building and implementing the next generation of innovations that will make smarter and more sustainable buildings.
RC: What is the inspiration and vision for Microsoft's smart building strategy?
ST: The inspiration has always been to build, deliver, and operate connected, accessible, sustainable, and secure workplaces that create the best employee experiences. The vision is to ensure that anyone who works in these spaces is empowered in their ability to work more productively and be delighted with the overall experience in that space. To deliver on this vision, our aim is three-fold: to attract and retain top talent; to optimize cost savings and efficiencies; and to showcase Microsoft technology.
RC: Your Redmond, Washington campus modernization will take five to seven years to complete. What are the different stages and goals for this long-term technology undertaking?
ED: We want to showcase what Microsoft and our global technology enables. Our industry-leading Azure cloud allows people to have the same experience and level of service irrespective of location. I work very closely with the real estate and security team; they are the sponsors and owners of the digital transformation. We began by creating what we call "the elements of digital transformation." Our aspiration is to make these buildings smart from the ground up, which means that you are tied into the construction phases. We must be aligned to their plan for core infrastructure and building access. Our approach was in five streams:
1) Planning to deliver a consistent workplace experience based on our vision on a global scale.
2) Physical design to enable unique buildings. How does design impact the type of services and experiences we can offer? How do building aesthetics align with the technology?
3) Core infrastructure to accommodate power, network, security, cabling, fire and life safety, and building information systems.
4) Platform, because experience is directly tied to services offered, and the service can only be offered if we're able to seamlessly orchestrate data flow across multiple systems.
5) Type of experiences that vary dependent upon behavioral analysis and function of people and their interactions.
RC: Can you share challenges encountered during this process?
ST: Transformation is a journey. The union of physical space and digital technology is challenging but also extremely exciting. The biggest challenges were around infrastructure; we must ensure that we don't over-provision or overestimate today and balance that with future business needs. We needed to find balance between being realistic with our aspirations and the services people will actually consume. Infrastructure must deliver as we move into the future, because buildings are built for decades, at minimum. The flexibility to continuously innovate and enhance is very challenging.
Another challenge is the choice of technology that's implemented. Buildings today are more optimized and efficient than ever before, and sustainability is a main consideration. With building technology improving with regard to implementation and maintenance, what is the role of facilities management (FM)? How will FM and IT collaborate? If there is a breakdown of experience, how will it be triaged, who is responsible? Working out the operations and evolution of services and redefining the interaction model between IT and operations is something that we anticipated and are continually working through.
RC: How does the new campus impact work and company culture for employees?
ST: The key to the seamless experience with maximum benefit is that the user does not even realize the amount of interactions and handoffs necessary in receiving these services. There are multiple paths among systems and in the past, all these systems were siloed. Now they are woven together. The flexibility of the workday - without worry about how it gets coordinated - is what a smart campus will do for you. Space will respond and make recommendations to users and operators proactively, enhancing productivity and collaboration.
RC: What are some key innovations at the new campus?
ED: We must speak of innovation relating to both the experience and operational efficiency, because all device management and data collection is based on that. We categorize experiences into four broad categories: movement, access, productivity and wellness. To drive experiences in each area, we focused on three foundational capabilities: sustainability, accessibility and digital integration. The unique aspect for our program is how the platform manages all the devices going into these buildings. "Manage" means accelerating onboarding of the buildings, maintaining, monitoring and calibrating the devices. That is what translates to success and innovation for us, because we are designing services that will drive better collaboration and engagement.
ST: How is this possible? Something as simple as creating the concept of accidental collisions. Having engagement options available to people as they move around the building and supporting ad hoc interactions is something that we found spurs creativity. Planned meetings are typical but unplanned meetings in space that supports different collaboration types gives you the outcomes you are looking for.
The Digital Integration Platform extracts and integrates data from multiple building systems to create a unique experience that can then be consumed by the end user in the form of a service. The Digital Integration Platform is based on Azure digital twins, creating a replica of the building and the space. It's then combined with live data that allows us to understand function and performance, and how services in that space are going to be consumed.
RC: How are you future-proofing building system infrastructure technologies?
ED: There will always be later, greater versions of technology and devices that will get upgraded. So our focus was on enabling infrastructure components and building capabilities that would allow upgrades and changes as the needs and technology evolves.
If the goal is to create services that can be replicated and rolled out globally, we need to create standards. The best way for us to identify standards for the service experience and technology is to carry out proof of concepts or pilots to see if it is scalable, sustainable and can support the enterprise demands of Microsoft and the users. Validating the technology and making sure it aligns with our goals is something that we pride ourselves on.
Watch Emmanuel Daniel's recent Realcomm Live episode where he details Microsoft's smart building strategy
This Week's Sponsor
BrainBox AI was created with the goal of redefining building automation through artificial intelligence to be at the forefront of a green building revolution. BrainBox AI's deep learning solution enables the HVAC system in a building to operate autonomously, in real-time, generating up to a 25% reduction in total energy costs. Since its launch in May 2019, BrainBox AI has installed its self-learning AI HVAC technology in over 25 million square feet of commercial properties, across 3 continents. BrainBox AI supports real estate clients in numerous sectors, including office buildings, airports, hotels, multi-residential, long-term care facilities, grocery stores as well as commercial retail, and works in collaboration with research partners including the US Department of Energy's National Renewable Energy Laboratory (NREL), the Institute for Data Valorization (IVADO) as well as educational institutions such as McGill University.
Read Next