Partner Content
No-Code Development Platforms Bring Agility, Speed and Ease to REM Systems
September 3, 2020 | Donnie Law, CEO and Chief Software Architect, REMLogics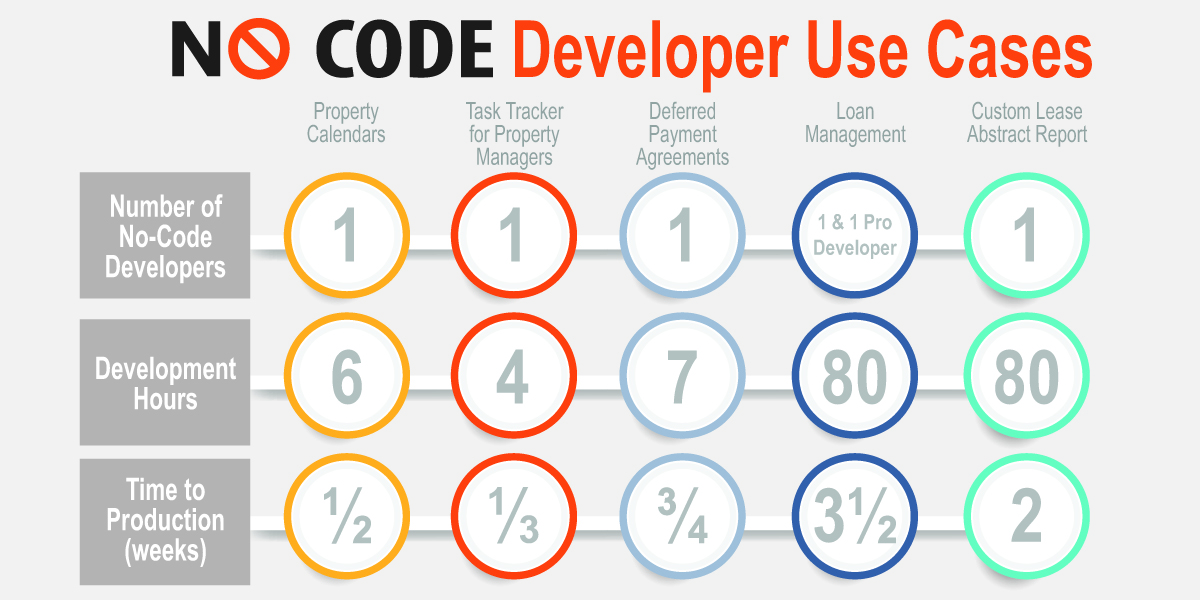 Digital transformation is happening all around our industry. Over the past five years, new CREtech and PropTech innovations allowed CIOs to take advantage of technology trends to respond faster to the ever-changing landscapes of commercial real estate. Being agile and nimble in today's real estate environment is a key competitive advantage - a necessity when considering the new set of challenges placed on landlords and tenants related to COVID-19.
Embracing no-code
According to Pitchbook.com, "Low-code and no-code development platforms expedite the creation of new applications with minimal coding requirements and offer tools for non-programmers to create their own apps. These platforms use a combination of drag-and-drop graphical interfaces and prebuilt models and templates that enable non-developers to create software."
Traditionally, enterprise resource planning (ERP) real estate management (REM) systems are not known for their nimbleness. Most software vendors do a good job at making sure industry best practices are embedded in their systems. However, they do not allow the end user to customize their own best practices. These unique practices are what often differentiate themselves from their competition, and for good reason.
Customizations - generally unpopular among IT professionals - are expensive because of the resources required. They are difficult to maintain and they are difficult to upgrade. Furthermore, customizations are often lost when transferring from a legacy system to the cloud. But no longer. Enterprise no-code development platforms have changed the game and it is time to embrace it.
Merging of the experts
According to CNBC.com Editor Eric Rosebaum, Microsoft estimates that the number of new apps built over the next five years using low-code and no-code platforms will reach as many as 500 million - more than all the applications built in the last 40 years. Add to this, the shortfall of U.S. software developers is estimated at over one million. This requires real estate companies to find more innovative ways to increase management efficiencies across marketing, leasing, properties, tenants and investments to outpace their competition. Merging business experts with IT professionals through a no-code development platform will drive digital transformation and cultivate continuous innovation.
Real estate organizations still need professional developers to do highly strategic and mission-critical projects that deliver high value. With no-code, organizations can build a citizen developer community filled with business experts - a four-year computer science degree not needed. One's imagination is all that is necessary to build administrative and operational apps that improve workflows and provide a better user experience for executives, investors, lease administrators, leasing agents, property and facilities managers, and tenants.
Forbes Councils Member Claus Jepsen states, "Successful IT organizations will be those that provide their employees with the tools and technologies to design and develop their own IT solutions - as well as the classes and education needed to do so successfully. With review and approval processes in place, both IT organizations and employees can find mutual benefit in the creation of 'citizen-built' applications.
The benefits of building a no-code citizen developer community are many:
Lessen the burden on IT
Eliminate costly consultants
Spark ideas and drive innovation
Tap into technologically savvy self-starters
Advance the business expert's career into IT
Develop proof of concepts
Maintenance of light apps
Integrate and track data across the organization
Innovate your way out of spreadsheets
Build administrative and operational apps
Create reports, dashboards and visualizations
With a citizen-developer community concentrated on operational and administrative apps, professional developers can focus their attention on larger, more strategic IT projects. This gives IT the following advantages:
Accelerate enterprise digital transformation
Advance alignment with IT and organizational goals
Solve problems - the heart of IT
Sustainable customizations
Single source of the truth
Leverage business subject matter experts
Provide governance, standards and security
Regulate no-code environments to streamline apps
Maintenance of complex apps
Collaborate, train, support and mentor no-code citizens
Identify new IT talent among no-coders
And, you will put the fun back into development with no-code!
Example of no-code development
With COVID-19 impacting businesses over the past several months, landlords have had to provide tenants of all sizes with some relief through Deferred Payment Agreements (DPA). The benefits of using a no-code development platform swiftly sprang to the front.
REMLogics' REMone™ for commercial real estate management was designed using Nextworld's Nextbot™ no-code development Platform-as-a-Service (PaaS). This allowed a deferred payment agreement functionality to be designed, built, tested and deployed by one no-code developer in a total of seven hours. Without a no-code development platform, this process would have taken multiple professional developers working full-time over a week or two to deliver this functionality.
Rapidly deploying DPAs to tenants is only one example of the many benefits of no-code. Powered by a no-code citizen-developer community the benefits are limitless.
No-code development in the future
According to TechCrunch.com journalist Alex Wilhelm, there are over a dozen reputable stand-alone no-code development platform providers, with more on the way - low-code and no-code startups are on pace to raise $500 million in 2020. Recent acquisitions of no-code development platforms by Amazon, Microsoft and Google seem to prove that no-code is the next new wave of disruptive technology. Based on these three technology leader's investments, it is here to stay.
What is missing from other no-code development platform providers is a combined ERP real estate management SaaS and no-code PaaS solution built from the ground up for the cloud. That is where REMLogics and Nextworld is different from other software vendors - they provide both. This strategic partnership announced at Realcomm 2019 is leading the way to provide organizations with the technology that future-proofs their next ERP REM investment through no-code.
Conclusion
No doubt, it is a great time to be an enterprise developer. The benefits of working with a no-code development platform are enormous and the list will only get longer. With business and IT experts working together, the state of innovation in commercial real estate will grow at a rate we have never seen before. The question is, are you ready for the ride?
This Week's Sponsor
When you succeed, we succeed. That is why we are focused on helping you stay ahead of what's next. REMone™ is architected to help you respond faster to the ever-changing real estate and technology landscapes. You will be able to innovate your way beyond the cloud by using our enterprise-grade real estate management SaaS applications and no-code development PaaS. Learn more at www.remlogics.net.
Read Next