News
Realcomm Sends Healthy Building SWOT Team to Marriott in Prep of Industry's First Hybrid Event
August 20, 2020 | Tom Shircliff, Co-Founder, Intelligent Buildings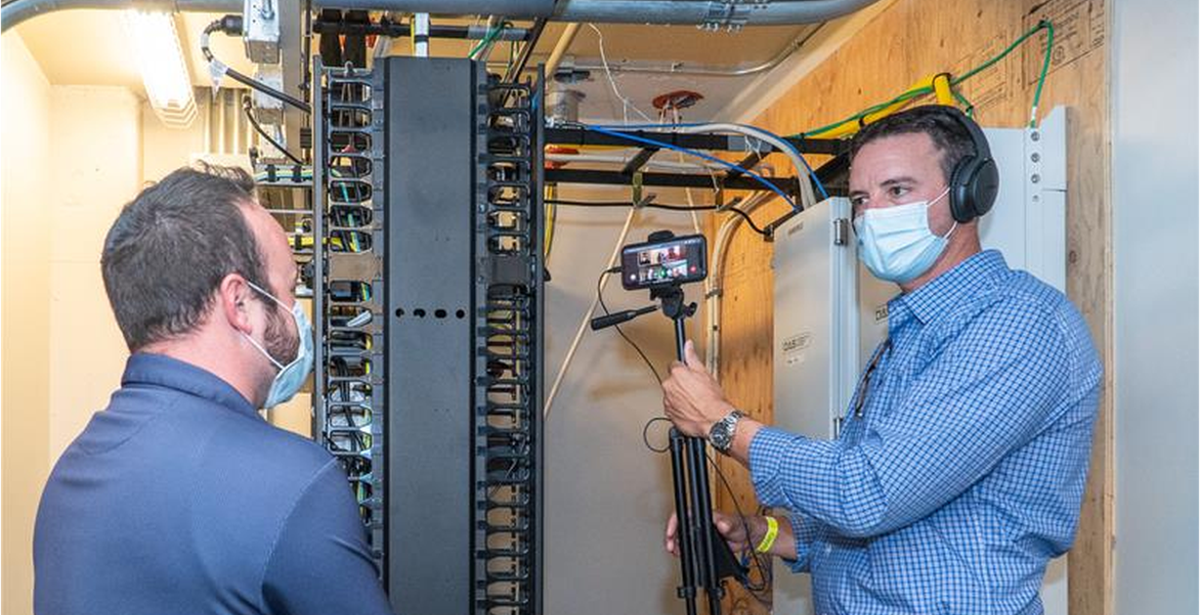 We all know the world is going through an unprecedented period of pandemic, economic recession and social unrest which has put pressure on all of society, including our families, our businesses and our industry. While personal safety and wellbeing is most important, we feel strongly that our industry has a role to play in helping us continue on a path back to normalcy. 
We still need peer-to-peer, people-to-people, face-to-face
The real estate industry is arguably one of the major foundations of the entire economy when you consider how we live, work and play. It's where we convene to collaborate, hatch and manifest new ideas, experience chance encounters, build and maintain relationships, and exchange products and services. While e-commerce is obviously a force that is here to stay, long-term experience indisputably tells us that for non-commodities, it's still true that "people buy from people." As for creativity and collaboration, you might be surprised to know that it was  Steve Jobs who said, "There's a temptation in our networked age to think that ideas can be developed by email and iChat. That's crazy. Creativity comes from spontaneous meetings, from random discussions." 
Despite what we have heard from Google and others about pushing out office presence for a year, Mark Zuckerberg said that while Facebook will move much more to remote work, there are still many employees who want to get back to the office, and he wonders "...how much Facebook employees are drafting off existing culture, relationships, strategy and direction that had already been developed up to that point." He backed that up by signing a 730,000 square-foot lease in New York City near Penn Station and Madison Square Garden last week. This comes on the heels of signing a lease for 1.5 million square feet last year - also in New York, at Hudson Yards.  Additionally, the Snap CEO Evan Spiegel has no knee-jerk reaction about real  estate; he will  "avoid making sweeping statements that project far into the future in such a rapidly evolving situation."
The Realcomm | IBcon Conference Case Study: Now is the time for innovation and leadership
Realcomm | IBcon has always tried to lead the way in real estate technology vision, innovation and practical application - and now is one of the most critical times for that leadership. The conferences have not only been a hub for innovation and information-sharing but also for critical relationship building, and for connecting the largest real estate projects and portfolios in the world to the most powerful PropTech solutions. There have been billions of square feet positively impacted by Realcomm | IBcon including in the Fortune 500, REIT, government and higher education - along with landlords and tenants at the developments mentioned above.
This is why a dedicated group of industry peers have taken a mission to partner with the Realcomm | IBcon team and show how to safely and productively convene the conference with smart, safe and secure practices that allow for the irreplaceable human-to-human interaction for relationships, partnerships and deal-making. 
To that end, we have embarked on an historic project to create the model for returning to real estate with our hybrid conference serving as a case study. Our readers know from previous messages that Realcomm has carefully reviewed the trends and policies in multiple states, as well as interviewing management and ownership at various venues to select the best possible conference locale: the Gaylord Rockies Resort & Convention Center in Aurora, CO.
Pandemic planning onsite kick-off: Tour, assessment and evaluation
However, that was just the beginning of our pandemic planning. We recently dispatched a team of experts, led by Scott Papay of LONG Building Technologies and me, to the site for a thorough assessment and evaluation of all building control systems, contractors, connections and staff. We did this in full cooperation and collaboration with our hosts at the Gaylord, who are full partners in this mission to use smart building methodology to conduct a safe, secure conference in their commercial resort facility as a model and message to the industry. 
We had a dozen experts onsite, combined with another dozen who collaborated virtually during the entire assessment with live, two-way video conversations with the onsite staff. Our objective is a thorough SWOT analysis of the entire strategy framework that includes key performance indicators for each main category:

1. Facility public health technology and use cases 

2. Attendees and staff policy requirements and practices 

3. Business continuity for the conference and resort 
We're already assembling recommendations for programming and settings, integrations and sequencing, alternative use of sensors and existing data, as well as new rules and tuning for analytics aimed at facility public health. 
This extensive effort and study will show what is both possible and pragmatic so that we can stretch the industry's thinking on how "smart" can not only be applied to facility public health, but also how landlords, property managers and occupants can take action now with the digital systems they have in place. There will be a variety of low- and no-cost examples, along with return on investment-based options and shared cost models, all meant to be applied to different commercial real estate environments. 
Watch the Smart Building COVID-19 Facility Inspection Tour.
Please join us October 26-30 for Realcomm | IBcon 2020.
This Week's Sponsor
MRI Software delivers innovative applications and hosted solutions for real estate owners, operators, occupiers, and investors. Through a flexible technology platform and an open and connected ecosystem, MRI meets the unique needs of real estate businesses – from property-level management and accounting to investment modeling and analytics for the global commercial and residential markets. For more information, please visit www.mrisoftware.com.
Read Next