Partner Content
The Evolution of Aruba's Smart Digital Workplace
October 24, 2019 | Alan Ni, Director Smart Spaces & IoT, Aruba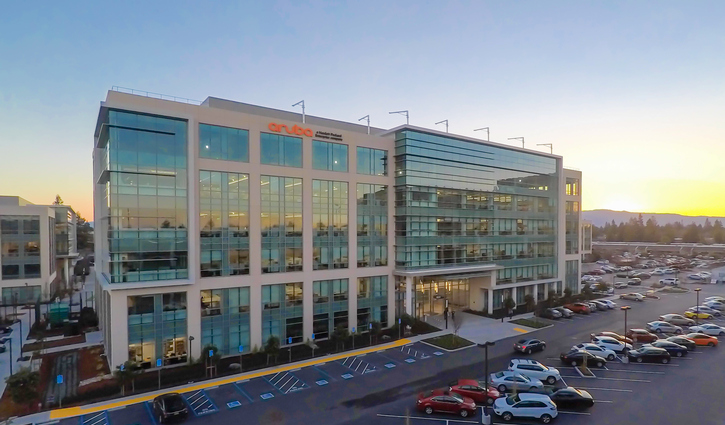 When it comes to leading-edge design and technology in the workplace, Aruba, the networking business unit of Hewlett Packard Enterprise, believes strongly in, as some might say, "eating our own dog food" – or, as we prefer to say, "drinking our own Champagne." A major headquarters relocation in 2017 gave Aruba the chance to push the state-of-the-art as a pioneer in the Smart Digital Workplace. We define Smart Digital Workplace as an integrated environment, optimized for the end user experience, management efficiency, environmental stewardship, and other forward-looking goals.
Through multiple phases of "Project Champagne," we have been able to iterate and improve upon our vision. The more work we do toward our goals, the more opportunities we see to improve the workplace in order to better serve its stakeholders. Our approach employs not only our own networking, security, and location-finding technology, but also a best of breed ecosystem of partners and their offerings.
The story of Aruba's Smart Digital Workplace journey started at our humble former headquarters location in Sunnyvale, California. Our corporate offices were located on a campus formerly occupied by Atari. The building boasted a futuristic exterior façade from the 1980s, and an interior design that complemented that design era: High-walled cubicle farms; closed, fluorescent-lit offices; and oversized conference rooms.
Laughable as it may sound in this new millennium, the vast majority of leasable office space still has similar qualities. Many spaces remain institutional-looking time capsules that don't change. For example, wired desktop network connectivity (Ethernet) is no longer necessary for today's computing needs, yet routinely continues to be deployed, anchoring down furniture and fixtures. Desktop phones are another example of a limiting technology that is no longer required in most cases. Designing spaces in this antediluvian manner all but assures that workplaces can't change.
Starting in 2015, with support from our CEO and senior management, a team at Aruba decided to drive change, in concert with the planned physical move to Santa Clara. The Smart Digital Workplace project team, working with Corporate Real Estate, IT and other stakeholders, designed and built a set of workplace experiences that would leverage Aruba's leadership in the foundational wireless technologies that were driving a new wave of companies who would soon redefine the high-tech industry and Silicon Valley itself. An emerging set of Internet titans were starting to attract talent not only through core products and innovations, but by creating more vibrant, dynamic workplaces to support agile teams, co-working, collaborative development, and other new modes of work. For many organizations, this flexibility was enabled by Aruba secure Wi-Fi technology that created an "all-wireless workplace."
Aruba's "Champagne" Project in a Bit More Detail
At Aruba, we've shared the same challenges as many other organizations and, prior to our 2017 headquarters move, we did not have a leading-edge workplace. Whether for recruiting creative talent in a red-hot job market or maintaining a culture of innovation, community and inclusiveness, we needed a new type of space to support our goals. We chose to take the innovation path.
Prior, during, and after the 2017 headquarters move, our mission was, and is, to create the "right space" to support our corporate goals for present and future. Additionally, we strove to create a living lab that could redefine the physical workplace itself with a mobile-first approach. This is the essence of Aruba Champagne.
The modern workplace is no longer just about things like cloud productivity tools, BYOD support and high-quality Wi-Fi connectivity. It's a "bring your own app" and soon "bring your own experience" world, powered at your fingertips through an occupant experience app. Soon, physical space will adapt to users' intents and needs automatically — leveraging the power of building IoT, mobile assistants and AI. Great spaces will be designed to continually adapt with the times.
Refining the Formulation
Through our two major "vintages" of Champagne, we've relentlessly aimed to reduce everyday friction for employees and guests. Whether it's redefining the visitor check-in and space reservation process, new types of furnishing and fixtures, understanding the efficacy of an occupant experience app, or gaining real-time utilization assessments via IoT, we've likely integrated or tested it.
The Smart Digital Workplace is a group effort. In 2018, we publicly announced a comprehensive set of partnerships with a "who's who" of the real estate and design world, in order to jointly tackle the unique intersection of technology and physical design. We're starting to realize the fruits of our labor with our latest space buildout, which leverages the latest in furniture systems, technology integrations and automation.
It's our core belief that building a high-performance smart workplace requires a mobile-first approach and a dynamic ecosystem of partners that can innovate at a faster pace than a single vendor. At the core, the workplace should be built on a world-class networking and security platform.
Today, the technology and workplace approach from Silicon Valley is not confined to just Silicon Valley and the Internet juggernauts and startups found there. All industry segments, from high tech to low tech, are turning to technology to foster continuous innovation. Building a modern workplace environment that stimulates corporate innovation, group collaboration and work-life balance is no longer a competitive advantage – it's a competitive necessity.
We would encourage others to take the plunge – build support, learn, experiment, do POCs and pilots, and try to think about the rewards of integrating multiple technologies and designs into a first-class workplace experience. We have been able to use the lessons learned from Project Champagne to benefit our clients as well as ourselves.
This video provides more information about the Aruba Champagne initiative and its results.
This Week's Sponsor
Aruba, a Hewlett Packard Enterprise company, is a leading provider of secure, intelligent networks that enable customers to thrive and deliver amazing digital experiences in the mobile, IoT and cloud era. We are changing the rules of networking to make it simple for IT and organizations to bridge the physical and digital worlds at the Edge. More information: arubanetworks.com.
Read Next