Partner Content
Building on Realcomm ׀ IBcon Connections
July 25, 2019 | Robert Teel, SVP, Global Solutions, Yardi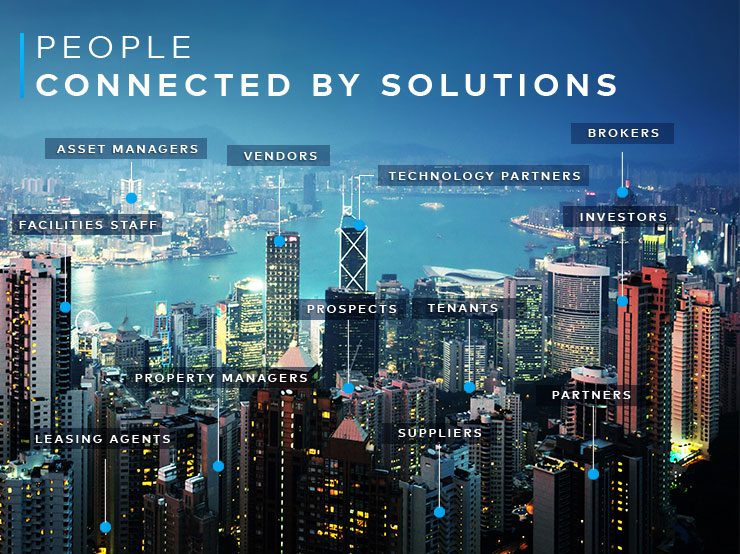 I consider the Realcomm ׀ IBcon conferences a highlight of the year. The most recent installments in Nashville, Tennessee, in June were no exception, defining the impact of technology, automation and innovation on the Real Estate industry in powerful and stimulating ways.
The conferences provided enough material for a long series of Advisories. I'll confine this one to the key themes presented during the general session presentation by Anant Yardi, my company's president and founder, and the "Big Changes Ahead—The Next Chapter of Real Estate Technology & Innovation" panel that followed and included Anant Yardi along with leaders from Microsoft, Tridium and Intel.
Connecting B, C and P
Anant Yardi kicked off his General Session presentation referencing "The Age of Continuous Connection" article in the May/June 2019 issue of the Harvard Business Review. The concept of 'continuous connection' traces its origins to the dotcom era which heralded the introduction of digital business to business (B2B) operations and business to consumer (B2C) ecommerce activities. In real estate management, this led to working with technology vendors to digitize back office accounts receivable, accounts payable, procurement, budgeting, business intelligence and front office marketing, leasing, CRM and tenant and investor services tasks.
Commercial property managers and stakeholders reaped the benefits of business-wide real estate technology platforms that provided instant access to sales, marketing, CRM, property management, construction, leasing, procurement, financial, budgeting, operations, business intelligence and other data, superseding the traditional method of consolidating these data elements from multiple disparate systems. They could better manage this enormous amount of data with the required degree of security. They enjoyed the convenience of executing all property, financial and ancillary operations from a single connected solution. Dashboards, interactive stacking and floor plans provided a visual dimension for analysis and business intelligence systems drove asset performance such as tenant health and traffic patterns by unifying property and accounting information.
The development of cloud computing, mobile devices, AI, 5G, the IoT and social media has further enhanced these B2B and B2C activities.
A new vision
This paved the way for the current focus: the PropTech Vision or CRE Tech Vision, which encompasses a new era of digital technology development with corresponding advances in software capabilities that make systems easier to use and provide new insights.
These technology developments converge to drive real estate success in the current environment by connecting investors, property managers, prospects, tenants, vendors, technology partners and others. Anant Yardi referred to this next evolutionary step as business to property (B2P), connecting business to property in ways that affect building operations such as access control, inspections, repair/maintenance, occupant comfort and more.
"The success of PropTech/CRE Tech will be predicated on enabling this age of continuous connection of businesses, consumers and properties to focus on achieving desired outcomes in revenue, expenses, asset valuation, risk and customer satisfaction," he said, adding, "It's a tremendous opportunity."
Sustaining connections
The General Session panel elaborated on the theme of managing continuous connection across all elements of real estate within a building information model that's open and standard. Applied examples include such things as sensors, cameras and systems capable of detecting and alerting security personnel in the case of gunfire or dangerous activity on escalators; building management systems that enable a better tenant experience with preventative maintenance; and systems that collect data on everything from parking lot arrivals to workstation and coffee machine usage, then use that data to tailor a building's light and temperature settings. The primary challenge will be managing the profound changes driven by artificial intelligence, big data and IoT responsibly in the face of growing cyber-security threats and privacy concerns.
I expanded on technology's role in continuous connection in a live streaming interview during the conferences, noting that success comes when teams work together to create an ecosystem of users who collaborate to improve operational performance. We already see property management technology giving rise to new revenue streams from coworking membership arrangements, better forecasting capability, reductions in energy consumption and expenses, and budget and schedule certainty for construction projects.
Reiterating what Realcomm ׀ IBcon 2019 presenters pointed out, interconnection of systems is an important part of the future and technology is the key. Efficient management is more important than ever in an era of heightened competitive and regulatory pressures and evolving consumer habits.
The best way to manage continuous connection in real estate is to recognize its inevitability and be ready for it. Successful change management in this space requires clarity of purpose and value at a project's outset; properly managing resistance to change; embracing ongoing changes in buildings, technology and requirements; excellence from suppliers and business partners; and recognition of the cybersecurity perils. As Intel's Thierry Godart said, "Think big while starting small on one project that's part of a bigger picture."
I look forward to seeing how much of what was predicted in 2019 will have come to pass at Realcomm ׀ IBcon 2020.
This Week's Sponsor
Yardi® develops and supports industry-leading investment and property management software for all types and sizes of real estate companies. Established in 1984, Yardi is based in Santa Barbara, Calif., and serves clients worldwide. For more information on how Yardi is Energized for Tomorrow, visit yardi.com.
Read Next