Feature
Transforming Commercial Environments: Insights from the Inaugural State of the Smart Buildings Market Study
July 10, 2019 | Casey Talon, Research Director, Navigant Research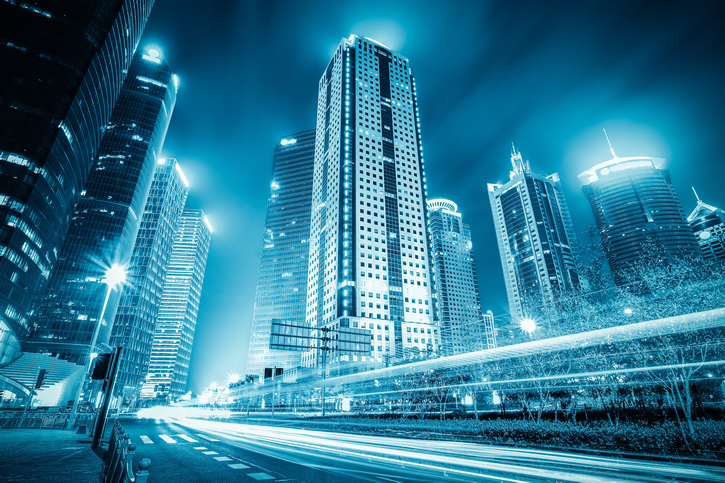 Smart building technologies have been available to building owners and managers for over a decade. In that time, this market has seen innovative projects showcase the powerful benefits of advanced automation and control, connectivity, and analytics. However, most buildings have still not adopted a smart building approach that leads to improved safety, productivity, and space utilization.
Because of this lack of adoption, Navigant Research partnered with Intelligent Buildings, Anixter and UL to launch the first State of the Smart Buildings Market study. We interviewed leaders across the real estate industry and fielded a survey of 500 executives and senior managers across North America, 150 of which represented the commercial office segment. The results show that the smart buildings market is gaining momentum, and commercial office is leading the way.
Year 1 – Establishing a New Baseline of Market Demand
The goal of this study is to offer a recurring source of data and insight on customer expectations, investment barriers, and gaps in the market that will help key influencers such as technology developers, systems integrators, and consultants shape an accelerated path to smart building solution adoption. We recognize that the market is chaotic, and customers can struggle to make sense of opportunities through the noise. The scope of our research offers a new foundation of data and market intelligence to define critical metrics for success. We aim to help customers understand how they rank against their competition, and help technology and service providers refine their message to help expedite investment in smart building solutions.
In the commercial office space, co-working and flexible working demands from employees are upending traditional leasing paradigms. Recruits are also looking at employer brands in new ways when they consider their career choices. Smart building investments can demonstrate commitments to sustainability and an occupant-centric focus that garner the loyalty of the next generation of business leaders. Our research shows that while only about one-third of market participants characterize themselves as experts on the concept, over 60% believe adopting a smart building strategy is a competitive differentiator. The decision makers in the commercial office segment are even more bullish, with 74% reporting the competitive advantage of a smart building strategy. These results indicate there is room for continued market education and outreach to support the majority of the market who understand there are significant benefits associated with these solutions.
Commercial Office Leadership and Opportunities to Push the Market Forward
You are a part of the leading edge in smart buildings—you are reading this article and joining the forward-thinking conversations at IBcon 2019. You will hear the promise of smart building investments from innovators and early adopters in real estate and explore the benefits of these investments. Our research validates this assumption, recognizing that the commercial office segment is leading the charge to transform facilities into smart buildings, as is illustrated in
Figure 1.
Navigant Research has tracked an evolution of the smart buildings market: there has been a significant shift in supply-side focus from technology to business cases that will help drive customer adoption. For years, energy efficiency was the primary value proposition because of the clear-cut and straightforward ROI tracked by smaller monthly utility bills. Today, customers expect more. As they become more familiar with the idea of smart buildings—the benefits of data-driven insight, connected systems, and automated system optimization—the narrative is shifting to broader business justification.
The data, insights, and operational changes smart building solutions deliver translate into metrics that key decision makers prioritize across their organization. The same solution that can measure operational improvements that help facilities teams be more efficient in their repair and maintenance approaches, tracks space use to help real estate executives save on leasing and build-outs, and monitor energy and demand management to help sustainability leads meet their corporate climate goals.
From Navigant Research's ongoing work, we recognize the challenges of managing the investment, deployment, and use of smart building solutions because of the shift in expectations from human capital. For years operational technology (OT) teams and IT teams have worked in isolation. As smart building approaches became familiar, we saw these silos break down. For many customers, the process of integrating IT and OT remains daunting, if not impossible. Smart building solutions providers have recognized this challenge and introduced a host of managed services and offerings to partner with owners looking to begin the journey.
Pathway for Partners to Accelerate the Transformation of Commercial Offices to
Smart Buildings
Smart building solutions providers see the benefits of new customer engagements built around managed services and subscription offerings—recurring revenue is a big win for the bottom line. Figure 2 shows the additional considerations to initiate these deeper, ongoing smart building customer engagements.
The survey respondents ranked the barriers they face for adopting smart building solutions. The results show that while business disruption for installation/integration commonly ranked as the most significant barrier, 75% of customers are grappling with other significant barriers. This finding underscores the confusion in the market and the uncertainty customers feel about the challenges in embarking on a smart buildings journey.
Integrators, technology providers, and consulting partners can take the perceived barriers and translate them into opportunities for new customer engagement around smart building strategy and execution with the following recommendations:
(1) Refine and promote your sales pitch around the business justifications that matter to buyers. Help customers navigate the vast influx of information they are receiving by focusing on the business benefits of smart building solutions. Help them understand how their investment will change the day-to-day tasks for their operations teams, the security of connected systems for their IT teams, and the experience of their staff and customers.
(2) Compile case studies, data, and customer endorsements to help decision makers understand the solutions to perceived barriers. As we discovered in this survey, there are a host of obstacles potential customers face when exploring smart building investment options. Let them know you understand the challenges and offer real-world examples of how your customers have overcome the hurdles to investment. Tell the story for the full spectrum of decision makers and influencers, from the occupants to the C-Suite.
(3) Be pragmatic. Showcase projects that highlight the promise of smart buildings, but understand incremental investments that improve existing buildings will bring the market forward. It is important to recognize many potential customers still find the smart buildings market overwhelming and unclear. They need to understand where to start, how to tackle legacy building systems and old facilities, and how they can make incremental investments that will improve their bottom line—both in the clear-cut benefits of cost savings and the more nuanced enhancements to their brand.
At Realcomm | IBcon 2019 on June 11-14 in Nashville, attendees heard more about the research findings regarding the near-term outlook for smart commercial spaces from Navigant Research, Intelligent Buildings, Anixter and UL. The session panel also discussed how the right partner can guide customers through their smart buildings journey. Ideas were brainstormed on training, developing a smart building certification scheme and strategies to minimize cybersecurity risks and maximize cross-cutting business benefits from investment.
This Week's Sponsor
MRI Software delivers innovative applications and hosted solutions that free real estate companies to elevate their business. Our flexible technology platform and open and connected ecosystem meet the unique needs of real estate businesses, from property-level management and accounting to investment modeling and analytics for the global commercial and residential markets. For more information, please visit www.mrisoftware.com.
Read Next