Partner Content
How Do You Implement a High-Value Energy Strategy?
March 14, 2019 | Akshai Rao, VP, Yardi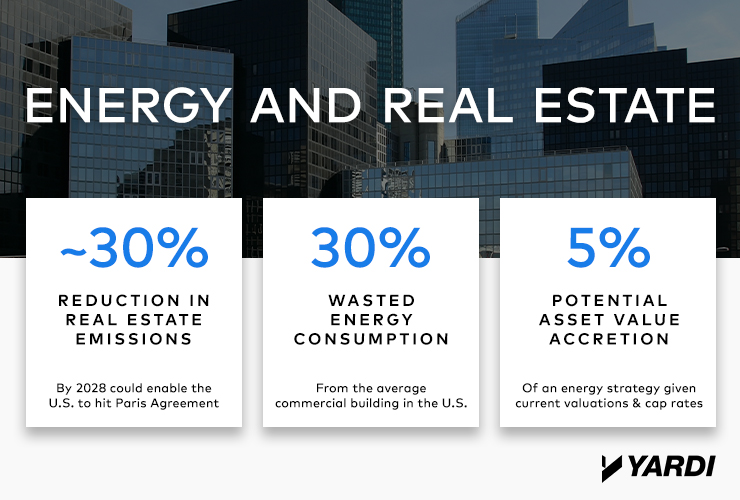 Studies show that for a standard commercial property, utilities are one of its biggest operating expenses, just behind maintenance, repair and operations (MRO) supply costs. Utility spend is rife with potential waste, errors and mismanagement that can affect property values and investor returns. The good news is they are a controllable expense that can be managed; that's why energy and sustainability strategies have evolved into one of the most important aspects of commercial real estate operations.
First, the why
Electric, gas, water, sewer and other utilities account for 20-30% of controllable spend, again, typically second highest only to MRO costs. For example, in a 500,000-square-foot building, utilities can run about $1 million annually, and costs continue to climb. With that much money on the line, it makes sense to create a strategy for both managing and reducing utility expenses.
Beyond lowering costs, an effective energy strategy can also help you ensure compliance with regulatory benchmarking requirements and improve ENERGY STAR® scores which impact operating income, tenant satisfaction and the marketability of an asset. Having energy as part of a solid environmental, social and governance (ESG) approach can improve your investment value, and investors often consider ESG performance in investment decisions. More than 75 institutional investors, collectively representing over $18 trillion of institutional capital, use GRESB data and analytical tools to benchmark, improve and communicate environmental performance.
With the right energy strategy, commercial real estate portfolios can benefit from reduced costs, improved property values, more investment opportunities, better tenant experiences and more efficient processes. In addition, there is a materially positive environmental impact for the real estate industry to get serious about managing energy spend. The Institute of Market Transformation (IMT) estimates that a 30% reduction in real estate emissions could enable the U.S. to reach Paris agreement targets by 2028, and ENERGY STAR estimates that the average commercial building is wasting 30% of its consumption.
Second, the how. Consider the crawl, walk, run approach.
Implementing a high-value energy strategy doesn't have to happen overnight. In fact, leveling up your approach distributes the capital investment, change management and resources required over time, building to a comprehensive energy program netting high returns.
The crawl stage: Automated utility invoice processing
Get started by documenting and understanding your current consumption and spend. This insight allows you to make the best decisions for each building and your entire portfolio so you can determine the right balance of investment and return for your business, ranging from low-investment energy intelligence software to more costly energy automation equipment upgrades.
The easiest way to get visibility into portfolio utility data is by centralizing and automating invoice processing in one system to capture data directly from utility bills. Not only do you get the data transparency you need for building your strategy, you can also reduce manual processes, late fees, bill errors and overpayments. With bill validations and exception handling, you can at least be sure your utility spend is more accurate.
The walk stage: Energy intelligence software
Utilizing more advanced software solutions in your strategy can bring incremental, yet powerful changes with lower upfront investment and a bigger return. With energy intelligence software, you can draw insights from the collected utility bill data, then compare it with real-time demand from your building's electricity meters. This increases visibility into true demand and creates prescriptive actions so you can make adjustments and lower costs before your next bill. Additional software investments include work order apps for facilities, energy procurement in deregulated markets and benchmarking and sustainability reporting.
Think of this strategy like a Fitbit for each building in your portfolio. With the right software platform, you get to see consumption, cost, and demand across your full portfolio in one place, which allows you to highlight problem buildings where more effort may be required. In addition to low upfront costs and quick returns in just weeks or months, this visibility approach is generally less disruptive, and it can yield 2-5% savings.
The run stage: Energy automation technology
For higher returns of typically 10-15%, your strategy should include energy automation technology to maximize building performance through HVAC equipment control and detection. Automation can proactively detect faults and provide alerts before it costs you money, but most importantly, it can optimize heating and cooling to satisfy both tenant comfort and cost-savings objectives while giving owners full control of the building with remote scheduling and defined set points.
Third, the results
A successful energy strategy can result in:
Increased market valuation, fewer rental concessions and higher rents

Increased tenant comfort and fewer complaints

Interested investors and high-quality tenants with increased ENERGY STAR scores

Reduced operating costs
Perhaps most significantly, energy savings directly correlate to operating income and tenant comfort. And because the data and hardware stay with the building in the event of a sale, a cohesive energy strategy across your portfolio can actually increase the value of the buildings.
Regardless of what stage you are in the process, it's important to develop a conscious energy strategy so you can start realizing the benefits. Learn more at yardi.com/smartenergy.
This Week's Sponsor
Yardi® develops and supports industry-leading investment, property management and energy management software for all types and sizes of real estate companies. For the energy market, the Yardi Pulse® Suite helps manage costs, consumption and sustainability initiatives. Yardi is based in Santa Barbara, Calif., and serves clients worldwide. For more information on how Yardi is Energized for Tomorrow, visit yardi.com.
Read Next