Feature
Warner Media's Smart Building Journey: 30 Hudson Yards
September 26, 2018 | Realcomm Staff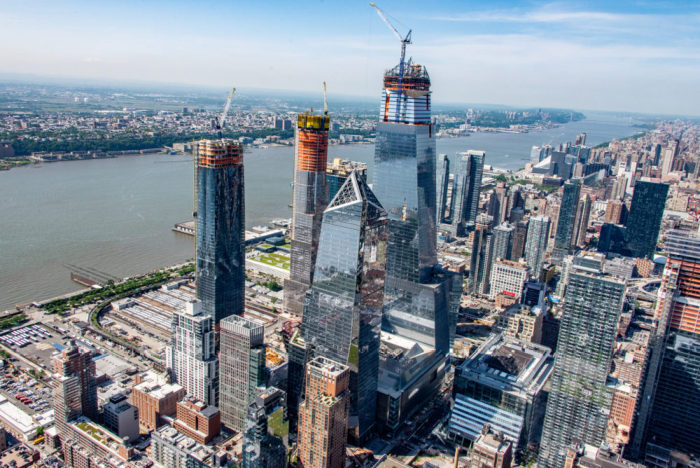 Warner Media's smart building journey began over six years ago with a directive to its Facility Management team to reduce its NYC real estate portfolio. There was 2M square feet of property due to expire at the end of 2018. The strategic initiative led to consolidating seven buildings and ultimately reducing its footprint by 1M square feet.
After an extensive discovery and programming process, the organization settled on partnering with Related Properties at Hudson Yards, the popular emerging market in mid-town Manhattan. This new neighborhood is being constructed over existing rail yards. There will be 16 towers including commercial, residential and retail space. In terms of scale, it is the largest private real estate development in U.S. history.
The site at 30 Hudson Yards is a 1,290 ft. 90-floor skyscraper designed to achieve LEED CS Gold. It will be the second-tallest office building in New York, taller than the Empire State Building, and home to the highest outdoor observation deck in the city.
Warner Media will be occupying more than half of this tower and have designed it as a building-in-a-building to control its own core critical systems. The mission-critical businesses are dependent on their ability to operate with five nines of reliability, requiring the building infrastructure to be state-of-the-art and driven by smart building technology.
The Facility Management and the Information Technology teams partnered early in the process as it was of paramount importance. Utilization of enterprise-wide networks, four corner WiFi and cybersecurity protocol are all vital components of this smart building program.
As the new headquarters develops, the core electrical, mechanical, life safety and mission critical systems are being wed through the services of a master systems integrator (MSI) focused on satisfying specific use cases that target their savings and efficiency objectives.
Continuous commissioning, reduced HVAC wasted run time, energy savings, extended equipment life, improved air quality, occupant comfort, lighting control and occupancy awareness are just a few of the benefits at Hudson Yards. Thousands of sensors and probes will be bringing back a wealth of data that will be used to responsibly keep the buildings living and breathing.
The goal is to rely more on building intelligence to identify what the building needs and when it needs it. In 2019, more than 5,000 Warner Media employees will be moving to 30 Hudson Yards – from its corporate operations as well as its CNN, HBO, Turner Broadcasting and Warner Bros. entities – consolidating the divisions under one roof for the first time.
As the move becomes closer, 2018 has become the year for an all hands-on deck effort to deliver this unique space. To complete the installation of smart technology, the work has been centered around finalizing graphics, user interfaces, use cases and fault detection diagnostics. Technically the possibilities are endless; therefore, developing use cases (e.g., utilizing occupancy sensors from the lighting control system to change local BMS controls from occupied to unoccupied modes) keeps the project focused on high value solutions that align with its organizational objectives. It has also been about running checks and balances, fine tuning cybersecurity and ensuring that all systems on the converged network properly communicate to satisfy use cases, sequences of operations and bringing all this data to a single user-friendly dashboard. Training and empowering the FM workforce to take advantage of this wealth of building information is another high priority this year. The end goal is to ensure all systems are properly commissioned and teams are trained and ready for opening day.
One other key component is the appropriate selection of fault detection diagnostic software (or building system analytics) to help intelligently manage the wealth of data generated by these smart building systems. By automating tasks and sequences, the intention for the smart building is to communicate directly with their work order technology: assign work tickets, drive preventive maintenance and in some instances, make system adjustments.
Warner Media's smart building journey to 30 Hudson Yards is an exemplary showcase of how utilizing the marriage of technology and innovation can result in energy savings, operating efficiency, environmental responsibility and employee health – all the critical components for a successful and smart building journey and implementation.
The smart building journey as it impacts Corporate Real Estate and Facilities is one of the topics that will be discussed at CoRE Tech 2018, which will be held on Nov. 14-16 in Silicon Valley. For more information, visit Program Details.
This Week's Sponsor
AwareManager, a Building Engines company, provides facility management solutions for the world's most recognized facilities & organizations, including world-class commercial & residential property portfolio management firms, corporations, sports organizations & hospitals nationwide. Visit www.awaremanager.com.
Read Next