Partner Content
How Disruptive Technology Is Changing CRE
August 23, 2018 | Stuart Appley, Managing Director, GWS Technology Solutions, CBRE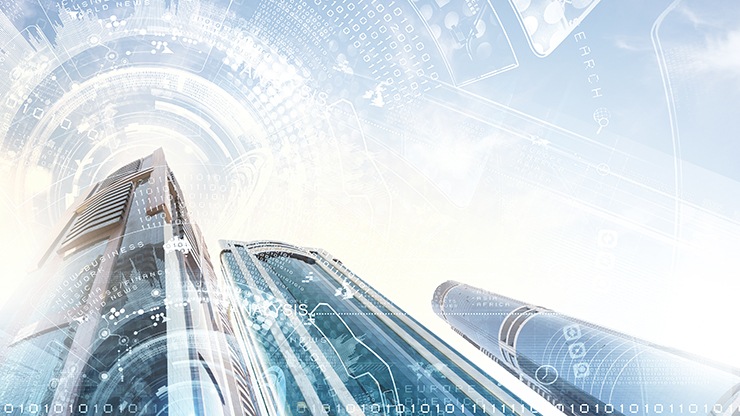 "Tech is no longer a buzzword in commercial real estate. It's becoming a staple, foundational and embedded," said Bob Sulentic, president and CEO of CBRE. As the largest property services firm in the world, the company has been investing heavily in technology in recent years, including a suite of enablement technologies called Vantage, which provides automation, visualization, data analytics and other capabilities for various stages of the real estate lifecycle.
However, there has been a flood of new real estate technology startups entering the market in recent years, with a huge amount of investment capital flowing in with them, as everyone recognizes the potential for disruption within our industry. These new startups are changing how we think about space, with the ever-growing space-as-a-service offering as just one example. They're also bringing new digital approaches into the industry with a big focus on the user experience and open integrations. The large influx of investment money is accelerating the innovation curve, and is forcing legacy suppliers to re-evaluate how they serve the real estate industry. Several promising technology trends are also making this possible.
Promising Technology
Data Integration
Integrating and aggregating data from building operations is one area that has historically suffered from inefficiency. It is challenging to leverage portfolio assets and data intelligence to proactively problem solve and avoid the day-to-day issues that cost more in the long run. CBRE is able to uniquely collect and leverage big data in ways that not many other property firms can. We are also constantly looking for new technologies, and are able to apply those solutions and scale them quickly. Sulentic touched on this in his 2018 keynote at Realcomm | IBcon, stating: "We manage five billion square feet of space around the world. We have a lot of information about what goes on in those buildings and what the users of those buildings want. We're in a position today where we can buy technology companies and integrate them smoothly into our business."
Artificial Intelligence (AI)
AI is the most important technology for augmenting and supporting the future of work, and those that are ahead of this trend can be early disruptors. AI can provide insights and real-time information based on building data. Consider using data to proactively predict asset failure, allowing a more efficient use of capital spending. Or, using data to optimize technician routes, more quickly satisfying customers and reducing the amount of wasteful drive time between buildings.
AI can help automate manual and redundant tasks, performing them faster and more accurately, which yields a better foundation for decision making. Adoption of AI, however, has room for improvement in the world of real estate. In a recent, informal survey of industry participants conducted last year, one third of respondents indicated that they were planning or had rolled out an AI project. This year, that number increased, as half of the respondents indicated that they were doing so. While the increase is significant, it still lags behind the 60-80% AI pilot/adoption rate in industries outside of commercial real estate.
Mobile Applications & Workplace Experience
With the broad-based acceptance and accessibility of mobile applications, employee- and tenant-based experience apps are becoming more prevalent and sophisticated. For example, the organization's experience services offering – CBRE 360 – provides a range of occupier and tenant services through a mobile application. Many companies are looking to these apps as a channel to consolidate the various technology point solutions and also embrace the personalization of workspace. The near ubiquity of mobile technology coupled with the convergence of Internet of Things (IoT) capabilities and AI has made it possible to track, compile and assess employees' work-day preferences for things like amenities, services, work stations, conference rooms, parking, commuting and room temperature.
As a recent example, a global technology firm wanted to improve the health and well-being of its employees. After working with the client to understand their employees' preferences, we developed a menu of wellness elements, allowing flexible deployment for different office locations, occupants and budgets. These ranged from creating walking meeting maps, rewarding and encouraging healthy eating choices, increasing employee convenience services (which are funded by individuals), introducing cookery classes to workplace kitchens and even having fresh, local produce delivered to offices. We also implemented higher-cost programs such as fresh juice bars, massage chairs, nap pods, loan bikes and relaxation spaces. By understanding and planning around workplace preferences, we were able to customize an experience that enabled better employee engagement.
Smart Buildings & IoT
Advancements in AI and mobile technology are finally fulfilling the "smart building" promise. For an industry that has historically lagged in technology uptake, and one where the promise of an IoT-based smart building has been more promise than reality, the recent rise in interest and adoption is notable. With a greater availability of domain-specific cloud solutions, the plummeting costs of sensors, the growing capabilities of edge devices, the broader move to an IoT subscription model and an increased focus on the personalized experience, the ability to deliver a true smart building is very real. Competition from real estate technology startups has accelerated progress, as new industry participants apply innovative tech solutions to well-known industry challenges.
As a recent example of the opportunities that smart buildings offer, a global professional services firm engaged us to structure services to respond to predictive outcomes within a building, utilizing building monitoring information and workplace occupancy within the building to improve the customer experience. We are testing the deployment on new technology for power generation and investing in this based on the proposed outcomes. The potential offering is beyond any currently available in the marketplace.
While much progress has been made, broad and integrated IoT ecosystems can be difficult and expensive to achieve. Many point solutions must be integrated, and an abundant of challenges exist in the application of consistent security requirements.
Conclusion
While the speed and volume of technologies in commercial real estate is increasing, the successful application and translation to client value is not. Although there are exciting opportunities in the marketplace for new-age technology solutions – including data integrations, AI, mobile apps and smart buildings – they must be produced and applied in a manner that is secure, financially viable and better quality than previous approaches.
This Week's Sponsor
CBRE, a Fortune 500 company headquartered in Los Angeles, is the world's largest commercial real estate services and investment firm based on 2017 revenue. It employs 80,000 people and serves real estate investors and occupiers through approximately 450 offices worldwide. CBRE offers a broad range of integrated services, including facilities, transaction and project management; property management; investment management; appraisal and valuation; property leasing; strategic consulting; property sales; mortgage services and development services. Please visit our website at www.cbre.com.
Read Next