Partner Content
The "Three E's"
February 8, 2018 | Dave Clute, VP, Practice Lead, Intelligent Building, Environmental Systems Design (ESD)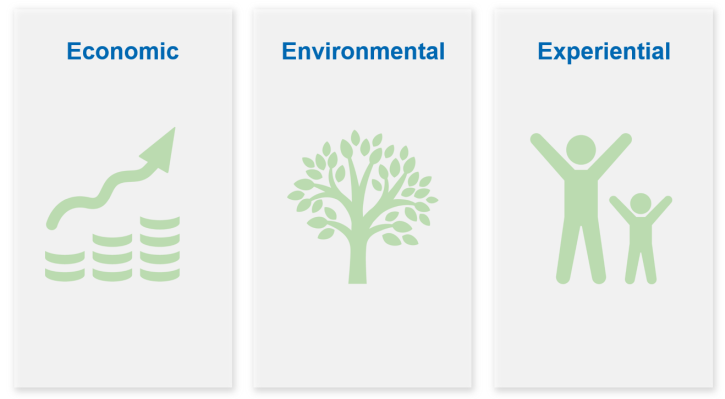 Similar to the concept known as the "Triple Bottom Line," Environmental Systems Design ("ESD") has developed a comprehensive Intelligent Building solution framework that delivers results to its customers to support the "Three E's" – Economic, Environmental and Experiential value stream.
Every new high performance, smart, intelligent, sustainable, green building that is being designed, built and operated today requires a rock-solid business case that is economically viable, environmentally sustainable and experientially successful. Investors, owners, developers, tenants, end-users and visitors alike all expect today's buildings to be cost-effective, LEED or WELL certified and fully capable of supporting today's digital lifestyle. To compete effectively in today's corporate and commercial real estate markets in every market, a project must provide benefits across the spectrum of the "Three E's. "
So…what are the "Three E's in more detail? Let's start with the first category – Economic performance. What are the key performance metrics of a building with superior economic attributes?
Lower OpEx/CapEx

Less Maintenance

Lifespan Increase

Asset Demand

Valuation

Adaptability Speed

Competitive Advantage
The second category is
Environmental
performance. The key metrics in this category include:
Energy Conservation

Sustainability

Stewardship

Occupant Awareness

Utility Optimization

Grid Stress

Green Construction

Prestige
Finally, the category that has recently emerged as the market differentiator for Owners, Developers and Operators is the
Experiential
performance category. A building that provides its occupants, end-users, tenants, visitors and operators with experiences to work, live, play and learn well beyond the normal 8-hour work day is one that is highly experiential.
The most successful buildings today offer much more than just a place to work. As we have seen since the dawn of the new millennium, the work place is no longer a place to stare at your computer monitor all day and put in the hours. The highly experiential work place provides an extension of the digital lifestyle that starts at home and continues throughout the day as today's workers experience a full range of places to work, collaborate and produce new ideas, new inventions and tomorrow's products and services.
Today's intelligent buildings are expected to have the latest and most cost-effective technology systems available on the market. In the commercial and corporate real estate market, it can sometimes be confusing about what systems are being provided by each party in the lease agreement.
To make things easier for the Owners, Developers, Tenants, Architects, Engineers, Contractors, Facility Managers, in fact, all the key stakeholder groups involved in the full life-cycle of the built environment, ESD has developed this checklist for those systems provided by the Landlord versus those provided by the Tenant.
This Week's Sponsor
ESD is a leader in Improving Society Through the Built Environment. It creates solutions that produce economic, environmental and experiential benefits for its clients, many of whom are the biggest names in the worlds of business, technology - and beyond. The company is in the forefront of developing Intelligent Buildings. For more information, please visit www.esdglobal.com.
Read Next