Feature
25th Annual Realcomm | IBcon Digie Award Finalists Announced!
June 8, 2023 | Realcomm Staff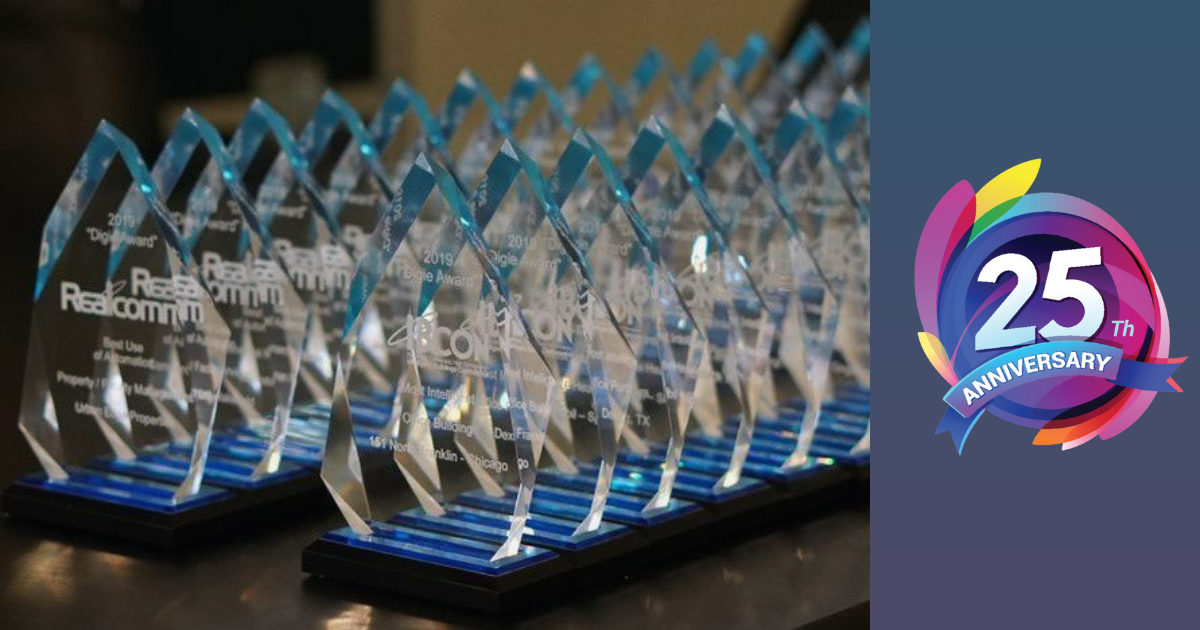 Realcomm has been presenting the Digie (short for Commercial Real Estate Digital Innovation) Awards since 1999 to recognize those outstanding companies, real estate projects, technologies as well as the people who have gone "above and beyond" to positively impact our industry through the intelligent application of technology, automation and innovation.
Commercial, corporate, government and institutional real estate involve an inordinate amount of information, systems and business processes to operate the business. For this reason, we continue to recognize those who are leading the charge for a more efficient, effective and profitable industry.
The following are the 2023 finalists:
REALCOMM
Best Use of Automation
Property | Facility Management
CBRE / ESI
Derwent London
Lessen
Commercial Real Estate
Granite Properties
JLL
Inland Real Estate Group of Companies
Industrial
Link Logistics
Prologis
Rexford Industrial
Retail Real Estate (2 awards)
Agree Realty
Brixmor
Macerich
Philips Edison & Company
Urban Edge Properties
Woolbright Development
Corporate / Institutional Real Estate
J.P. Morgan Asset Management
Google
GSA | PBS
Investment Management
Affinius Capital
BentallGreenOak
Blackstone
Best Tech Innovation
Commercial / Corporate Real Estate (2 awards)
Dealpath Data Ingestion
Dottid
Northspyre
NTrust
PremiseHQ
Prophia
General Technology
OpenAI – ChatGPT
Flexnode
Apple Vision Pro
Julie Devine Digital Impact Award (2 awards)
Bonnie Manter
Cecilia Li
Helane Stein
Justin Segal
Mike Osment
Sunder Pappu
Rising Star Award
Aaron Altscher
Andrew Weakland
Mili Popat
IBCON
Most Intelligent
Office Building
Indeed Tower
Scotiabank North Tower at Bay Adelaide
Vancouver Centre II
Office Portfolio
BXP
Carr Properties
QuadReal
Corporate Headquarters
Google
Marriott International Global HQ
Walmart Home Office
Digital District
National Landing
Las Vegas Innovation District
Water Street Tampa
Retail
Area15 Omega Mart
Samsung Experience Store NYC
Simon Property Group
Multifamily / Residential
BioHome3D
Boxabl
Cloud Apartments
Mixed Use
Coopers Cross
NEOM
The WELL
Best Tech Innovation
Hybrid Immersive Experience
DVE Holographics
Microsoft Teams Rooms
WELO
Intelligent Buildings (2 awards)
BTune
cove
Flowie-O
Honeywell Forge
KODE Labs
OpenBlue – Johnson Controls
Rising Star Award
Bayron Lopez
Clare Meredith
Cindy Zhu
Julie Devine Digital Impact Award (2 awards)
Arv Gupta
Craig Stevenson
Nick Stello
Ryan Allbaugh
Sabine Lam
Thano Lambrinos
The winners will be announced, along with the presentation of the Realcomm Lifetime Achievement award, at Realcomm | IBcon 2023 in Las Vegas. The award ceremony will be held on Wednesday, June 14 at 6:00pm at the Realcomm Live stage located on the Expo Floor and will be streamed live. Join us!
This Week's Sponsor
Yardi® develops and supports industry-leading investment and property management software for all types and sizes of real estate companies. Established in 1984, Yardi is based in Santa Barbara, Calif., and serves clients worldwide. For more information on how Yardi is Energized for Tomorrow, visit yardi.com.
Read Next